When illness strikes a whole family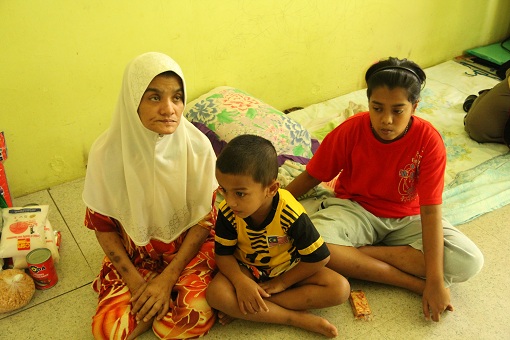 Single mother Kahtijah Bee Binti Latiff, 46, is living with her 3 children and 2 grandchildren in PPR flat in Jalan Sungai where she can't afford to pay the rental since 2010 and for the last 8 months the family has been living without electricity.
All 6 are living on RM450 per month with aid from Perbadanan Zakat and the Welfare Department.
The family alternates between plain porridge, black coffee or tea and bread, day in and day out.
Kahtijah is suffering from chronic diabetes and both her legs were amputated from the knee and ankle.
Her eldest daughter too has a chronic diabetes with wounds all over her legs and need crutches to walk.
Currently she is being admitted in Penang General Hospital for treatment. Her daughter has 2  other children aged 13 and 4.
Both the children has been forced to stop schooling in order to take care of the whole family.
They yearn to go to school but can't as no one is able to take the care of the family and they are unable to afford it.
Kahtijah's sons age 22 and 20, both also suffering from medical conditions and are unable to work.
Currently, this family is being assisted by Klinik Derma Sivasanta and Penang Hindu Association in the form of financial and food aid and also partially in their medical requirements.
Kahtijah would like to request the welfare department to increase their welfare aid and Penang state government to provide them aid under poverty program.
She is also looking for help from federal government and muslim NGOsto provide them financial and medical aids via 1 Malaysia program.
Those who wish to help this family, financially, can forward their cheques payable to Katihja Bee Binti Latiff, post it to, Hon-Treasurer, Penang Hindu Association, No.9-3-1, Bukit Awana Condo, Jalan Bukit Kukus, Paya Terubong, 11060 Pulau Pinang.
Alternatively one could bank-in donations to Bank Islam:  Account no 07-016-02-034576-2, under the name of Katihja Bee Binti Latiff.
For those wish to contribute in kind could contact Puan Kahtijah, personally at 016-4513188.