Chap Goh Meh celebrations at Taman Tasik Jaya, PJ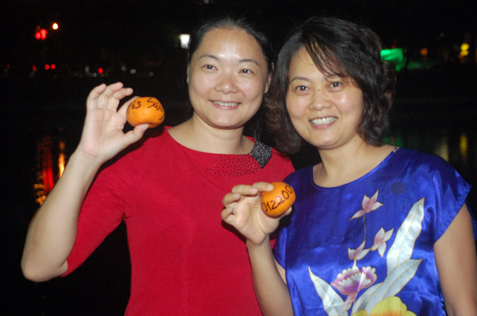 The Petaling Jaya City Council (MBPJ) hosted the Majlis Mesra Tahun Baru Cina & Chap Goh Meh 2013 at Taman Jaya Lake Garden in Petaling Jaya on February 24.
Chap Goh Meh which means the fifteenth night marks the end of the 15-day Chinese New Year Celebrations which started from Feb 10 – 24 this year.
The rain that came failed to dampen the Chap Goh Meh celebrations as the people of all races came out armed with umbrellas and raincoats to enjoy the festivities
Also known as the Chinese Valentine's Day because it is the night to toss mandarin oranges into the lake by singles in the hope that the fruits would be picked up by their future spouses.
The crowd were treated to packed food and enjoyed the variety of cultural performances such as lion dance, wushu demonstration, Malay traditional dance, er-hu (a two-stringed bowed musical instrument) solo performance, mask changing and magic show among others.
There were also a calligraphy contest and great prizes for lucky draw winners.
The lion dance performance mesmerised the crowd who rushed forward to catch the mandarin oranges tossed by the lions.
The highlight of the celebration was of course the traditional mandarin orange throwing into the lakes by singles in the hope that they will be picked up by their  future spouse.
The event was graced by Selangor state exco Ronnie Liew and attended by MP and ADUN, Petaling Jaya city mayor Datuk Bandar Datin Paduka Alinah Ahmad,  deputy mayor Puasa bin Md Taib and MBPJ councillors.
MBPJ councillor and organising chairperson Tiew Way Keng said: "This event brings the community together across racial and cultural lines.
"The performers are from all ages and races. This is in line with our Local Agenda 21 to promote the concept of inclusiveness. We invited the residents and stakeholders in Petaling Jaya to be part of us either in the preparation or participation in our programmes.
"We hope that this concept and spirit can be continued in all our future programmes which are from the People, to the People and for the People (Daripada Rakyat, kepada Rakyat, untuk Rakyat)."