The singing lass of Borneo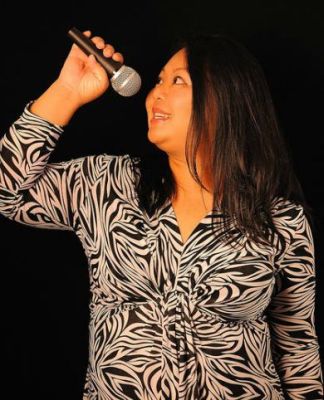 Genie Wong started composing her own songs when she was only 12 years old.
She had been interested in music from a very young age and is now a contemporary jazz singer-songwriter.
She hailed from the small town of Labuan, and is presently performing at jam sessions at the Tiara Hotel (1st and 3rd week of the month)
Genevieve Wong Yen Fui, who was born on 24 September 1978, is married and  working as a HR/Admin in her father's company (family run business).
Her music career started when in 1996, she went to United Kingdomto study music.
While there, she was roped in as a vocalist for the English band 'Pondskaters'.
Genie told Citizen Journalists Malaysia (CJMY) that during her time in UK, she contemplated going into music full time but on one hand, she was still searching to find herself and to identify what kind of musician she wanted to be.
At that time, she was into folk music and punk rock.
Support as a musician in the band 'Pondskaters' was great, she said, but eventually the band broke up due to individual differences.
When she was back in Labuan, she involved herself in composing music and song-writing for local organizations, especially for churches.
She organized several concerts, on her own accord for the local townsfolk.
In 2004, she was won the first Sabah Youth Day song-writing competition.
"My big break came in 2011, when I sang as a back-up singer for renowned singer, Dayang Nurfaizah during RTM's 25 Years Gala." said Genie.
"Following that, I was invited to sing at the prestigious KK Jazz Festival under the Spice of Tones.
"The Spice of Tones was led by respected and talented drum maker Peter Lau and his brother, renowned bass player Simon Lau.
"Peter and Simon were instrumental in encouraging me to come out with my first single."
Her first singles, 'Liar, Liar', which she composed in reminiscence of an ex-boyfriend was released in 2012.
It was a catchy jazz bossa number, produced by Chris Pereira of Eyes and Ears Production.
The song was very well received and in a few weeks after it hit the airwaves, it went up to the top of the local chart.
Genie was overjoyed when 'Liar, Liar' remained in the No.1 spot of Hitz KK's Borneo English Top Ten for nine weeks, from 24 November 2012 to 12 January 2013.
Her second singles 'Only You', was released on Valentine's Day and currently enjoys regular airplay on a few local radio station.
Although Genie understand that a profession in the music industry is rarely look upon as a wise career, especially in the small town of Labuan, nevertheless she is not discourage at all as she plans to continue to sing her songs and let people know that it is okay to dream.
She hope she can inspire more people to come out of their shell, as musicians, even though they live in a small town.
She said,
"Labuanis a bit special. I know not many people know but there are a lot of very good musicians living inLabuan.
"A very good example are brothers Peter and Simon Lau. Peter isMalaysia's very own drum maker who makes drums not for living but for inspiration. He plays the drums very well.
"Simon is a very prestigious bass player. Both of them has been playing around the world and I guess that's why I was so awed and inspired by them.
"Labuan may be small and a lot of people think that there is nothing to do here. However, for us musicians, we enjoy the low key life here and are happy with our relaxed life. "
Website and Facebook fan page of Genie.