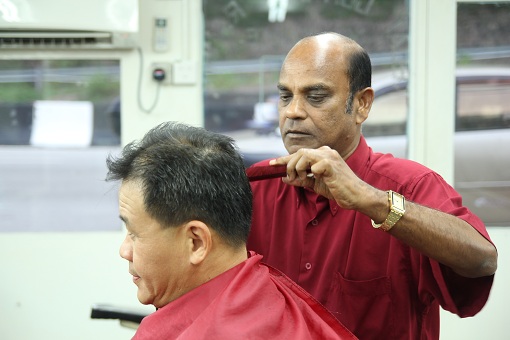 A chat with a former colleague, while he was working at a petrol station, changed his life said Goonalam, a 63 year old barber in Pulau Pinang.
I had been working as a petrol station attendant for a week when a colleague of mine asked me about my parents' trade and I told him that my father was a  barber, as were my uncle and grandfather.
"I wasn't good at school," said Goonalam, who never thought of becoming a barber either.
He advised me to pick up the trade as I would be earning more than what I was doing then and he chuckled at the memory.
Goonalam started his career by working at his grandfather's shop in Pulau Tikus.
He then permanently relocated to his current location in Jalan Batu Feringghi.
His clientele include friends and regulars from the neighbourhood.
According to Goonalam, the initial start-up period wasn't very encouraging, but after six months, the business picked up.
Goonalam refuses to employ foreign barbers from India because it might be difficult for local Malaysian barbers to earn a living.
His clients identify him as a humble, generous, friendly and a professional person.
Goonalam has even won over some of Malaysia's important and famous personalities such as Tunku Abdul Rahman, Penang former Chief Ministers Tun Dr Lim Chong Eu, Koh Tsu Koon, and the present Chief Minister, Lim Guan Eng.
"It truly gives me a sense of honour and pride that I am able to give these people a simple haircut," he said.
On the secret to becoming a good barber he advise, " Being a successful barber doesn't entirely rest on how skilled one is with a pair of scissors or a razor.
" A great deal of it depends on the ability of the barber to engage his clients in a conversation."
"On the future of the profession, I think barbers are here to stay."
"It is unfortunate that not many people are taking up the trade."
"Everyone needs a haircut and not everyone can afford a cut at a modern salon," he said.
He added that, he doesn't know how long he can continue his trade as he gets older.
It had given him and his family many good and long lasting memories.