Classmates throw Kee launching ceremony for latest book
About 150 people turned up to witness the official launch of Kee Thuan Chye's latest book 'Ask for no bullshit, get some more!' on 23 March 2013.
The book launch was held at Loke Thye Kee Event Hall, Penang, and officiated by Penang's Chief Minister Lim Guan Eng.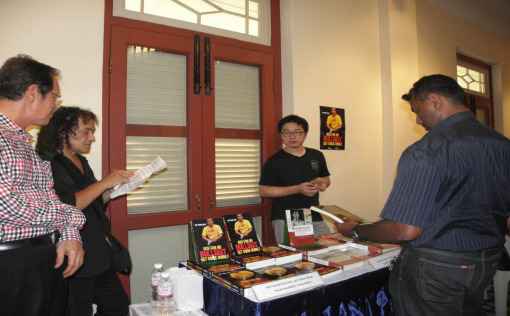 The book launch was organised by Kee's ex school-mates (Penang Free Schoo) lead by Khoo Boo Yeang.
Previously, the event which was scheduled to be held on February 28, 2013, at Penang Club, but it was cancel at the last minute, with the Penang Club giving the reason that it does not want to be seen as 'politically aligned'.
The launch, which was suppose to start at 7.00pm, was delayed a little, when Lim Guan Eng's 18-year-old car had a break-down.
Kee Thuan Chye did two readings from his book.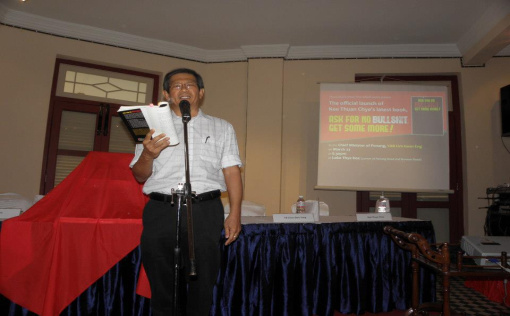 He read from the chapters 'Lament of a Stressed-out Minister' and 'Another Cock-and-Bull Story from Mahathir'.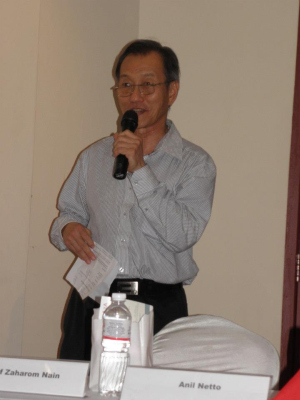 The first speaker general manager of GB Gerak Budaya Enteprise Chong Ton Sin who was Kee's publisher began by thanking Kee for his trust in their publishing company.
He remarked that he understands how it had been an uphill battle to organise the launch of this book.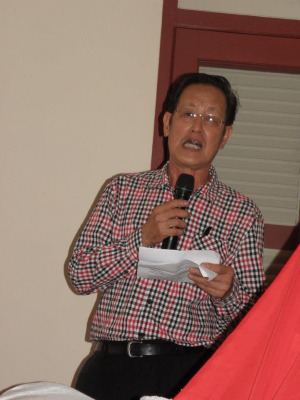 He quoted from the ex Indonesian president Suharto "Kami menggoyangkan langit, menggempakan darat, dan menggelorakan samudera agar tidak jadi bangsa yang hidup hanya dari 2 ½ sen sehari.
"Bangsa yang kerja keras, bukan bangsa tempe, bukan bangsa kuli. Bangsa yang rela menderita demi pembelian cita-cita,"  he said his wish was that the book launch will be able to voice out the people's concern for their own nation.
Kee was the next person to speak and he said that he was very relieved to learn that his old school mates had get together to organise the book launch/forum, after the 'fiasco' with the Penang Club.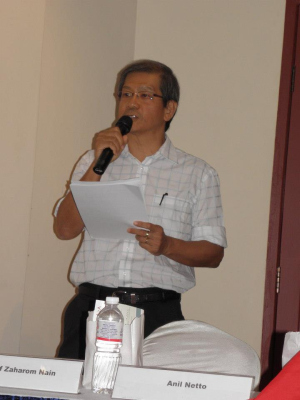 "I thank them very much for this and also would like to thank Anil Netto for highlighting the 'Penang Club fiasco' in his blog, which managed to attract a lot of attention.
He also did not forget to thank the speakers of the forum, since they all had agreed to be speakers again, after the event had been re-scheduled.
Kee, also made special reference to his wife Lim Choy Wan for supporting him through both his books.
"I would like to thank Chong for agreeing to publish my book, although on short notice," he said.
"Initially, I agreed to print only 3,000 copies but even as the book was being finalised, orders had gone out, and the demand was so good that Chong finally agreed to print 7,000 copies.
He specially choose Penang for his book launch as Penangis his hometown and he believe Lim Guan Eng had taken care of his hometown very well.
"Last year, my first book 'No more bullshit, please, we are Malaysians' sold 12,000 copies.
"I hope Lim will like my new 'bullshit' book and continue to take care of my hometown.
When it was Lim Guan Eng's turn to speak, he started off by apologising to Kee and the people that the first scheduled event was canceled because of him but then this was followed by him venting his anger at Penang Club.
"This is the first time in history that the Chief Minister is not welcome in his own state," he said.
"Penang Club had given me a honorary membership and I had spoken there before, and yet they suddenly cancel this event because of my presence.
"They claim that if I was there, they might get in trouble with the Registrar of Societies, as the event was political and their club might be de-registered by ROS," he said.
Lim informed that later, Penang Club did apologise with a letter of contrition.
However, he refused to accept their apology as he felt the apology was not genuine.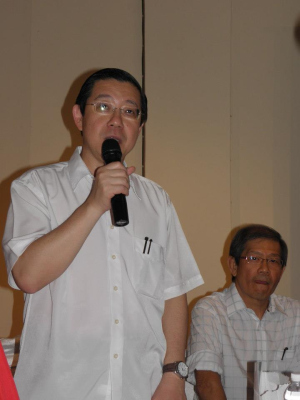 Coming to Kee's book, he felt that the book is very appropriate as these days there had been so many 'bullshit' happening in the country.
Highlighting one recent example where the opposition are given air-time on TV, he lamented that it is not fair at all as they are given only 10 minutes.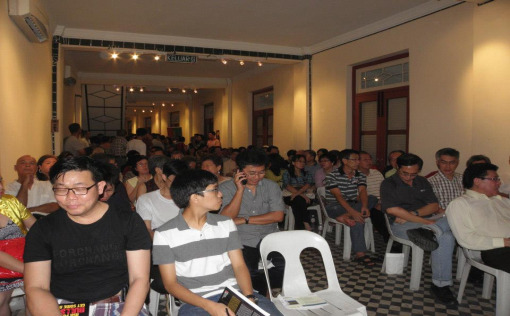 "The best gift to Malaysiais not cash handouts but whether you can give your people knowledge and equip the young with proper education.
"Thuan Chye's book show us that we need to wake up, to do the right thing. We are a nation of sheep. You know the saying, a nation of sheep begets wolves. We had been sheep for too long, so let us not be sheep anymore."
Quoting from Plato – "We can easily forgive a child who is afraid of the dark; the real tragedy of life is when men are afraid of the light," he said that the people had fear the light for the past 55 years, now is the time to come out of the darkness to shine the light everywhere.
After Lim's speech, the launching was done by uncovering the red cloth that covered up a few of Kee's books.
Lim and Kee were then seen busy autographing the books for those who had bought the books at a special discount.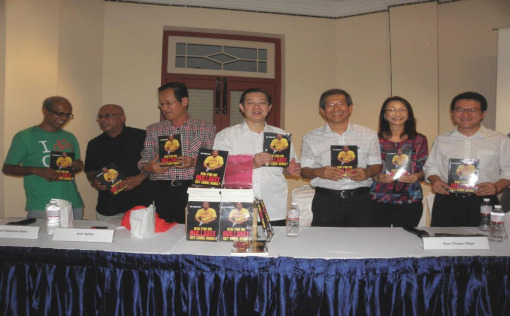 Kee's next book launch will be held at KL Selangor Chinese Assembly Hall on March 28, 2013 from 7.00pm to 10.00pm.
Related articles:
Kee's latest book demands political introspection
A patriot speaks
LGE:  Bullshit sells!