Earth Hour 2013: Malaysians earnest about climate care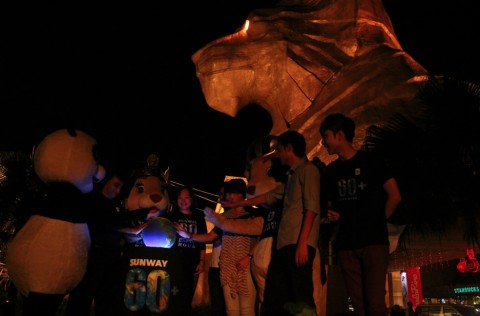 From Earth Hour 2011 to January 2013, more than 50,000 Malaysians lent their support by pledging not only to switch off non-essential lights during Earth Hour, but also to "Live Green" and take action towards more sustainable lifestyles.
For Earth Hour 2013, support has also increased among corporations.
For every completed pledge and survey before Earth Hour 2013, DiGi Telecommunications Sdn Bhd will contribute RM1 to WWF-Malaysia's conservation work.
The survey will provide data on Malaysians' recycling and energy consumption habits, towards helping to raise public environmental awareness.
"WWF-Malaysia thanks every one of the many thousands who completed the pledge and survey online at wwf.org.my and at our booths in universities and shopping malls. We will analyse and announce the survey results, as well as the final tally, in the next three months," said COO of WWF-Malaysia Sudeep Mohandas.
Mohandas thanked Sunway Pyramid Shopping Mall; the Malaysian landmark voted the most popular shopping mall in the nation for two years, 2011 and 2012, for fulfilling the critical role as official Earth Hour venue sponsor for the third year.
"This is the third time Sunway Shopping Malls is collaborating with WWF-Malaysia to serve as a platform to create awareness of climate change to the public. In doing so, the organisation strives to set an example to the public to manifest responsibilities as a green movement advocate," he said.
Sunway Pyramid Shopping Mall also hosted the inaugural Earth Hour 2013 Band Contest, organised by WWF-Malaysia with support from Universal Music Malaysia, which aimed to spread the green message through the universal language of music.
Eighteen local unsigned bands submitted their green-themed music videos, with the five who garnered the most online votes from the public battling it out at the finals.
1Peace won the first prize of RM2,500 cash sponsored by DiGi Telecommunications Sdn Bhd and performed just before the event grand finalé by established local band Kyoto Protocol.
The aptly named Kyoto Protocol is also featured on the first ever official Earth Hour album in the nation. "It is just fantastic when people from all sorts of backgrounds unite to do something for a great cause, like Earth Hour 2013 spreading the word of going green and conservation," said Managing Director of Universal Music Malaysia Loan Cheong.
The Earth Hour 2013 Album also features tracks by popular local artists Jes Ebrahim, Oh Chentaku, Darren Ashley, Pop Shuvit, Salam Musik, Tempered Mental, Soft Touch and Ray Cheong, as well as Earth Hour 2013 Band Contest participants Once Upon a Time There Was a Sausage Named Bob and Paid in Fiction.
Half the sales proceeds of the Earth Hour 2013 Album will be channelled to WWF-Malaysia's conservation work with the other half going back to the artists.
It will be available in record stores nationwide: CD Rama, Speedy, Rock Corner, Victoria Music Centre, Artist Gallery and more, as well as online at pandashop.my.
"WWF-Malaysia sincerely thanks DiGi Telecommunications Sdn Bhd, Sunway Shopping Malls, Universal Music Malaysia, Kyoto Protocol, the finalist bands and each individual who has supported Earth Hour.
All of us need to play our part if we are to mitigate climate change and save our living planet," said Mohandas.
"Earth Hour is a good launch pad in mitigating the adverse effects of climate change. Let us take the Earth Hour initiative beyond the 60 minutes, and continue to demonstrate concern about climate change in our daily activities, for example, switching off electricity when not in use, commuting on public transportation, engaging in telecommuting work from home.
"It is the little things that we do daily, on a sustained, consistent basis that will help mitigate further adverse effects of climate change on the environment," Mohandas added.
WWF-Malaysia also thanks our Earth Hour promotional partners: Nukleus Innerwear Sdn Bhd, New Zealand Natural, Nomad Adventure, F.O.S Sunway Pyramid, Yves Rocher and IKEA Malaysia.
To lend your voice to nature conservation and sustainability efforts, log on to wwf.org.my
WWF-Malaysia will strive to protect our living planet if you will continue to support us.
About Earth Hour
Earth Hour is a global environmental initiative in partnership with WWF.  Individuals, businesses, governments and communities are invited to turn out their lights for one hour on Saturday, 23 March 2013 at 8:30pm to show their support for environmentally sustainable action.  In 2013, Earth Hour's I Will If You Will concept invites individuals and organisations to challenge others to an on-going environmental commitment beyond the hour.  Earth Hour began in one city in 2007 and by 2012 took place in more than 7,000 cities and towns in 152 countries across every continent, receiving reports as 'the world's largest campaign for the planet'.
Photo credit: WWF-Malaysia / Yeong Ji Hao