Black Wednesday: Kami anak Malaysia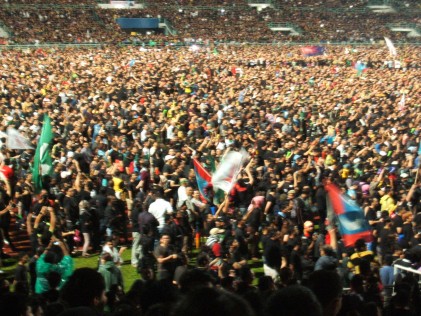 If there was ever any message so clear at the post-election 'Suara Rakyat Suara Keramat' gathering at the Kelana Jaya Stadium yesterday, 8 May 2013, it was that Malaysians want to stand united as 'Anak Malaysia'.
Amidst chants of 'Hidup Rakyat' and 'Bersih', the mood was jubilant and hopeful.
Several leaders in the Pakatan Rakyat coalition took to the stage and spoke of changing times, of fairness in the election process, addressing the recent accusations against Malaysians of Chinese descent.
incumbent MB Abdul Khalid Ibrahim, who thanked Selangor for endorsing Pakatan Rakyat, also asked people to stand up for fairness and "correct the incorrect".
Nurul Izzah, who won the Lembah Pantai seat at the GE13, was on hand to encourage the 100,000- odd supporters who braved rain and traffic to show solidarity in light of the election challenges.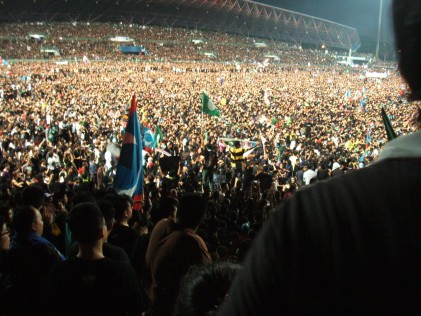 She thanked them for their support and touched briefly on the statement "Apa lagi Cina mahu?" (What more do the Chinese want?) made by a local newspaper, that has received support from the newly sworn-in Prime Minister Najib Razak.
"We're up against a government that wants to segregate us based on the colour of our skin", she quipped, pointing out that this attitude was no longer acceptable. The crowd cheered wildly. Nurul was in her element.
Many in the crowd came to make sense of the recent events.
As one young Malaysian, a 22-year old, first-time voter commented, "I felt very frustrated by the results after voting."
He had been a counting agent at the GE13 and felt the pressure to ensure fairness in the process.
In retrospect, he felt that as counting/ polling agents, they needed to be aware of their rights to avoid being bullied.
Another Malaysian felt this event was necessary so that people in the community would feel reassured as they went about their daily affairs, commenting on a speaker who put in bluntly, "Jika anak Cina Malaysia diuji, anak Melayu, anak India, anak Kadazan-dusun dan Iban dari Malaysia akan menolong."(If a Malaysian of Chinese descent was tested, Malaysians of Malay, Indian, Kadazan-dusun and Iban descent would help.)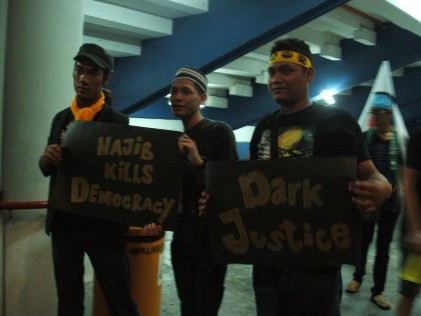 This event will help to keep the momentum going, said another supporter, who said this was an important time for Pakatan Rakyat.
The crowd had been cheering for almost two hours before Gelang Patah MP Lim Kit Siang appeared to thunderous applause. He gave a brief speech, reiterating the need for change and fair elections.
PKR de factor leader Anwar Ibrahim, who came on last, received an astounding welcome and standing ovation from the thousands who had sat in the rain and heat of the stadium field waiting for a glimpse of the man they admired.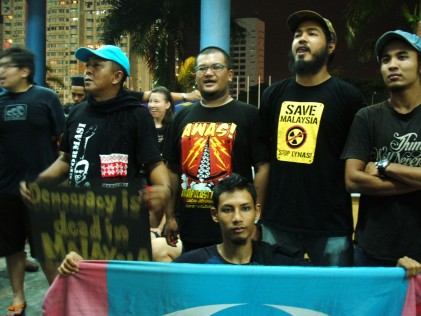 He wasted no time in stating that the people of Malaysia wanted fair elections, regardless of their ethnic backgrounds.
Protesting the lack of fairness and cronyism practiced by the government, he added the message of their coalition was simple, "Enough of corruption, enough of racism and enough of arrogance of power of UMNO and BN."
He was grateful and appreciated the people of Malaysia for their courage in choosing Pakatan Rakyat, based on the popular vote of 52% obtained, stating that this support came only from Malaysians and did not include foreigners, making a jibe at allegations of voter fraud by the ruling party using foreign workers.
The scene was carnival-like, despite the black garb worn by all in attendance.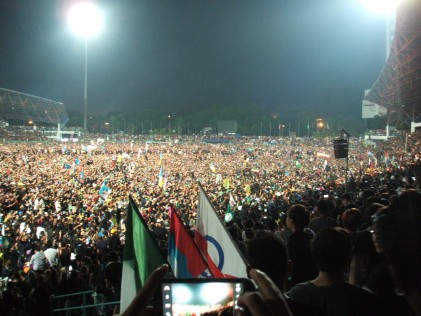 Young and old, people were excited, unafraid to voice their needs and concerns.
As the coalition flags of DAP, PAS and Keadilan flew side by side, and Malaysians of all shapes and colours banded together singing the national anthem, 'Negaraku', it was clear that change was inevitable.
*Writer note: I have deliberately avoided using the names of the people who made their comments, as I want to stress they were all Malaysians.