Autobacs Super GT series returns to Sepang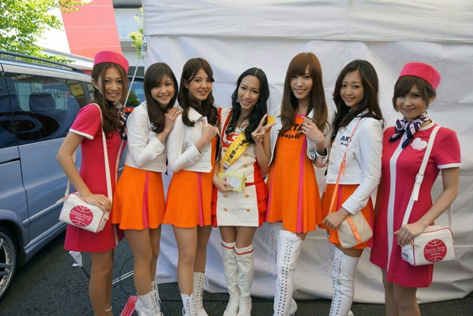 Malaysia will play host once again to Round 3 of the 2013 Autobacs Super GT Series in June 2013.
Organiser for the Malaysian round, JPM Motorsport announced the Japanese Super GT grand touring car racing will return to Sepang International Circuit on June 15-16, 2013.
In a statement, it said Round 3 of the Super GT (also known as the Japan GT) will see high adrenaline action of drivers competing on the track over two categories of participating cars: GT500 and GT300 classes  (cars with 500 and 300 horsepower).
Malaysia has the honour of having two representatives joined the series; renowned Malaysian racing driver Fairuz Fauzy and Super GT Queen Julie Tan.
Fairuz Fauzy, 31, is the sole Malaysian driver racing alongside Japanese Yuki Iwasaki for Team APR in the GT300 class Audi R8 LMS ultra.
In Round 1 at Okayama International Circuit on April 6-7, the team finished 14th position in the race.
Julie Tan, the winner of last year's Malaysian Super GT Queen Search Pageant, joined the bevy of Japanese GT Queens for Round 2 of the race at the Fuji Speedway at Oyama in Shizuoka, Japan on April 28-29.
Julie, who has returned to Malaysia, and the Super GT Japanese race queens will be back in full force for the Round 3 race in Sepang.
The 2012 Malaysian SUPER GT Queen Search Pageant was organised by JPM Motorsport with the objective of promoting the sharing of knowledge, expertise and talent between Malaysian and Japanese GT queens.
The 2013 edition of  Malaysian Super GT Queen Search is in progress. Several casting sessions had been held with the last close door session took place on May 12 at AIMS Academy in Petaling Jaya.
The next Malaysia Super GT Queen 2013 will be selected at the finals on race day in Sepang.  She will travel to Japan to represent Malaysia for Super GT Round 2 on 2014.
The 2013 Autobacs Super GT series features eight rounds and the Malaysian leg is the only round held outside of Japan.
Round 1 (April 6-7) and Round 2 (April 28-29) of 2013 season had already completed in Japan and it is now gearing up for Round 3 in Malaysia, after which the action will head back to Japan to continue for the season's remaining five races.
Fans and race goers can purchase online grandstand tickets priced at RM100 each at www.supergt.com.my or get updates on its Facebook page www.facebook.com.my/SuperGT.my