Sim's winning speech at Toastmasters International
"Do you like what you see" is the title of the winning speech by Sim Bock San from IEM Toastmasters Club at the recent International Speech contest of Toastmasters International District 51 held in Georgetown, Penang.
Sim joined Toastmasters in July 2012 and emerged winner in the speech contests at Club, Area and Division levels before representing the division in the district contest.
Sim said that the ingredient of a winning speech is to speak with humility, from the heart and touches the hearts of the audience.
He also attributes his success to the support of his club members at IEM Toastmasters Club.
As the District winner, Sim will be representing District 51  in the World Public Speaking competition at the Toastmasters International Convention 2013, which will be held at Cincinnati, Ohio, USA in August.
For more information about Toastmasters International, visit their website at www.toastmasters.org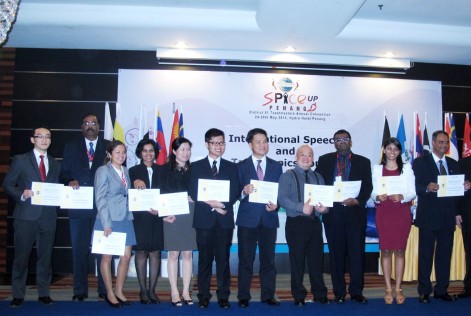 The 11 contestants of the International Speech District 51 contest