Meet our new Super GT Queen Malaysia 2013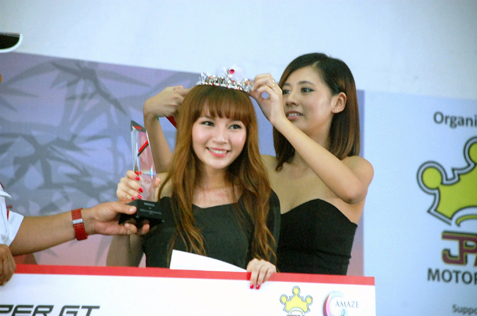 Stilly Goh Chow Er, a 23-year-old freelance model and makeup artist from Kuala Lumpur, was crowned the winner of Super GT Queen Malaysia Search 2013 pageant at the grand finals at Sepang International Circuit on June 15, 2013.
Goh won RM3,000 cash prize, two-year ambassadorship contract and will represent Malaysia in Japan next year where she will join Japanese GT Queens during Round Two of the 2014 Autobacs Super GT Series.
"I am very happy and excited," said the 160 cm tall Goh who started freelance modelling about a year ago and is sought after in high demand for photo shoots.
A big crowd watched the Saturday afternoon's pageant finale, the third consecutive year that it was held, and one of the off-track sideshows in the Malaysian round of the Autobacs Super GT series.
The nine finalists impressed the judges and the crowd with their talent and versatility by first performing a dance number together, then sang the song "Mama do".
The Top 5, who were announced, were Vikky Hue, 21, Amelia Gan, 21, Agnes Yap, 19, Angeline Tan, 19, and Stilly Goh, 23.
The judging were based on criteria such as physical appearance, interaction, talent and character/attitude.
In an interview with Citizen Journalists Malaysia (CJMY), Goh, who can speak Korean well, said she would use the cash prize to learn Japanese language, dance and song.
"The Japanese GT queens need to entertain the fans by singing and dancing on stage. They are just like artistes and they even come out with music videos (MV) of their own songs for sale.
"So I must get myself prepared for the 2014 Super GT in Japan next year," said Goh.
She saw the pageant broadcasted over the internet and decided to participate to challenge herself for a great experience.
"When I first came for the audition I was not sure but things started well and along with the other eight girls, I made it into the finals.
"The girls are very friendly and they take care of each other. We learn to work together and really enjoy each other's company.
"It was a fun and memorable experience," said Goh who gained a better sense of herself during the two weeks experience where the nine finalists met daily for practice sessions and other things.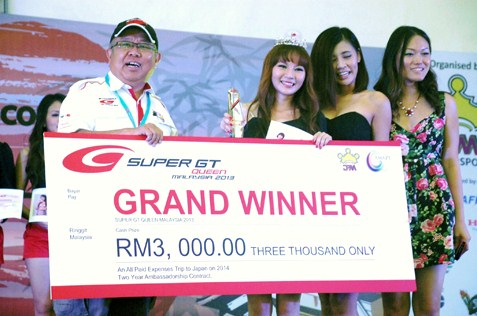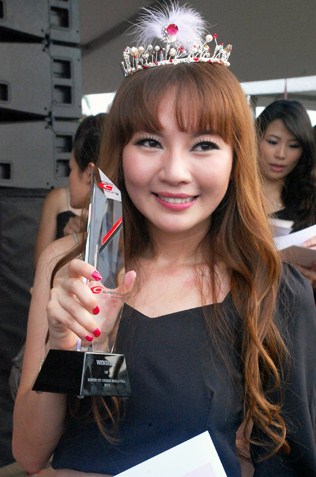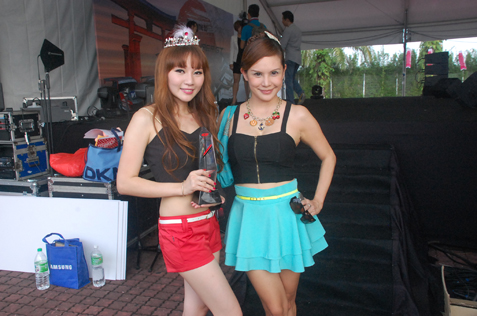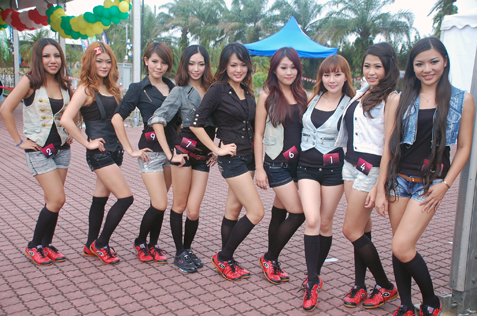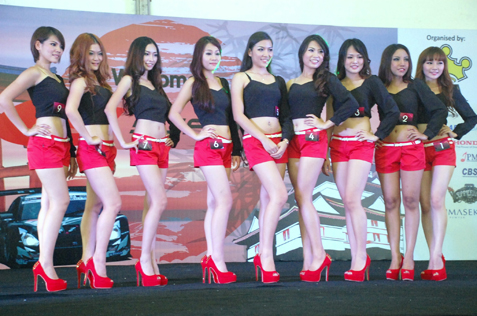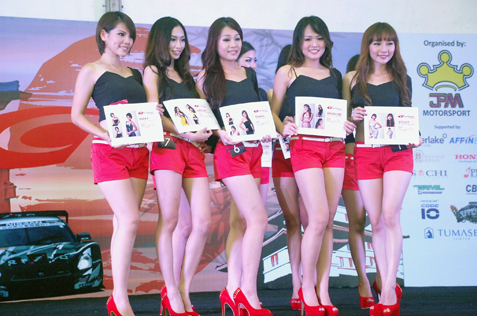 Goh who started her freelance modelling last year said there are plenty of opportunities for freelance models these days.
Before, she was a chubby little girl and totally not photogenic but that changed after she entered her first such model search pageant – the International Yachting Model Pageant Malaysia 2012 – and surprised herself by winning two subsidiary titles; Miss Popularity and Miss Intelligent.
"There was this photo shoot session for the pageant's souvenir magazine and I learned a lot in the poses from there.
Although she did not win the main title, the experience gained at the pageant gave her the confidence to begin entering pageants and changed her life..
From that year onward, it was positive changes for Goh.
She followed a strict diet, lost 9 kg from 49 kg down to 40 kg eventually without any medication and went on to win a string of beauty titles and awards.
She entered several beauty contests, winning Face of Fashion Freak 2013 (Female Winner) and Vidal Sassoon Pink Angel 2012 (Champion). She was the 2013 Miss Selangor Tourism 2013 first runner-up.
She has also earned several subsidiary titles awards. These included Miss Popularity, Miss Talent and Miss Photogenic (Miss Chipao Malaysia 2013), Miss Popular Pink Angel (Vidal Sassoon Pink Angel Regional Competition 2012 in Korea), Most Talented and Best Hair (I Feel Girl Search 2012), Miss Popularity and Miss Intelligent (International Yachting Model Pageant Malaysia 2012) and Miss Personality and Miss Sweet Day Charming (Miss Selangor Tourism 2013).
"After I won several titles from those pageants and competitions, there were a lot of photographers wanting to shoot with me.
"I am really happy and glad that they are giving me such opportunity to do the things I like.
"I won't regret because I believe the photos taken now will bring back lots of fond memories there when I get old one day.
"We can't stop time but the only thing that can stop is photo. I am really enjoying my job so much and I appreciate every chance I got.
Goh is one of the finalists at the Miss Malaysia Tourism 2013 Pageant grand finale to be held on July 7 at Grand Dorsett Subang Hotel in Subang Jaya.
Let us hope her shining stars will continue to shine its brightest and win the crown.
After leaving school, Goh said she enrolled for make-up courses for three years and now applies makeup for clients on a self-employed/freelance basis.
"I love to make everyone beautiful," said Goh who manages to juggle her time between her clients for photo shoot and makeup.
She has built a strong reputation for her professional makeup service. She would be leaving for Melbourne in August to meet her client for makeup service.
Being enterprising, Goh plans to start a business one day providing mobile makeup service with clients getting their makeup done inside a vehicle which can sit four to five people.
"This is a modern day idea to meet customer needs," quipped Goh.
Goh said the K-Pop has stirred her interest in the Korean language and culture which she finds fascinating.
She has enrolled in the Korean Language program and has to-date successfully completed up to Intermediate level 3.
"It's a beautiful sounding language."
Naturally, Goh is Korean drama fanatic and loves spending hours watching her favourite drama series as they help improve her Korean.
She said she loves to travel around because it opens her eyes to the world and broadens her horizon.
She has so far been to countries such as Korea, Japan, Taiwan, Hong Kong, Thailand and Singapore for work and leisure.
CJMY also spoke to Lavin Seow, (Media Corp actress) as the chief judge of the Super GT Queen Search 2013 pageant, and asked for her opinion.
"I am happy that we have made a great decision.
"She has the face, speaks well and has the body to represent Malaysia.
"She has an average of everything and stands out from the others. I believe she will make a great representative."
"I like the winner and I am happy for her."
Lavin who also judged last year's pageant finals said the attitudes of the girls were better this year compared to the previous year's.
"The girls are young and they are all equally pretty good but of course nobody is perfect.
"Overall, I think their behavior and attitude are a little bit better this year so when we give some tips or advice they actually listen and I really appreciate that."

SUPER GT Queen Malaysia 2013 Winner List
Winner: Stilly Goh
Subsidiary Titles:
Most Promising Award – Vikky Hue
Most Talented Award – Madeline Ang
Most Congeniality Award – Elise Wong
Super GT Queen Got Talent – Amelia Gan