According to the United Nations High Commission for Refugees (UNHCR), as of June 2013, there are more that 100,000 refugees and asylum seekers registered  in Kuala Lumpur.  Most of them  are forced to flee their homeland because of war and persecution and many have found their way here to Malaysia by either trekking overland or by sea.  The bulk of the refugees in Malaysia are from Myanmar, with smaller numbers  coming from Sri Lanka, Somalia, Iraq, Pakistan and Afganistan.
For this year's World Refugee Day Celebration, the UNHCR is holding an exhibition of images taken by Malaysian professional photograhper, Ted Adnan to highlight the dilemma of having to flee one's homeland and the plight and survival of refugess once they land in another country.
Members of Coalition of Burmese Ethnic Malaysia (COBEM), which comprise of refugees from all the 7 ethnic states in Myanmar put up a cultural,  music and dance show for the public at the lobby of Sentral Station.
Women and children are the most innocent and vulnerable group in all such situtations and their future hangs in the balance of the UNHCR and countries where are in now.  Malaysia is not a signatory to the UNHCR Refugee Charter and as such these refugees and asylum seekers are here illegally and subject to the whims and fancies of the enforcement agencies on immigration and security.
Those refugees who have been registered by the UNHCR have some minimal form of recognition and protection.  The ones at great risks of human rights violations and trafficking are those who are not registered by the UNHCR  and according to COBEM may amount to 50% of those registered.  Refugees fleeing Myanmar and entering into Malaysia make a beeline to the many COBEM offices all over Kuala Lumpur seeking assistance and information on survival issues in a new environment.
The following images are taken at the exhibition and cultural presentation in the lobby of Sentral Station on 23rd June,2013.    They mainly portray refugees and asylum seekers who are women and children.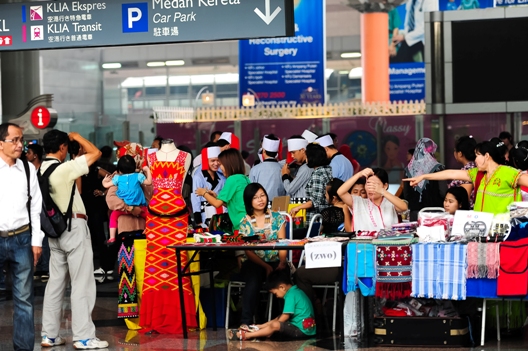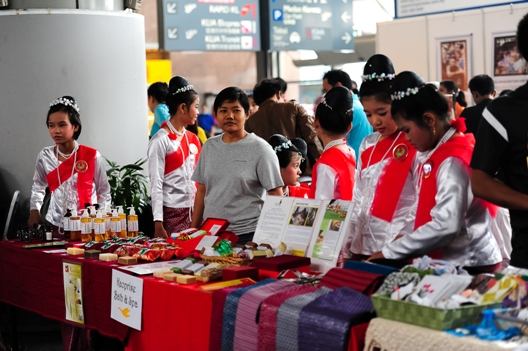 Children in Mon traditional costume manning their stall at the lobby of KL Sentral o World Refugee Day, 2013