George Town Festival: Bridges and Kaki Lima
Dancers from three different countries injected life into George Town's heritage enclave, when they lead the audiences through a contemporary dance journey on June 29.
The contemporary dance journey, which is known as Bridges and Kaki Lima was performed on the streets and walk ways in front of pre-war shop houses, with full of energy and playfulness.
The performance was choreographed by Aida Redza from Malaysia and Jefriandi Usman from Indonesia, and presented by dancers from Malaysia's Ombak-Ombak ARTStudio, Indonesia's Tabusai Dance Theater and Singapore's Nanyang Academy of Fine Arts.
The performance itself is one of the events during the George Town Festival 2013.
Other performances were by the Streetside Entertainers, which is made up of seasoned performers and young individuals who are conscious about heritage and the arts.
Kaki lima, or 'five-foot walk way' is a distinctive architectural feature of the heritage shophouses of Georgetown.
The Kaki Lima was once the place for social gatherings, where neighbours meet for leisurely chit-chats, and children gathered for games. This event was a tribute to the often understated significance of the Kaki-lima as part of Penangites' social fabric of inner city living in historic Georgetown.
Bridges are structures built to span physical obstacles such as body of water or valley or a road. In the context of the performance, these structures have become metaphor for providing a passage to span cultural differences between Malaysia, Indonesia and Singapore.
In an interview with New Straits Times on May 28, choreographer Aida Redza, from Ombak-ombak ARTStudio said that the 'Bridges and Kaki Lima' performance was a journey to reflect and look at how things have changed in our city and our lives, and to ask ourselves what we feel about these changes.
She explained that the performance was about learning our roots by looking at our history and cultural identity while acknowledging the fact that the country belonged to all Malaysians regardless of their differences.
"We also decided to use the five-foot ways as our stage because they are something we inherited from our past. Today, many people, especially youths, do not understand their significance. Five-foot ways were where adults and children bonded."
The performance started from the Youth Centre in Acheh Street to Lumut Lane, Toh Aka Lane, Beach Steet, Malay Street, and Victoria Street before ending inside Sekeping Victoria.
Artistic response on the performances along the streets:
LUMUT LANE
History is created when civilizations meet, as people come together to live and work in a faraway land and forge a common destiny.
TOH AKA LANE
Love conquers all. Although her path is always forging with adversity, co-existence becomes a possibility and possibly a norm, as cultures learn about and from each other.
MALAY STREET
Diversity in the nature of the kaki lima: from rich to poor, transaction to interaction; this then is the true strength of cultures and civilizations coming together.
VICTORIA STREET
War brings destruction, devastation, and wrecks untold misery, trauma and personal sorrow on its victims. It is used as an excuse by the selfish few amongst us to stem development and stop the progress of an era.
CAR PARK
Modernity brings with it the race to achieve excellence and progress as we pass the torch onward to our youth.
SEKEPING VICTORIA
Futuristic visions of what can be construed as technology outpaces moral development in these exciting times. Will we learn from the lessons of history and move civilization forward.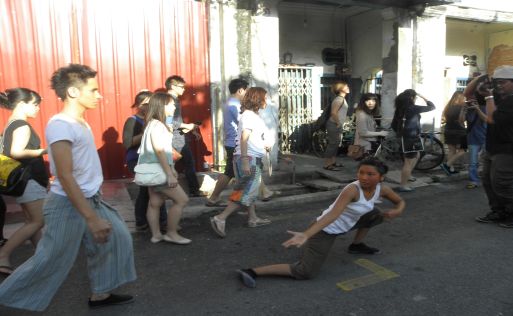 Lumut Lane