Celebrating 30 years of Salute to women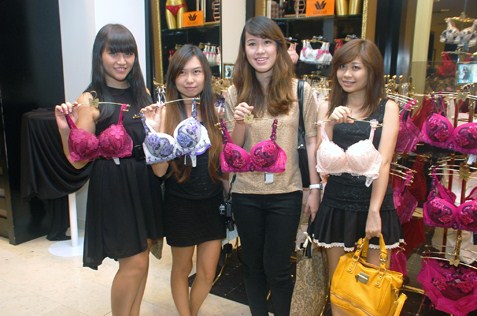 Wacoal Malaysia celebrated the 30th anniversary of its innerwear brand Salute by hosting a party for invited guests to a special Reigning Supreme Showcase held at Wacoal counter in Parkson Pavilion Kuala Lumpur recently.
The company also celebrated their first year anniversary of the brand's presence in Malaysia.
The double celebration saw many guests dressed up in glamour black or gold and were treated to a fashion show by live models where they previewed the latest Salute's Spring/Summer collection.
The latest Asian collection is stylish and ablaze with captivating hues of floral lace motifs.
Guests enjoyed discovering the new collection of Salute while delighting in finger food and fruit drinks.
Among them was Wilee Tee who said: "I like the sharp color design and the feminine appearance of the brand. I never expected it to be sexy and youthful. I like the design and I think it will look amazing on the body."
Caroline Ng who also shared the same thought said she liked the brand for its feminine, seductive and youthful touch.
"This Salute is actually to pamper the ladies in Malaysia who wanted a very exclusive lace material so that they can enjoy that little pampering," said Wacoal Malaysia sales manager Wong Lee Yan to Citizen Journalists Malaysia (CJMY).
"We noticed more and more of our younger customers who really know how to appreciate beauty wearing very nice and elegant lace inner wear.
"A lot of ladies actually travel around the world and they love the lace fabrics but they can't fit the European bra because of the size so Wacoal designed a bra lined with the European lace to fit perfectly into the Asian body.
"If you look at the merchandise, they are very rich in the combination of colours and laces and they are irresistible."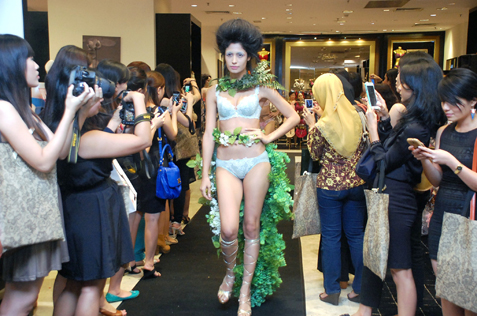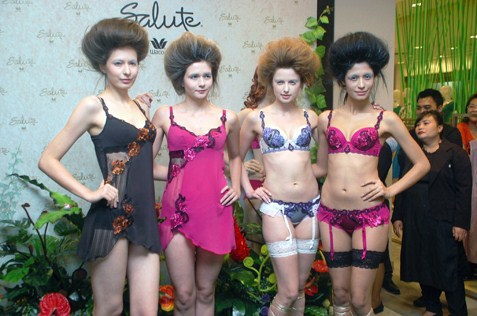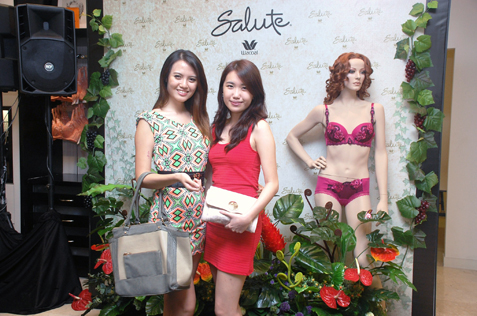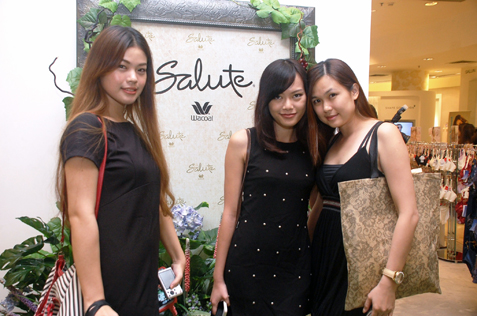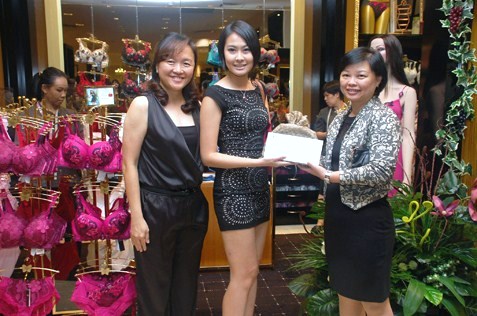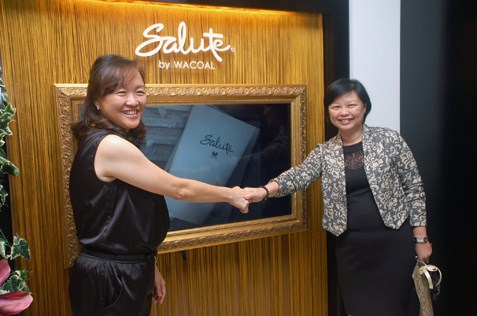 Salute by Wacoal was produced specifically for women with a petite or slender frame in 1983 in Japan to fulfill Asian women's desire for European flair lingerie. Its collaboration with avant-garde lace makers lend a sexy feminine touch to the textile.
Today, Salute is ever more radiant in style, colour and lace than it was shaped 30 years ago.
Wong said from her observation, most ladies were actually wearing cups that were too small and they do not know the right way to wear bras.
She said studies had shown that eight out of 10 ladies worldwide were actually wearing the wrong size bra so it was very important to wear a correct fit bra for proper posture and total comfort.
"Don't assume your size. If the wrong size bra is worn, the breast will bulge out sideway so it's important to find the right size bra that fit your body because you have to wear the garment for long hours throughout the day.
"We have the most cup sizes from A to H so every lady must know their cup sizes so that they can feel comfortable wearing throughout the day.
"We do provide this personalised service at any Wacoal counter where our fit consultants will do the measurement and fitting for customers."
On consumer demand for Salute in Malaysia, Wong said the first year has been very encouraging and met the company's expectation.
"We are happy because the encouraging response is a sign of customers' acceptance of the brand. Besides, we also keep on receiving many positive statements from our customers.
"We have new designs out on the shelves almost every month so our customers and Parkson Elite Cardmembers can browse our full range of Salute collections for the year."
Wong also advised women to examine their breasts every month.
"It is very important to do regular monthly breast self-examination for any feeling of lump or growth.
"We are actually supporting the Pink Ribbon campaign during October where among the activities we hand out brochures on breast self-examination.
"This is a community service project by Wacoal Malaysia to create breast cancer awareness for our customers."