Miss Scuba International: Saving oceans through beauty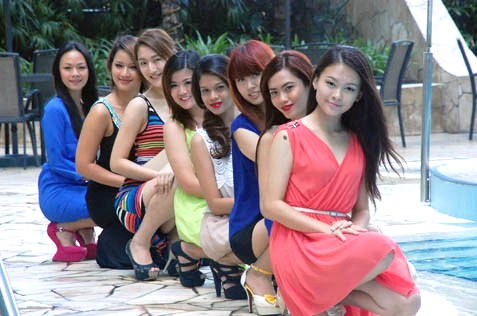 Miss Scuba International is a homegrown beauty pageant with 'save the oceans' environmental message to raise global awareness on the benefits of marine and ocean preservation and conservation for mankind's future generation.
Since its 2011 inception, contestants from across the oceans, including from Europe, USA and Malaysia had participated in two seasons of unparalleled success.
This year, the pageant will have contestants from over 20 countries competing for the prestigious title and crown at Magellan Sutera Resort in Kota Kinabalu, Sabah, this December.
This was announced at the press launch at Prince Hotel and Residence, Kuala Lumpur on July 8, 2013.
Miss Scuba International founder and president Robert Lo who started the pageant in 2011 said the international participants will be taken to Sipadan Island for training and scuba diving sessions and participate in marine conservation projects as part of their activities before the coronation.
The crown winner will take home cash prize US$25,000 and will get to travel to countries around the world as Miss Scuba International ambassador to promote marine and ocean conservation.
Present at the launch were Miss Scuba Malaysia 2013 national director Joan Neo, Malaysia Scuba Diving Association exco member TK Lim, Sharks Savers (South East Asia) director Jonn Benedict Lu, Miss Scuba International 2012 Jamie Piyada Monmaneerat from Thailand and Miss Scuba International 2011 Dayu Prastini Hatmanti from Indonesia.
Among the beauty queens that came along were Miss Asia Queen 2012 Pinky Tan, Miss Malaysia Tourism Queen International 2006 first runner-up June Yappie Shan and Super GT Queen Malaysia 2013 Stilly Goh.
Media Corp actress Lavin Seow and Sarawakian fashion designer Aaron George Von Jolly were also present.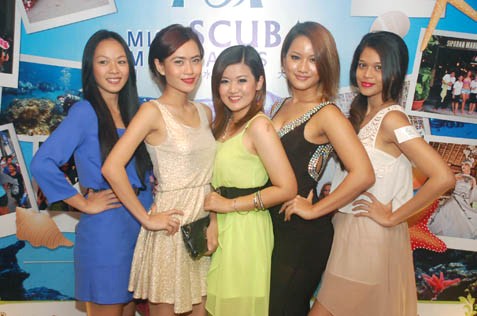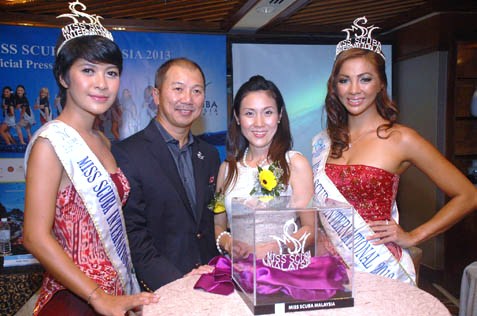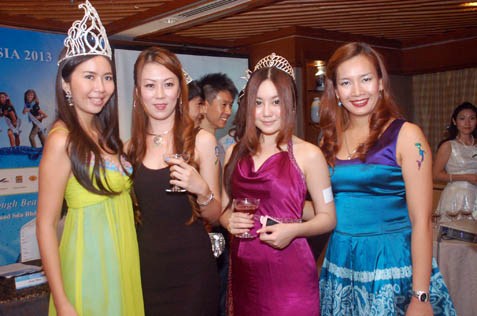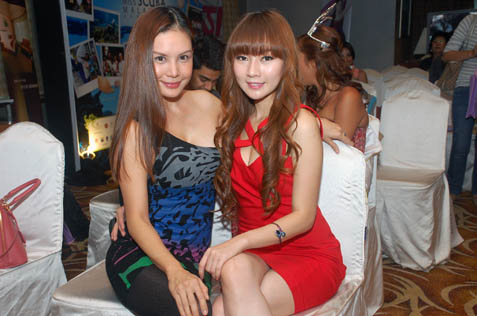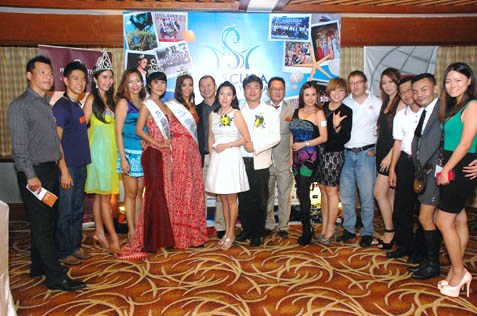 Online application for Miss Scuba Malaysia 2013 is open since May.
"To date we have received close to 25 participants made up of a multi racial group including Kadazan, Indian, Malay and Chinese. We expect more to come in after the announcement," said Joan Neo.
The contest is open to Malaysian single ladies aged between 18 to 28 with minimum height of 162cm and preferably know how to swim and not afraid of water.
Neo said that casting will begin at the hotel two weeks after the press conference. From the preliminary round, 20 contestants will be short-listed to participate in the semi-finals and among them, 12 will be short-listed for the finals.
The grand final and gala dinner night will be held on September 6, 2013 at Prince Hotel and Residence in Kuala Lumpur, being the official venue sponsor.
The crown winner will receive top prize of RM12,000 in cash and gifts, first runner-up RM8,000 and second runner-up RM5,000. There will be five subsidiary titles with each award winner gets RM1,500
"We want to increase the prize purse as much as possible. We are working hard to get more sponsors because more sponsors means more prizes.
"We hope more sponsors and private individuals will join us in our marine and ocean conservation efforts and promotion of Malaysia's dive and marine tourism.
Neo said Miss Scuba Malaysia will continue its corporate social responsibility (CSR) efforts of displaying their caring and compassionate side by visiting old folks homes and orphanages as well as promoting marine conservation in Malaysia through organisations such as Sharks Savers, Manta Trust and Rotary Club of Bandar Utama.
The winner of Miss Scuba Malaysia 2013 will participate in the "I'm FINished with fins" campaign and join a stellar list of celebrities and personalities who are supporting the shark conservation movement.
"We will be working in partnership with Rotary Club of Bandar Utama on worthwhile charitable causes.
"We plan to bring children to swimming pools and let them take the plunge to experience going underwater down.
"There will also be fish camp, marine and ocean conservation talk so the education must start at a young age because it is quite difficult to tell adults not to eat shark fin soup."
Tables for the Miss Scuba Malaysia Grand Finals and Gala Dinner show on September 6 at Prince Hotel and Residence are selling fast.
Those who want reservation are requested to contact TK Lim (+6016 666 5609) or Siew Lan (+6016 263 1573) or visit its official website.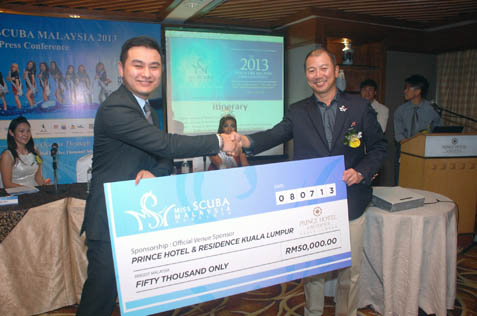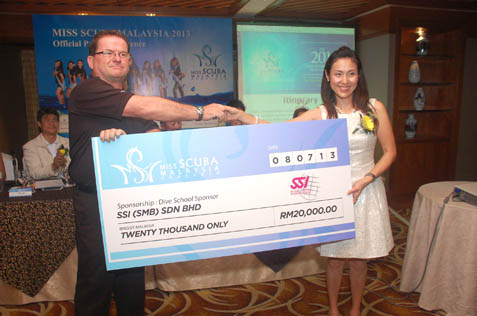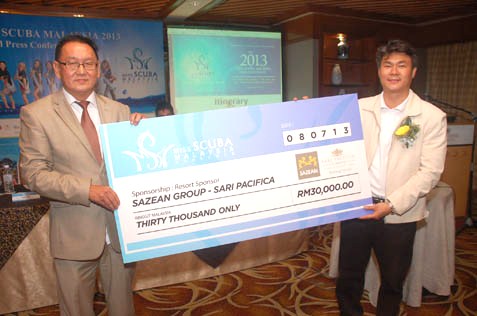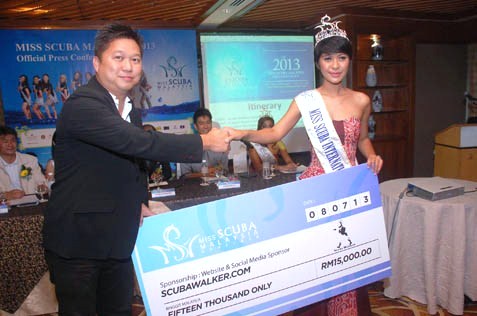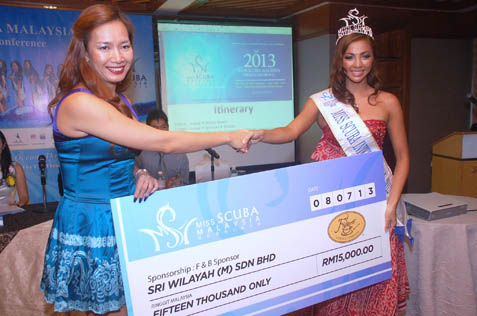 Among the Miss Scuba Malaysia 2013 participants who attended the launch event were 22-year old Charlene Chai who said she was taking part in the pageant for the fun and challenges, and hopefully to win the title.
She won the Miss Popularity subsidiary title of Miss and Mister Malaysia Campus 2011.
A fourth-year Monash University Sunway double-degree student in Banking and Finance and Communications, Chai said she participated in the first 2011 Miss Scuba International pageant and although she did not win any prize, it got her interested in scuba diving.
She has last week just obtained her Advanced Open Water Diver certification by PADI which qualified her to dive deep to a depth of 30 metres.
Chai also said she has dived at several places in Malaysia including at Pulau Perhentian and her next diving trip will be in the Philippine in December.
Another participant 21-year old Isabella To, a finalist of Queen of Muzeum 2013 said she supported conservation efforts to safeguard the marine environment and will put her best efforts to win the title and take the crown home.
After the press launch, Citizen Journalists Malaysia (CJMY) asked Robert Lo what made him created the only pageant of its kind in the world dedicated to marine and ocean conservation.
"It is a very well Malaysian-own show owned by Malaysian. I founded it, I designed it and since its launch in 2011 I have registered Miss Scuba in more than 100 countries," said Robert Lo beaming with pride.
Lo said: "Our oceans face a lot of environmental problems such as overfishing, bottom trawling, dynamite fishing and cynide fishing. Such destructive fishing methods used are encroaching on coral reefs and scraping the seabed.
"We need a program to function as a vehicle to drive people to protect the ocean. It is very important because our oceans really need our help.
"Women do not participate much in diving activities and I see them as the best people because they can attract attention.
"The beauty also helps and through the years of my overseas marketing, I  realised we need women to be more involved in promoting ocean conservation. They are very good in promoting scuba diving tourism.
Lo said they are working with various diving agencies around the world such as PADI, NAUI, SSI and SDI and also environmental agencies.
"When they hear about it, they are so excited because they know this is a vehicle for them to launch to a higher level and with the present of the media and the beautiful women of the pageant, they get shine out better.
"So it's important for all of us to come together and by working together we can save guard the oceans for generations to come.