Home for the abused and abandoned in need of funds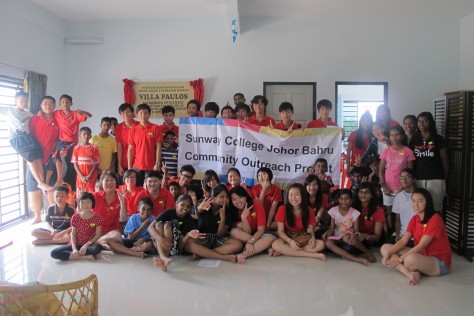 A group of thirty students from Sunway College, Johor Bahru recently visited Villa Paulos, a home for abused and abandoned children, which is located on Jalan Mariamah.
Villa Paulos, a home run by the Catholic Church, is a shelter for children who have been subject to neglect and abandonment and in some cases, even abuse.
A total of about 80 students from the Community Outreach Club of the college, over three weekends, spent time cheering up the children, motivating them, singing and playing ball and other games with them.
The purpose of the visits was to enable students to see for them to make friends and at the same time, be of service to those in need.
The home, which is run purely on public funds is in urgent need for more funds for its newly constructed extension wing, which was blessed and declared open by His Lordship Bishop Paul Tan, recently.
"With our new block, the intake of children will surely increase, maybe up to 40 and there are very many more waiting for the opportunity to come in. We are scouring for ways and means to raise funds. In March this year, we organised a walkathon, the proceeds from that event gave us some lifeline," said Joe Tan, who is the treasurer of Villa Paulos's management committee.
Tan also added that the children have been identified and recommended by their parish priests and admitted after a background check and board members' visit to their homes.
When asked by the CJMY on what Villa Paulos provides for the children, Tan said that they are doing their best to provide for the children as how they would have provided for their very own beloved children and allow them to live and experience a wholesome Christian family life away from their own families.
"Do stretch out your hands and help the children in whichever way that is convenient to you. There is none so poor that he has nothing to give nor none so rich that he has nothing to receive," appealed Tan.
For those who would like to contribute, Joe Tan can be reached at 012 762720.