125th Anniversary of Shrine of St Anne
The annual Feast of St Anne's celebration, which attracted hundred thousands of pilgrims, not only locally but also from nearby Asian countries, was celebrated this year from 19 July to 28 July.  The theme for this year was 'Deepening our faith'.
The feast celebration was held at the Church of St Anne, Bukit Mertajam, Penang.
This year, it was special, as it is the 125th anniversary of the Shrine of St Anne. The Shrine of St Anne is where pilgrims enter to offer their vows/petitions or to thank St Anne for their previous vows fulfilled.
They pray with lighted candles and after their prayers, they offer candles and flowers to St Anne. Some made donations in honour of St Anne.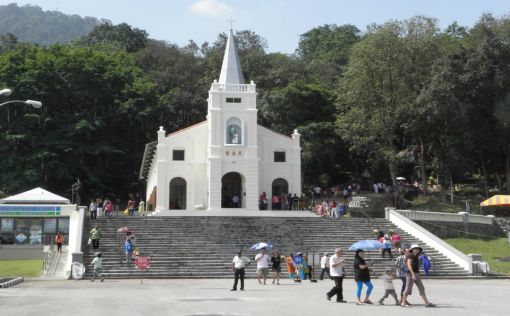 Inside the Shrine: offering up petitions together with candles and flowers to St Anne.
Next to the Shrine, is the  church with its majestic Minangkabau roof. This is where the novena prayers and Masses were held.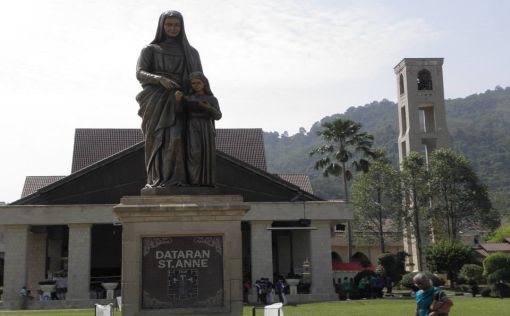 From 19 July, pilgrims already started trickling in but the numbers hugely increased on 26 July, the actual feast-day and the weekend of 27 and 28 July.
On  Friday, 26 July, after the 7.00pm Mass, there was a procession on the streets. This was the first time after about 10 years that the procession went out on the street.
As it was the 125th anniversary of the Shrine, the parish priest, Fr Henry Rajoo, wanted to make it a special memorable year.
The procession saw three different kinds of 'floats' moving slowly on the streets, with thousands of pilgrims and devotees following, including the religious and clergy.
Apart from the usual statue of St Anne with her daughter, Mary, there were the Blessed Sacrament float and the replica of the Shrine float.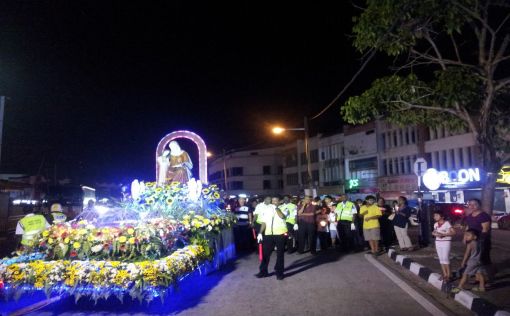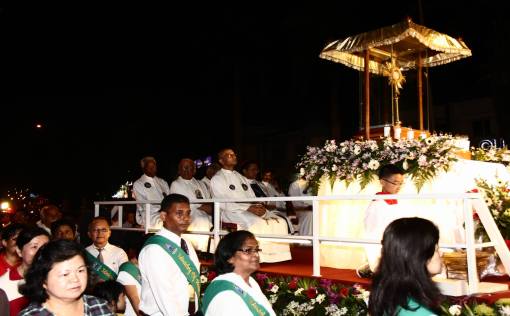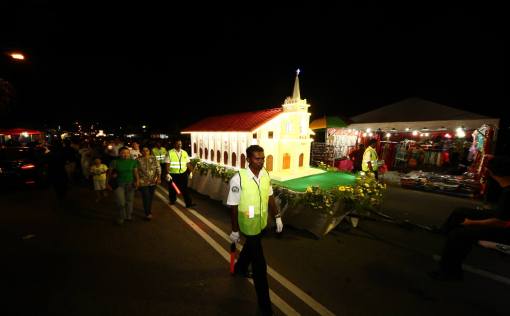 The Blessed Sacrament float, with the Bishop of Penang, Bishop Sebastian Francis and a few other priest on board, made five stops to 'bless' the people and the street.
On the following day, Saturday, 27 July,  there was a  Mass  celebrated by the Apostolic Nuncio to Malaysia, Archbishop Joseph Marino, along with Bishop Sebastian Francis and lots of other priests.
The Chief Minister of Penang, Lim Guan Eng dropped in during the Mass.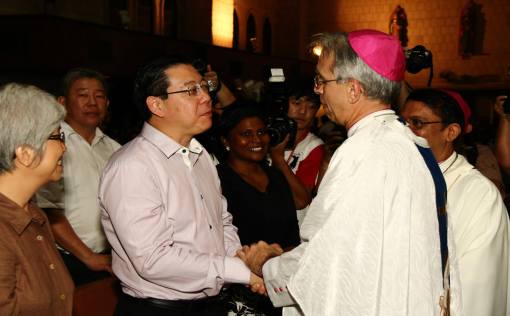 After the Mass, there was a ceremony of 'crowning' the statue of St Anne and Mother Mary, followed by the burning of petitions (which were written on small pieces of paper). This was followed by a candle-light procession that went round the church's sprawling grounds.  The statue of St Anne with Mary,  on a wooden palanquin was carried by  volunteers.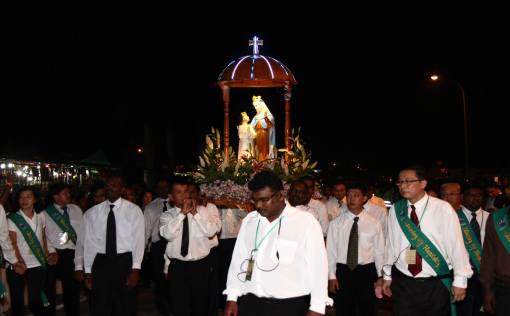 When the procession ended, the people were treated to  fireworks, followed by a concert that rocked through till midnight.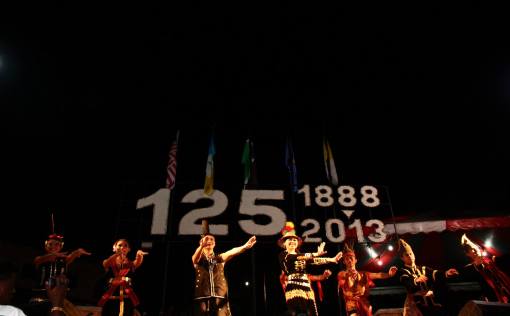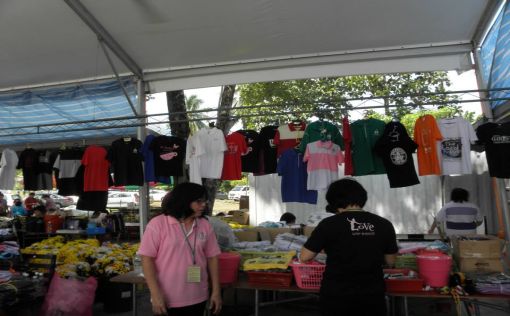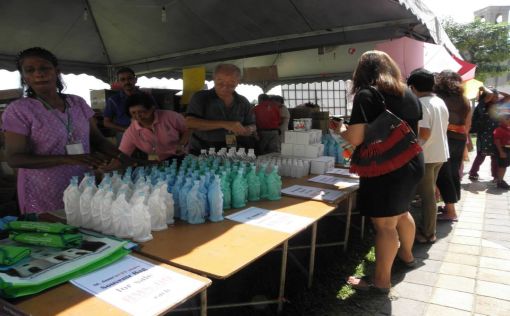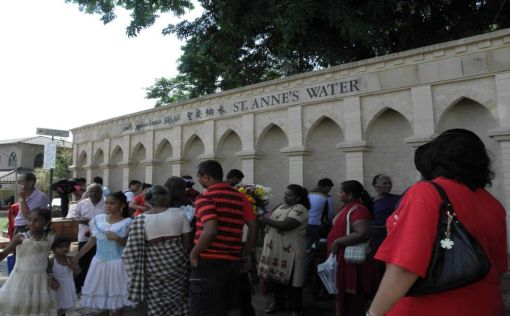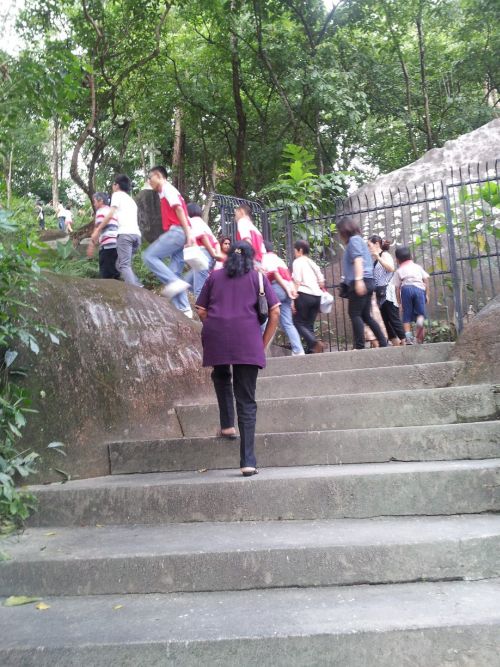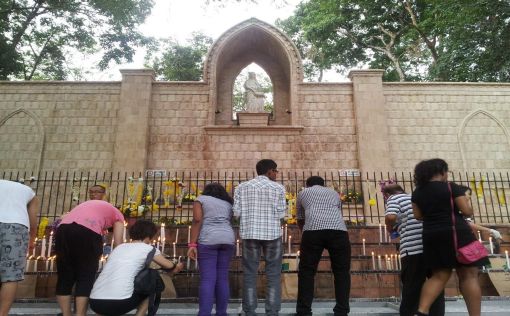 More photos can be found at the St Anne's Facebook
Related articles:
Pilgrims thanked St Anne by the thousands
Feast of St Anne at Bukit Mertajam