Little Penang celebrates 7th anniversary
The street of Upper Penang Road,  which is surrounded by hotels and pubs comes alive every last Sunday of the month when the  Little Penang Street Market (LPSM) is set up from 9.00am to 5.00pm.
LPSM is a non profit community venture, organized by a small volunteer committee, under the umbrella of Penang Arts Council.
More than 70 stalls are set up at LPSM, operated by locals and some expatriates, featuring  arts and craft, collectibles, antiques, and also home-made food.
Notably, there is an open space for concert and shows, where talented locals get to show off their performances.
The year of 2013 marks the 7th anniversary of LPSM and the event, on 28 July 2013, was graced by the chief minister of Penang, Lim Guan Eng.
In Lim's speech, he mentioned that seven years ago, there were not many activities in Penang but after Little Penang Street Market started, arts and craft markets started to spring up in other places like New World Park, Queensbay, Gurney Plaza, Times Square and Straits Quay.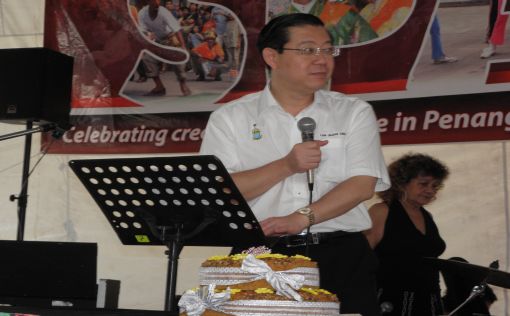 "However, many vendors here are faithful to Little Penang as this is where they started and you still see them; those who started seven years ago, operating here.
"Little Penang attracts tourists from the catchment area of the nearby hotels, looking for souvenirs. There are also Malaysians who come to town to catch the attractions of Little Penang, promoted by the Penang Global Tourism. Regulars will come every month to meet up with their friends and buy their favourite food."
He also mentioned that Little Penang has provided an all-year round regular platform for many young musicians and performers, giving them a chance to showcase their talents and interact with other artists.
In recognition of LPSM's contribution to Penang's cultural vibrancy, the Penang State Government has recently granted LPSM with RM40,000. "This is a good start," said Lim. He hopes that LPSM will expand to become an even more prominent platform for Penang's local talent.
There was a cake cutting ceremony after his speech. Lim was then presented with a memento,  after which performances continued.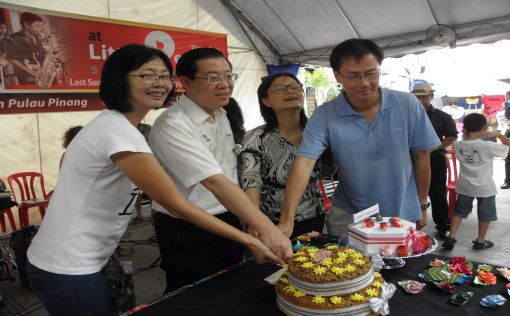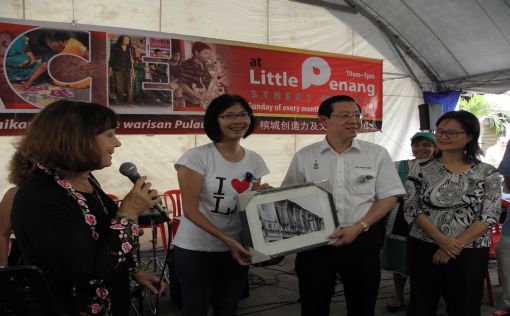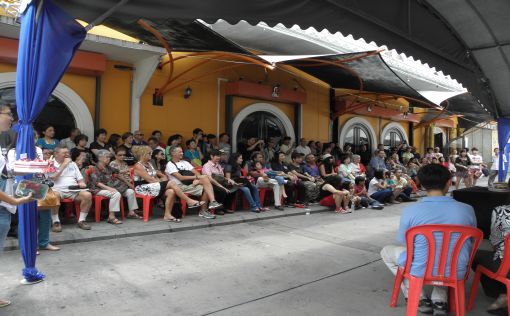 The Penang Eurasians gave a vibrant cultural dance, which was performed by dancers of various ages. Towards the end of the dance, they invited the audience to join in. The chief minister also sportingly joined in, swaying and twirling to the delight of the audience.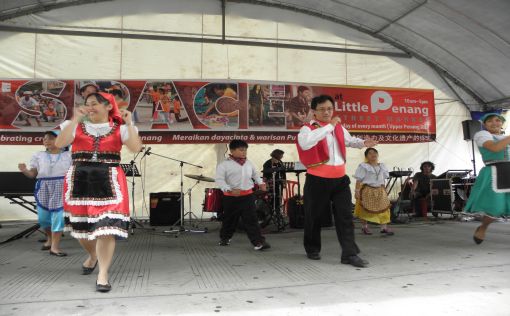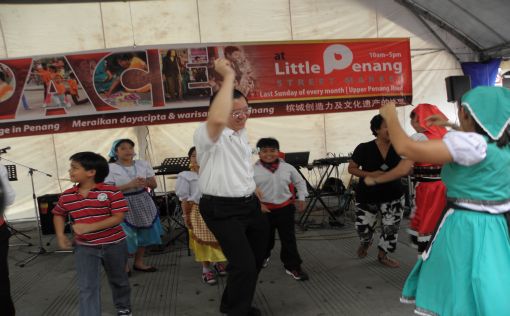 Some visitors stayed on to enjoy the rest of the performances, while others went browsing the many stalls.