Cockroach eggs in McDonald's Samurai burger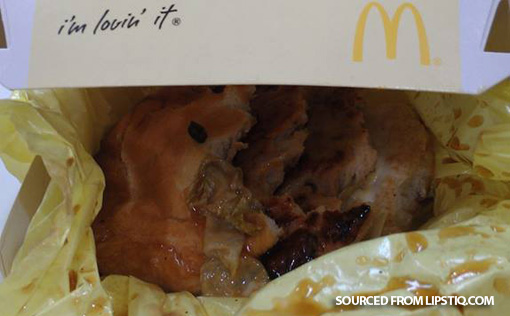 A lunch take-away customer of McDonalds Mont Kiara has posted complaints in a local lifestyle site Lipstiq.com, that his food being infested with cockroach eggs.
According to Lipstiq.com, the customer, Jeremy C, had ordered a take away lunch consisting of a Samurai Burger from the McDonald's Mont Kiara's branch.
The customer was dismayed to find small black objects, which turned out to be cockroach eggs. The customer even claimed that he dissected the egg to make sure that it is a cockroach egg, reported Lipstiq.com.
The presence of cockroaches in food establishments is no breaking news, for Malaysians, the occupation of filthy insects and rodents in restaurants are rampant, however many Malaysians are nonchalant to the detrimental health hazards that roaches can bring.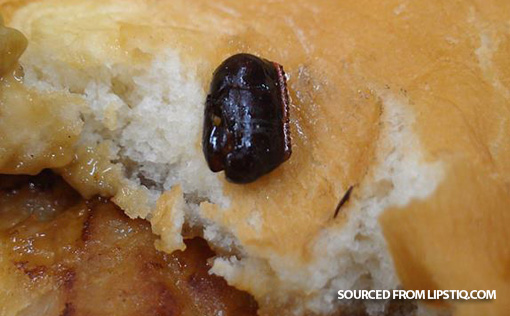 Roaches are immune to most things; they would walk on rotten waste or even fecal waste to obtain food. Thus their foraging allows bacteria to stick on its feet and legs, which very well explains the roaches' notorious position as the primary carrier of salmonella or better known to the Malaysian public as food poisoning.
The droppings of roaches may cause serious allergic reactions towards skin sensitive people, and about 50% of asthmatic patients may experience allergic reactions towards the roach's presence.
The emergence of this report only, leads us to question the effectiveness of the health inspections in restaurants, although the Health Minister S. Subramaniam had launched a nationwide health inspection involving 4200 health inspectors to close dirty food premises effective from July 1, 2013.
McDonald's Malaysian franchisee Golden Arches Restaurants Sdn Bhd has informed CJMY that they will be releasing a statement pertaining to the allegations published in Lipstiq.com.
McDonald's: Our Restaurant is clean
Mc Donald's Malaysia has released a statement in response to the customer query by stating that McDonald's holds their customers' safety and well-being is of highest priority.
"We uphold the most stringent food safety and cleanliness practices consistent with our global standards, so that our customers can enjoy safe and great-tasting food at all times.
In regard to this incident, our investigations revealed no traces of pest infestation at our restaurant, and proper procedures were adhered to throughout the preparation of the product. As such, the findings of our investigation does not support the claim that the foreign matter originated from our restaurant. We are reaching out to the customer to address the concerns."