LAFA Medical Group celebrates launch at Sunway Mentari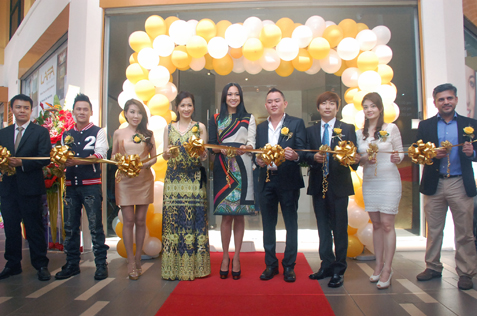 LAFA Medical Group (LMG) was officially launched by its founder and managing director, Jannie Yang.
It marked a new milestone in the group of sister companies dealing with the provision of inbound and outbound medical aesthetic cosmetics and plastic surgery services.
The elaborate grand opening ceremony held on July 6, 2013 at LAFA Clinic at Sunway Mentari, PJS8 in Petaling Jaya was well attended by over 200 guests.
"LMG was formed with the aim of providing a one-stop professional cosmetic and plastic surgery services to our customers in their pursuit of beauty," said Yang.
"Everyone has a basic need; like to look good and we help our customers to seek improvements in their outlook and achieve their beauty desire.
"I believe that beauty should come from within an individual that can instill self-confidence when among the public, while improving the quality of life."
Yang, a beauty perfectionist, has worked in the service industry for the past 17 years and spent the last three years doing research before establishing LAFA.
She had visited plastic surgery hospitals in Korea and organised several knowledge and technology transfer with the hospitals.
The day officially kicked off with a ribbon cutting ceremony, followed by a plague signing ceremony.
A tour of the LAFA Clinic facilities were later on given to the excited guests. LAFA's medical officer and cosmetics aesthetic physician consultant also gave a talk during the ceremony.
Free consultation were also given by the medical team on aesthetic treatments, anti-aging fresh cell, cosmetic surgery and Korean plastic surgery.
Celebrities and beauty queens attended the joyous occasion which included popular socialite, singer and fundraiser Datin Maylene Yong (Mrs Asian International Beauty 2012), actress Debbie Goh (Miss Astro Chinese International 1998) and Malaysia's well-known songwriter/composer Jovi Theng.
The launch was also attended by Chloe Chen (Miss Malaysia World 2011), Dayu Prastini Hatmanti (Miss Scuba International 2011) and June Yappie Shan (Miss Malaysia Tourism Queen International 2006 first runner-up).
As a part of its corporate social responsibility and contribution, LMG has set aside a special fund under the LAFA Care Program to help people especially those who have suffered disfigurement at birth or accident and are in need of financial assistance for aesthetic, cosmetic and reconstructive plastic surgery.
LAFA started it operations in 2011 with the establishment of LAFA Medical Centre at Menara See Hoy Chan at Jalan Tun Razak, Kuala Lumpur. It was the first center established specifically for aesthetics and plastic surgery approved by the Ministry of Health.
It continued to improve and upgrade its service standards and facilities with sophisticated and state-of-the art equipments backed by medically trained physicians and local and international plastic surgeons including from Korea.
Today, the LAFA Group of companies has four core businesses:
LAFA Medical Centre
An ambulatory care centre providing plastic and cosmetic surgery.
LAFA Clinic
Providing medical aesthetics consultation and treatments, as well as anti-aging and cosmetic beauty treatments.
LAFA Luxury
Providing inbound and outbound medical tourism services that includes transport arrangement, accommodation, surgical appointments and ground tours.
Nutri Excel
Providing outbound medical tour to Germany for anti-aging treatment. 
More photos of the LAFA Medical Group grand opening below.