Chance of a lifetime for 500 devotees during 'Aadipooram'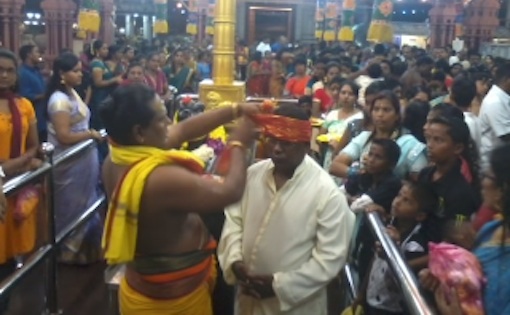 Some 500 devotees were given once in a lifetime opportunity to enter the Artha Mandapam (the sanctum sanctorum of a temple, where the deity sits) to offer flowers and obtain blessings from the deity, at Raja Rajeswari Amman temple at Taman Sentosa, Klang.
The temple priests bestowed the opportunity to the devotees following the 'Aadipooram' prayer, which took place last Sunday. 'Aadipooram' carries a special place in Hinduism.
'Aadi' refers to the fourth month in Tamil calendar and 'Pooram' refers to the star that occurs on this day. 'Pooram' is one of the 27 stars in Indian astrology and is termed as the star of the Mother Para Shakti.
In South India, on the day of 'Aadipooram', millions of devotees carry porridge will walk miles long and allowed to perform milk 'abishekam' (pouring libations on the image of the deity being worshipped) to Lingam by themselves with their own hands. This practice, believed to have shown many ways to help the common people to wade off the bad karma.
Every year, 'Adipooram' is celebrated in Hindu temples in the month of August, according to the Gregorian calendar.
Most of the devotees, who came in droves to the Raja Rajeswari Amman Temple in Klang said the prayers offered to bring happiness and peace to them and their family members.