170 lamps graced prayers in Taman Sentosa, Klang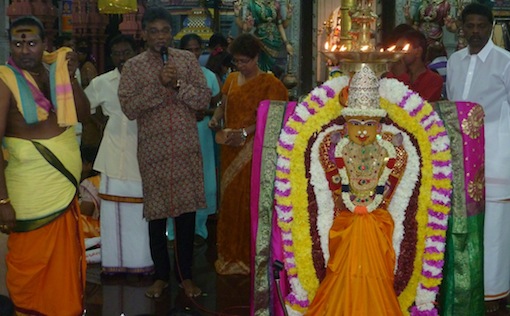 Some 500 devotees gathered at temple in Taman Sentosa, Klang to light lamps (Kuthuvillaku) on the last Friday of the month of Aadi, which is an auspicious month for South Indian Hindus.
Devotees presented 170 lamps to the deity during the pooja, and followed by a prayer session lasting for almost an hour.
This prayers which is known as the Thiruvilakku Pooja (referring to the lamps in the prayers) is customary among women throughout the Tamil community and is usually done in groups.
This group worship occur in hundreds of villages and cities in Tamil Nadu. Groups of women, often 108, or 1008, or even up to 10008 lights up the lamps which is known as 'Thiruvilakku'  and  gather at temples to conduct simultaneous prayers.
'Thiruvilakku' or 'Kuthuvilakku' is an artistically crafted lamp , which has a place in the shrines in South Indian Hindu homes. It is the symbol of Mahalakshmi, the deity of Fortune and Prosperity.
'Thiruvilakku Pooja' aims at collectively worshipping Mahalakshmi by a large number of women at a time. This is said to bring prosperity to the home and peace to the world.
It is mainly done for the well-being of the woman's family; it brings all auspicious things to each and every member.
Raja Rajeswary temple chairperson Palaiyaa said the committee was really please to have organised the important event.
In fact, they was impressed to see the overwhelming support from the deity.