Tmn Permata residents sets Sept 18 deadline for govt to resolve issue
The residents of Taman Permata Dengkil had given a 28-day ultimatum to the federal government to undertake the project to build new houses, or they will camp out in front of the Prime Minister's office to mark their 100 days camping out in their own car park.
Some 80 families from the low-cost flats in Taman Permata Dengkil have been living in tents in their car parks for the past 72 days as their homes has been declared unfit for occupation by the Sepang Municipal Council (MPSP).
Due to the delay in their effort to be relocated or to be provided temporary housing before the repair works are concluded on their houses, the residents have decided to gather at the Prime Minister's Office In Putrajaya today.
The residents were then met with a special officer from the Prime Minister's office to explain their concerns over the federal government's delay in replying to the Selangor state goverment's letter of appropriating 30-34 acres of land for the housing.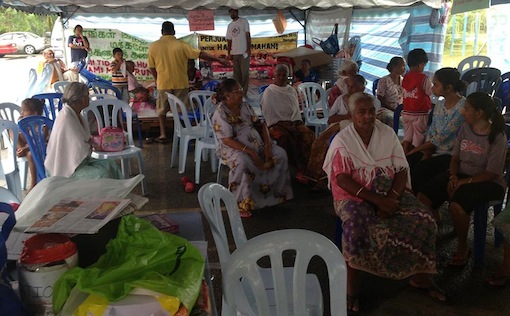 The residents are concerned, as the federal government has not made an official statement to undertake the project of building the new homes.
The federal government requested the Selangor state government to provide land and gave a written assurance that the said land would be used to build terrace houses for the affected families.
Urban Wellbeing, Housing and Local Government Minister Abdul Rahman Dahlan also have promised to resolve the issue.
The residents, whom have been living in bad conditions since the June 12, 2013, said that the living conditions have taken a huge toll on the senior citizens and children.
The residents of the Taman Pemata Dengkil low cost flats are former estate workers who were relocated to Dengkil when their land was acquired for the development of Putrajaya. They are part of the 400 families from four estates, namely Prang Besar, Galloway, Medinglay and Segdelay.