Miss Scuba Malaysia beauties appearance at Aunty Su Kopi Bistro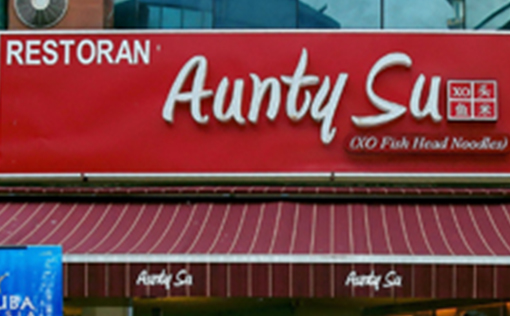 Miss Scuba Malaysia 2013 finalists made a public appearance at Aunty Su Kopi Bistro at Taman Serdang Perdana in Seri Kembangan, Selangor on September 1, sparkling much excitement among restaurant patrons.
The beauties presented a catwalk during a show and participated in Q&A session where the winners took home product hampers.
Nineteen-year-old student Summer Liew from Selangor took two prizes for Miss Best Catwalk and Best Q&A in Marine Conservation, while the prize for Best Q&A in Fire Protection and Escape Knowledge went to 18-year-old student Jade Park from Malacca who was born to an English father and a Chinese Malaysian mother.
The lunch-hour visit to Aunty Su Kopi Bistro is one of the numerous promotional events, conservation and community activities for Miss Scuba Malaysia 2013 contestants.
The restaurant which is renowned for its signature XO fish head noodles is the food and beverage sponsor for Miss Scuba Malaysia 2013.
The visit by the contestants to Aunty Su was to create awareness about its sponsor and to whip up a lot of excitement to set the stage for the grand finals on September 6.
Its owner Dato Sri Tai Hean Leng, who is also managing director and CEO of Malaysia Steel Works (Masteel) was present to receive his beautiful guests.
Others who were also present at the event included fashion designer Raymond of Von Jolly Couture (the fashion sponsor) and May Chia from JCY Models.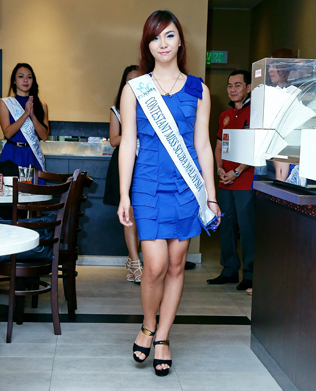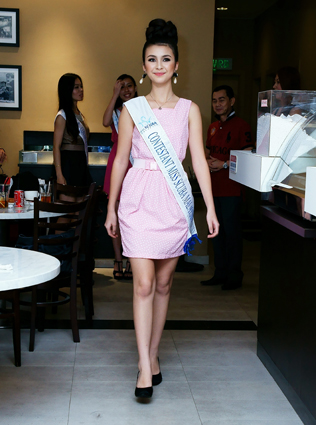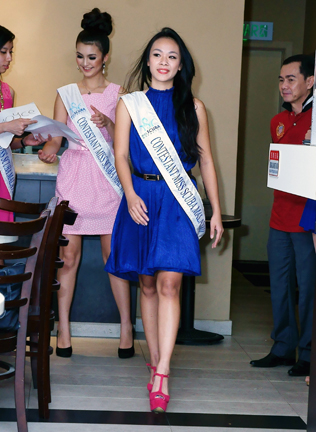 Aunty Su Kopi Bistro supports Miss Scuba Malaysia and contestants in their effort to help protect the ocean by serving seafood from sustainable marine species.
Miss Scuba Malaysia is unique because it is the only pageant of its kind dedicated to marine and ocean conservation via its tagline "Saving Oceans Through Beauty".
The restaurant does not serve shark fin soups or other dishes like turtle soup on their menu.
Miss Scuba Malaysia 2013 national director Joan Neo thanked sponsor Aunty Su who had given the support for the pageant.
The grand finals and gala dinner of Miss Scuba Malaysia 2013 will be held at 7 pm on Sept 6 at the Prince Hotel and Residence Kuala Lumpur.
Those who want to make a reservation for the dinner and show are requested to contact Siew Lan (+6016 263 1573) or visit www.MalaysiaMissScuba.com.my