Jade Park is Miss Scuba Malaysia 2013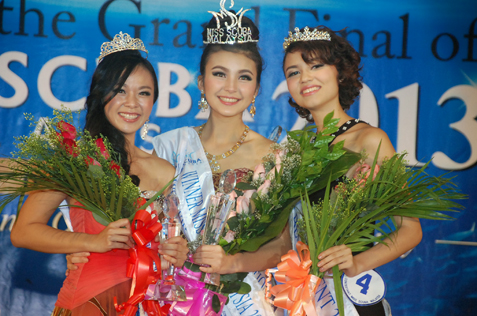 Miss Scuba Malaysia 2013 pageant grand finals saw two Malacca lass sweeping the top prizes at Prince Hotel & Residence Kuala Lumpur.
The duo, Jade Park and Elysha Arnold were among four beauties from Malacca out of the 11 finalists competing in the pageant's finals. The two other Malacca beauties were painter Yvonne Loo, 28 and dancer Joanne To, 21.
Jade Park melted the hearts of the judges with her elegance, beauty and charm to be crowned the beauty queen of Miss Scuba Malaysia 2013.
She also clinched the subsidiary title of Miss Marine Conservation.
Her total prizes worth RM35,000 included cruise holidays, tour packages, sponsored products, cash and air ticket.
The first runner-up went to 21-year-old student Allyson Liew from Lahat Datu, Sabah and 18-year-old Elysha Arnold was the second runner-up.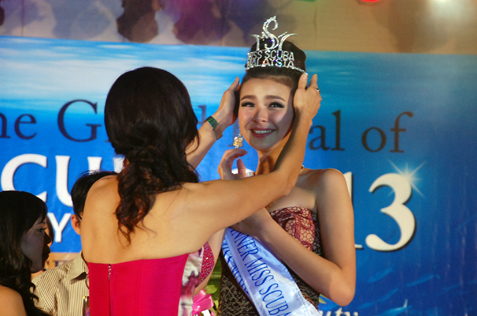 Five subsidiary titles, which was awarded during the grand finals are Miss Marine Conservation for Jade Park, Miss Best Talent for Elysha Arnold, Miss Best Fitness for Allyson Liew, Miss Photogenic  for Jesyka and Miss Prince Hotel & Residence Kuala Lumpur for Melanie Mok.
Park said winning the crown and title award was a pleasant surprise.
"I did not expect this win," Park said in an interview with Citizen Journalists Malaysia (CJMY).
"It was a pleasant surprise when they announced my name because all the other contestants are also good and have equal chance.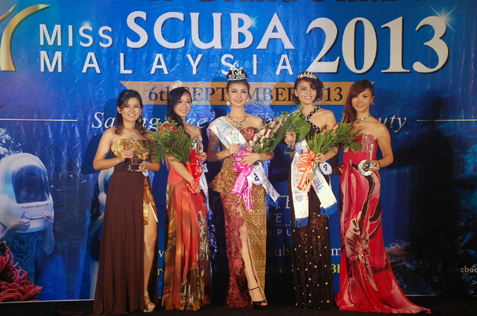 "I will do my best to fulfill my duties and obligations as Miss Scuba Malaysia 2013 diligently and I will do my utmost as an ambassador to help promote marine conservation and dive tourism to the rest of the world."
Park will go on to represent Malaysia at the Miss Scuba International 2013 pageant, competing with over 20 countries in Kota Kinabalu this December.
"I feel great to represent Malaysia in the Miss Scuba International pageant finals and I hope to do well and win that title and crown as well.
"There is still a lot for me to learn and share in preparing for Miss Scuba International. I need to brush up on my public speaking skills a little bit," she said.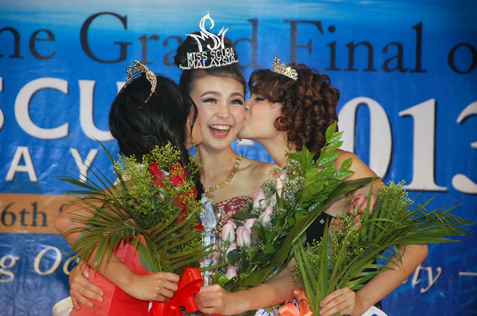 Park whose mother is a Chinese Malaysian and father an Englishman said many people assumed her to be part Korean because of her surname Park which is a notable Korean surname.
She studied at an international green school in Malacca, has just completed her secondary education and intends to further her education by pursuing a degree in Broadcast Journalism.
The green school has helped instilled in her the importance of saving the environment at a young age.
"I joined the Miss Scuba Malaysia pageant because I was intrigued by its vision and mission of promoting marine and ocean conservation, and Malaysia's dive and marine tourism via its crowned ambassador," said Park.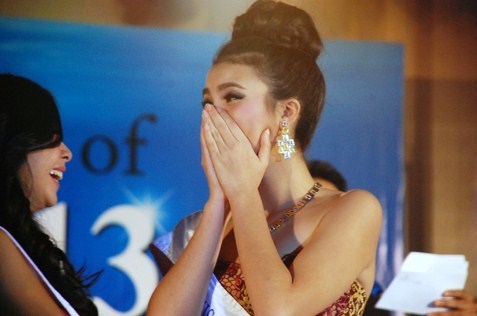 On shark fin soups, she said: "Shark fins are reportedly treated with hydrogen peroxide to make their colour more appealing to consumers so I think this is not really the type of thing you should be eating if you are concerned about your health.
"We need programmes to educate the general public in a productive manner to help alleviate the potential impact on our oceans ecosystems."
To stay fit, Park enjoyed the sports of swimming, diving, horse-riding and paint-balling.
"I consider myself a tomboy to the core and actively participate in extreme sports to keep my adrenalin pumping."
Park said she also enjoyed playing the drums.
"They are like my heartbeats and give me a sense of rhythm to my soul. Playing the drum is like a puzzle that I can solve in my different ways depending on my mood".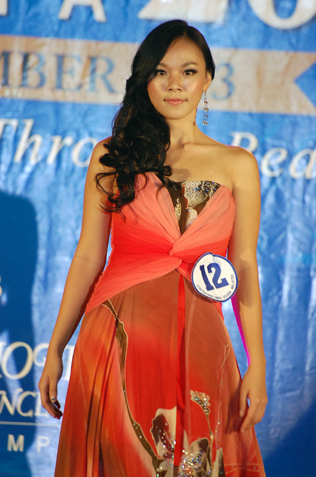 For first runner-up Allyson Liew Yen Fong, 21, from Lahat Datu, Sabah, her participation in the pageant was incidental.
She said she joined the contest after reading the news that new study revealed half of Australia's Great Barrier Reef coral has died over the last 27 years.
"The story is certainly a sad one and it made me want to help protect our oceans.
"So when I saw the casting for Miss Scuba Malaysia pageant, I realised that the time for me to make a positive difference was now," said Liew.
She submitted the registration form, made it to the grand finals and finished first runner-up. She also won the Miss Best Fitness subsidiary title.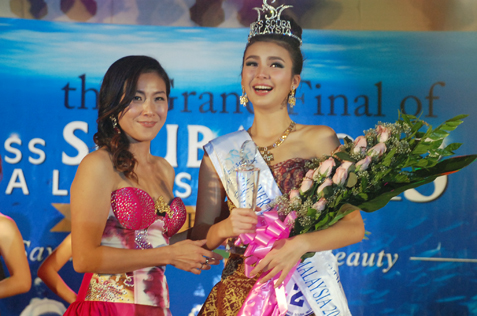 "I have gained an incredible amount of experience and knowledge that I may not have otherwise known. It has allowed me to contribute more to protect the oceans.
"I would like to help promote Malaysia's dive and marine tourism by giving talks to the youth.
"Let us save the sea creatures as much as we could. We have to treat every single creature in the world equally. They all have an equal right to live".
Liew said this was her first pageant and she really work hard to win this competition and was happy for the achievement in her first try.
On the Lahad Datu intrusion by foreign militants on Feb this year, Liew said she was not in Lahat Datu at the time but her family was worried and flown to Kuala Lumpur to stay temporarily until the safety and security were assured.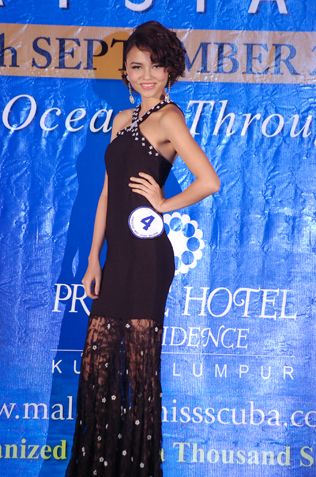 Like Liew, second runner-up Elysha Arnold, 18, who is of Asian-American descent said this was also her first pageant and she was very proud to have made it this far.
"It has been such a pleasure to meet so many beautiful and kind-hearted girls whom I hope will stay with me as friends for the years to come.
"I am glad that my first pageant was also focused on the intelligence of the contestants, and I think I have expanded my knowledge a lot through my entire experience," said Arnold.
She came to know of the contest through her friend Yvonne Loo who had informed her about it. They later informed Jade and Joanne To.
"I am glad that all four of us made the finals and got to represent our colourful historic city."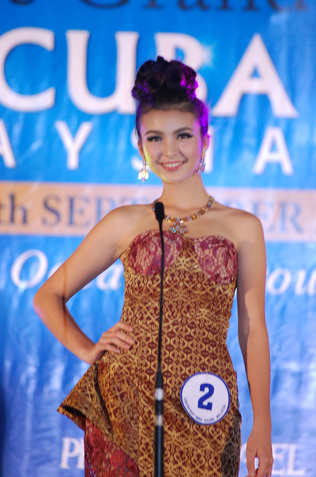 Arnold said she is home-schooled and studying with the help of K12 International Academy, an online academy which used an American curriculum to teach.
"I chose to be home schooled because I felt like it was a better way for me to learn. It is pretty much like a regular high school and just taking the courses online."
On her experience gained in the boot camp, Arnold said: "I have learned that as humans on this Earth we have a lot of responsibility to take care of the oceans, and a lot of what we have to do actually starts on land.
"Controlling how much we pollute and consume really makes a difference for our friends underneath the sea," she said.
"This is a pageant that we really enjoy and feel good about. They taught us to be confident and to help others around us.
"Staying with the girls at the boot camp has really made this one of the best experiences of my life.
"I couldn't believe that meeting ten other girls from different backgrounds and personalities, that none of us ever got catty.
"I feel so blessed to have met these beautiful girls. We instantly became sisters. We are all planning now on meeting up very soon."
Asked in what way she could contribute to saving the oceans, she said: "I plan to do lots of volunteer work after this, starting with Shark Savers, which I plan to contact them within the next few days.
"I like their friendly and intelligent approach to warning others about the effects of shark finning".
Arnold hopes to get the message out to the people out there that we need to take better care of the oceans.
"If you found out your mother was sick, would you wait till the very last minute to give her treatment to her disease? Or would you rush her to the doctor right away?
"That's the same approach for the ocean. Here is a world which provides us with food, a source of income, more oxygen than any forest on Earth combined, recreational activities, and creatures which actually support underwater ecosystems that affect our lives!
"Saving the ocean saves our life and the future lives of our children".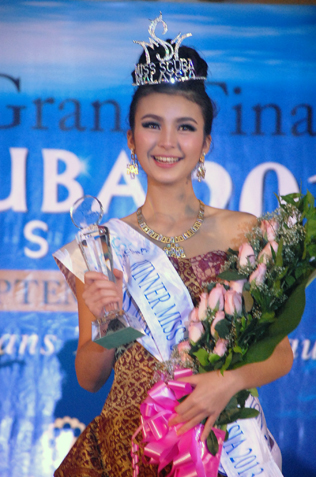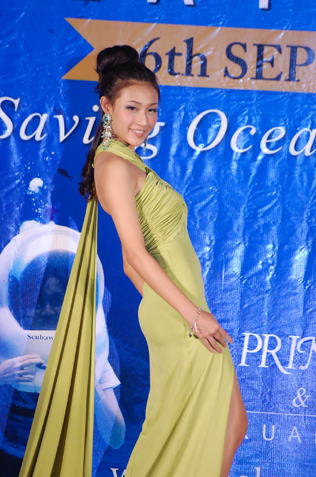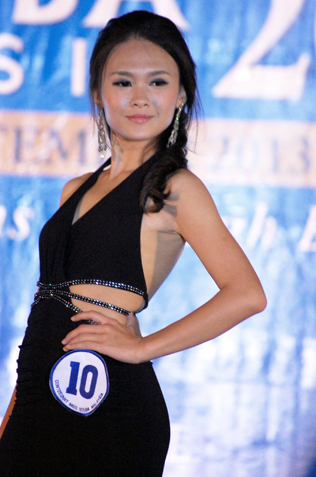 Official Results:
Miss Scuba Malaysia 2013
Winner  –  Jade Park, 18
First Runner-up  – Allyson Liew, 21
Second Runner-up  – Elysha Arnold, 18
Subsidiary Titles
Miss Marine Conservation – Jade Park, 18
Miss Best Talent – Elysha Arnold, 18
Miss Best Fitness – Allyson Liew, 21
Miss Photogenic – Jesyka, 22
Miss Prince Hotel & Residence Kuala Lumpur – Melanie Mok, 20