Suicide Prevention Day in Johor Bahru is a success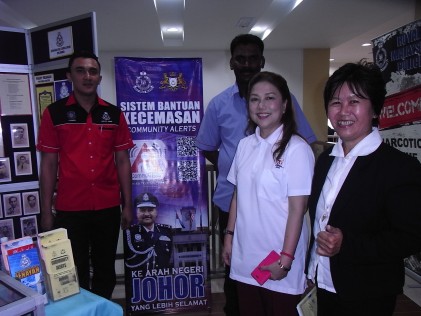 Befrienders Johor Bahru has successfully organised the Suicide Prevention Day forum and booth exhibition on September 7, 2013, with the theme'Stigma: A major barrier to Suicide Prevention'.
This year, the forum and exhibition coincided with the World Suicide Prevention Day.
Some 250 people turned up for this forum and booth exhibition at Hospital Permai, Johor Bahru.
The objectives of this event is to increase public awareness regarding suicide, to involve the public in suicide prevention and to explain the need to de-sensationalize suicides.
The forum was held with a 3 person panel; the director of Hospital Permai Dr Abdul Kadir Abu Bakar, Director, National Council of Befrienders Malaysia vice president Esther Teo and a representative from Bukit Aman police department.
Other exhibitors include Hospital Permai, Johor Bahru, Johor Police Department (4 booths — Crime, Commercial, Narcotics and Rakan Cop), Johor Women's League (JEWEL), Johor Bahru Alzheimer Disease Association (JOBADA), National Stroke Association of Malaysia (NASAM), Johor, Breast Cancer Support Group (BCSG), Johor Bahru, Johor Bahru Happy & Joyous Club, Intan LifeZone, Toastmasters International, Division A and Befrienders Johor Bahru