400 Hashers to run for Vaisakhi Nash Hash Run at Taman Rimba, TTDI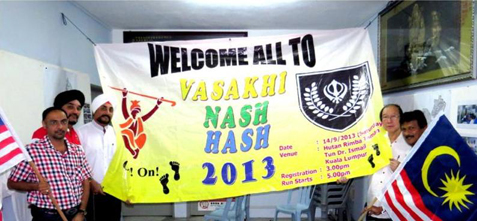 More than 400 Hashers from various Hash House Harriers (H3) chapters around the country will be taking part in the inaugural Vaisakhi Nash Hash 2013 at Taman Rimba in Taman Tun Dr Ismail (TTDI), Kuala Lumpur on Sept 14, 2013.
Hash runs was founded by British expats in Kuala Lumpur in 1938, the group now has almost 2000 outposts all around the world
Former state assemblyman and Harrier Dato' Dr Wong Sai Hou will flag off the run at 5 pm.
The event is organised jointly by seven Hash Chapters with the objective of getting all the Sikhs together to celebrate Vasakhi and to share the festivities with the non-Sikhs in the Malaysian spirit.
The seven Hash Chapters are Shah Alam H3, 420 Hash3, Chakdey Hash3, Kelab Aman Hash, United Sikhs Hash, Jab We Run Hash and Sico Hash.
The Vaisakhi Nash Hash was formed with Vaisakhi in mind and Nash is an abbreviation for National.
The idea which was first conceptualised by Harrier Dato' Ajith Singh Jessy from Penang is now turning into a reality.
After its inaugural launch in Kuala Lumpur, it hopes to move on to other states on regional basis with Penang being the first next location.
According to organising chairman Dato' Lakhbeer Singh, the month of April was a busy month for Sikhs as they needed to attend to the Gurdwaras and open houses and the following months were also busy with the celebration runs by the various Hash Chapters.
The Vaisakhi Nash Hash committee decided on Sept 14 for the event as it is a long weekend with Sept 16 being Malaysia Day, a public holiday, so it is better to celebrate the Vaisakhi with Malaysia Day bringing the best of both events together.
Organising secretary Karam Singh said the run of fun will cover about 6 to 8 km of the trail in the breathtaking forest reserve.
After the run, participants will be served Punjabi food for buffet dinner.
Vaisakhi is the festival which celebrates Sikh New Year usually in mid April on the first day of the month Vaisakh of the Sikhism Nanakshahi calendar.
The Hash House Harriers (H3) is an international sporting organisation which organised social sporting events for members on regular basis.
It was founded in 1938 by expatriates and colonial officers at the Royal Selangor Club in Kuala Lumpur and today it has spread worldwide with over 2,200 chapters across 185 countries. In Malaysia, there are over 300 chapters with about 15,000 members.
For registration and details, call Dato' Lakhbeer Singh at 012-297 1438 or Karam Singh at 012-2012264