ATV Miss Asia Pageant Malaysia finalists enjoy doggy day out in the park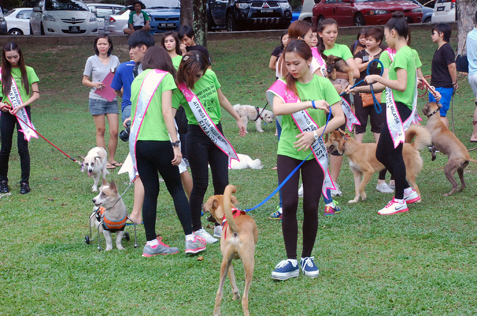 Thirteen ATV Miss Asia Pageant Malaysia 2013 finalists and their "partners" were the stars of the charity photo shoot themed "Beauty from the Heart" at Central Park, Bandar Utama, Petaling Jaya on September 15, 2013.
The photo shoot saw thirteen beautiful ladies, who were paired off with thirteen disabled dogs, one for each lady, clearly showed their affection for the dogs for a few hours of fun and walking around in the park.
The charity event attracted hordes of photographers who paid RM100 each with the proceeds raised to help pay for expensive veterinary bills for disabled dogs rescued and cared for by canine welfare group Malaysian Dogs Deserve Better (MDDB).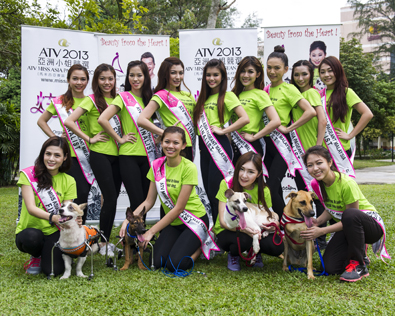 "We are excited to be collaborating with MDDB to help raise fund for the dogs and expose participants on awareness and understanding of animal welfare issues.
"It is actually one of our corporate social responsibility (CSR) programs in the pageant because I realised that many beauty pageants do not incorporate this to CSR," said ATV Miss Asia Pageant Malaysia franchise owner and event organising director Amelia Liew to Citizen Journalists Malaysia (CJMY).
"So to me you're not just beautiful but also have to deal other things like CSR. You can't separate the two so we get the girls involved."
"I realised now that a lot of dogs actually do get hurt so as we are all humans, we spread the message of love and care for the dogs via these beautiful ladies to create awareness to the people that these dogs actually do need love and care for them as well".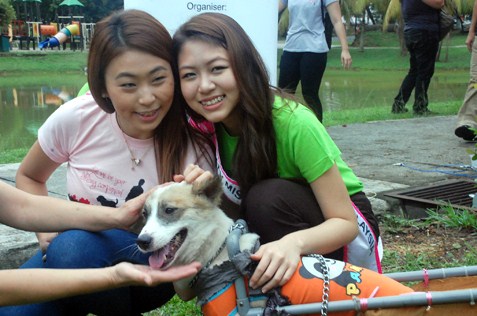 Liew who represented Malaysia to ATV Miss Asia Pageant 2011 Grand Finals in Hong Kong said she was asked by some people why she did not just take the girls visit MDDB animal shelter.
She said she immediately shot down their ideas.
"I said no. That won't show anything. Here we do it outdoor. There are so many people in the park and the participants enjoy the company of their dogs and they mix around with other animal lovers and canine friends.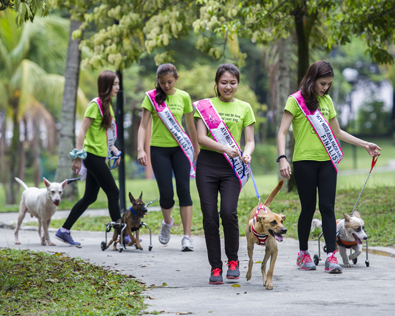 "Then you can see that they can shine and show the public that though they are beauty pageant contestants and being beautiful they are also someone with love and care and having a good heart so the people's perception of beauty pageant is fine."
Liew is a professional dog groomer and a dog lover with two dogs of her own; a Shih Tzu and a Pekingese which she adopted from a pet shop because the breed looked so skinny and ill.
"When I see dogs that need my help I just do whatever I can for these dogs."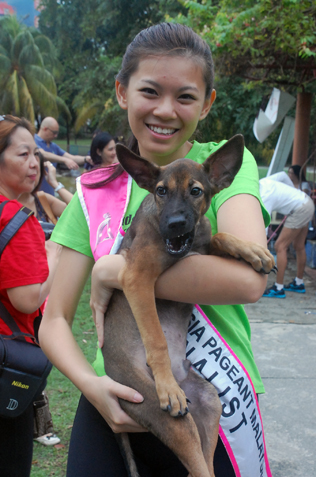 For contestant Sharon Kow, 19, from Kajang, a second year Diploma in Business student at Taylor's University Lakeside Campus, Subang Jaya, it was a great opportunity to be able to spend time with disabled dogs and have fun.
She said: "I don't have a dog. I have sensitive skin but I love dogs so I have to wash my hands after touching a pet.
"I see this dog with a physical disability and dragged herself to walk. My heart really goes out to her".
"Me and my sister are actually planning to buy a pet dog so we might just adopt one, probably after the pageant grand finals.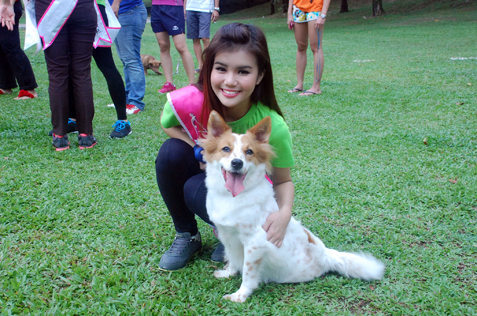 Kow was a finalist at the recently concluded Miss Global International Malaysia 2013 where she picked up the Miss Personality subsidiary title.
The 2013 ATV Miss Asia Pageant Malaysia will be crowned on Sept 19 at JW Marriot Hotel, Kuala Lumpur.
On her chance to win the ATV Miss Asia Pageant Malaysia 2013 title, she said she always has a dream to achieve something to represent Malaysia.
"I'll do my best and hope to win".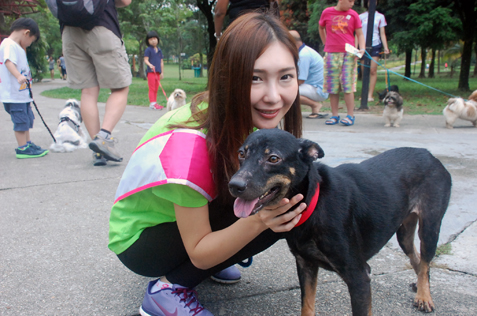 The ATV Miss Asia Pageant Malaysia pageant has received strong support and generated lots of attention and interest from everyone considering it is only in its second year of franchise to Malaysia.
The ATV Miss Asia Pageant is 29 years old originating in 1985 in Hong Kong.
"The first year was like a stepping stone. The second year we see it grows bigger and stronger with improvements.
"This year we are doing more activities and programs such as the charity photo shoot with MDDB.  Others like the collaboration with Breast Cancer Welfare Association Malaysia (BCWA) and visit to Praise Emmanuel Children's Home in Petaling Jaya to cheer up orphanage children," said Liew.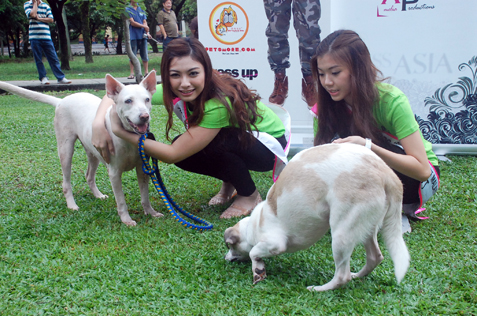 On the date of the 2013 ATV Miss Asia Pageant Malaysia grand finals which clashes with the Chinese Mid-Autumn Festival celebration, she said the date she picked was unintentional.
"When I was informed that the date falls on Mid Autumn Festival, I immediately confirmed the date without hesitation.
"Most of the young people don't celebrate the Mid Autumn Festival but on this pageant's grand finals, you have something like a few hundred people get together and having dinner together, including the parents of all the 13 contestants.
"So it's like a celebration of everyone and it's about bonding for everyone on this festive day, and with Kum Lun Tai Mooncake being our official mooncake sponsor, everything just work together well".