Lawyer wins Miss Malaysia Indian Global 2013 pageant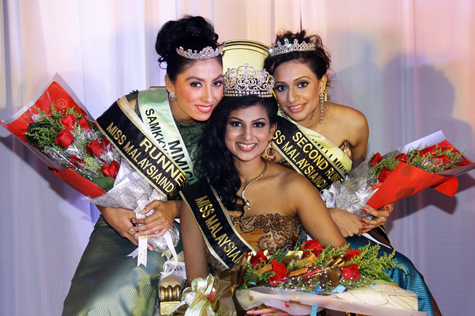 Beautiful lawyer Sangheetaa Phary, 25, was crowned Miss MalaysiaIndian Global 2013, out of 15 finalists, at Hilton Petaling Jaya Hotel on Oct 11, 2013.
During the Q&A round, Sangheetaa was asked the question: Gangsterism in school is an increasing problem. In your opinion, what can be done to reduce this problem.
She answered, "Abdul Kalam said "A nation is built from home", and I believe that gangsterism can be controlled if there is proper guidance which start from proper parenting," drawing loud applause from the audience.
Abdul Kalam, is the former President of India from 2002 to 2007.
Sangheetaa's prize included a round trip to Europe, a 3D2N holiday in Sandakan, Sabah and gifts from various sponsors.
Aside from the title and the crown, Sangheetaa who hails from Kemaman, Terengganu also bagged the Makkal Osai Readers Choice subsidiary title.
Arveen Kaur, 26, a human resource specialist, was the first runner-up and Venagary Rajee, 24, a graduate, was the second runner-up. Jillian Kaur, 24, a teaching assistant, and Harini A/P S.Shunmuga Velu, 23, a nurse, completed the top five.
"Blessed! I feel truly blessed to be crowned Miss MalaysiaIndian Global 2013," Sangheetaa told Citizen Journalists Malaysia (CJMY) when asked how she felt winning the crown.
"I have received overwhelming support and I feel truly blessed to be surrounded by such love and blessings. It is an honour and privilege to be Miss MalaysiaIndian Global 2013," added Sangheetaa.
Sangheetaa, at 158 cm tall, expressed her surprise at the win saying that, "This is my first beauty pageant I competed in with no particular expectations but to do my best. I see all the finalists as potential winners who each has a unique quality in them.
"It is amazing to see the things that you can achieve simply by being true to yourself, pure at heart and genuine in your endeavors.
"I think it is this principle that I live by and the fact that I see this as a personal challenge rather than an external challenge which helped me win this pageant."
The 15 finalists had gone through a series of activities and elimination rounds from over 200 entries received by Miss MalaysiaIndia Care Association (MMICARE), the organiser.
The finalists paraded in two judging rounds: Heritage round where they were dressed in sarees and in Elegance round, they were attired in fashion wear by fashion designers including new designers from the Bumiputra Designers Association (BDA).
The winners were determined after the Q&A round for the Top 5 finalists selected.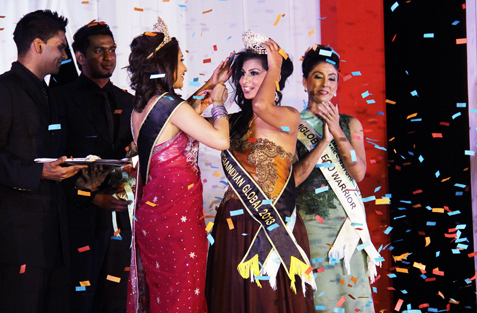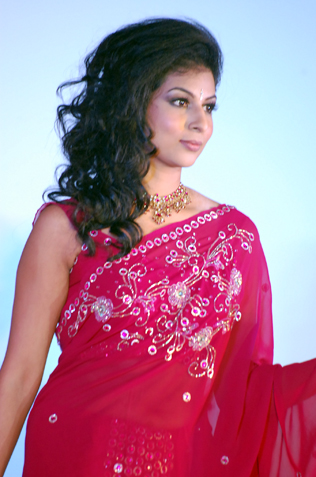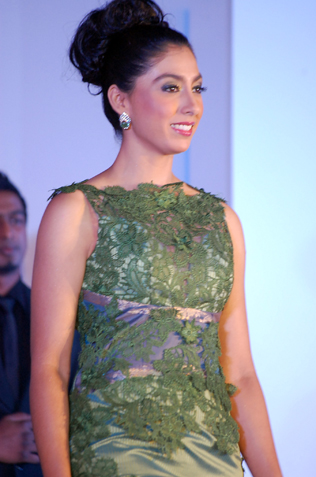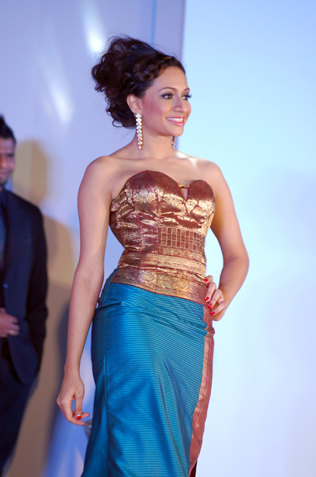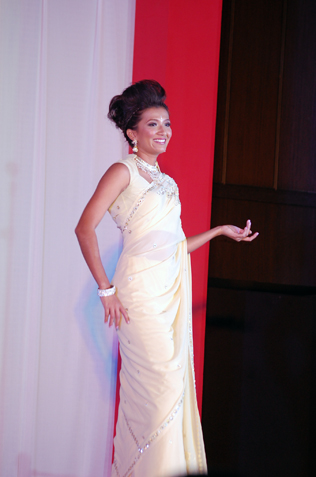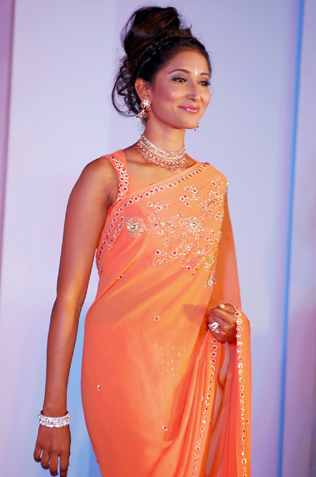 Sangheetaa graduated with a first-class honours degree in law (LLB) from University of Leeds, UK in 2010 and pursued her Masters of Laws (LLM) at University of Cambridge, UK where she graduated in Summer last year and returned home.
She said she entered the Miss MalaysiaIndian Global pageant because it gives recognition to young Malaysian Indian women.
"The pageant's focus is beyond beauty. I find that it emphasizes on personal enhancement, educating and empowering young women through the various personal enhancement programs, motivational lectures and health awareness talks that contestants have to attend," said Sangheetaa.
On her journey to the finals, she said. "This has not only been a pageant for me but also a journey in search of inner strength and a spiritual odyssey.
"This journey has also been about sisterhood and womanhood. It is almost as if this has been a rite of passage from a girl to a woman.
"It is fascinating that girls from different parts of the country can come together and make such good friends and develop a bond within a short period of time."
Sangheetaa said she enjoyed her unforgettable moment when she was down with a flu during the day of the finals. The nurses among the finalists kept checking on her and reminded her to take her medication.
"I treasure the friends I have made along the way. The laughter and moments we shared were very meaningful.
"It has been a humbling experience to stand among 14 other courageous women who took up the challenge and put themselves forward.
"Furthermore, it is of paramount importance for me to say the fact that the organiser did not see us as mere contestants but as someone's daughters, each who has their own life and story to tell."
On her hobbies to unwind and stay fit, Sangheetaa said, "I am an avid reader and love undertaking legal research work on possible areas for development of law.
"I am also passionate about music and bharatanatyam classical dance," said Sangheetaa who also plays musical instruments like saxophone and piano.
"I keep fit by being positive in my mind at all times of the day as I believe a healthy body stems from a healthy mind."
The Miss MalaysiaIndian Global pageant is one of the projects under Gift Her With Life Fund, a non-profit fund setup in 2002 and operated by MMICARE to bring about change among the women in the community and society at large.
Miss MalaysiaIndian Global 2013 Official Results
Winner : Sangheetaa Phary, 25
1st Runner-up : Arveen Kaur, 26
2nd Runner-up : Venagary Rajee, 24
3rd Runner-up : Jillian Kaur, 24
4th Runner-up : Harini Shunmuga Velu, 23
Subsidiary Titles
1.  Miss Heritage – Beljit Kaur, 22
2.  Miss Elegance – Venagary Rajee, 24
3.  Makkal Osai Readers Choice – Sangheetaa Phary, 25
4.  Miss Fitness – Jillian Kaur, 24
5.  Miss Eco Warrior – Arveen Kaur, 26
6.  Miss Natural Beauty – Arveen Kaur, 26
7.  Miss Congeniality – Harini Shunmuga Velu, 23
8.  Miss Petite – Nanthini Thangarajoo, 24
9.  Miss Web Popular – Nisha Kumar, 23
10. Committees' Choice – Grace Earthiam, 26