Miss Saree Malaysia pageant crowns its first winner Devia Haresh Kumar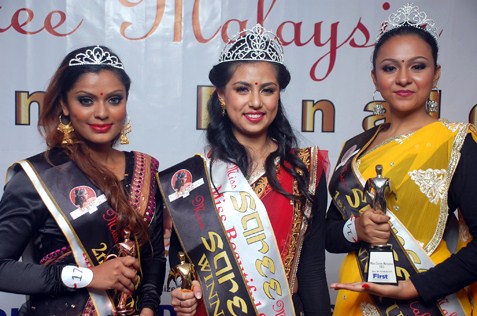 The Miss Saree Malaysia pageant made its successful debut on Oct 19, 2013 at Federal Hotel, Kuala Lumpur.
Customer care consultant and part-time model Devia Haresh Kumar, 20, was crowned as the first Miss Saree Malaysia 2013 at the grand finale.
"When I heard my name being called, I was like oh, is it really me or just a dream but I am very happy and proud to win this first pageant," Devia said with a big smile to Citizen Journalists Malaysia (CJMY).
She said she was very excited at being named the first winner of the inaugural Miss Saree Malaysia pageant. It was her first time participating in a pageant and she won in her first attempt.
"I enter the Miss Saree Malaysia pageant because I really love traditional outfits. It does not matter even if it is cheongsam or kebaya because I would certainly enter the competition," said Devia who received RM5,000 cash in addition to other gifts from sponsors.
Devia is from Penang but has been staying in Kuala Lumpur for the past four years now. She started out working after her SPM and will be pursuing tertiary education next year with specialisation in mass communications and public relations.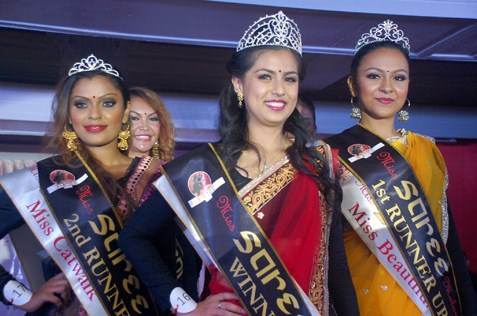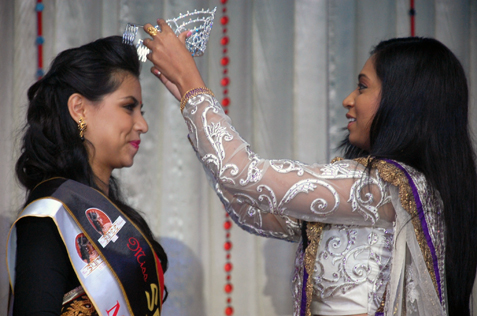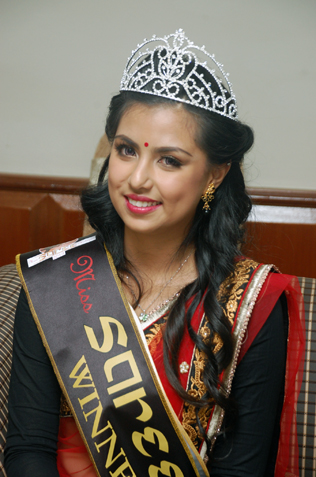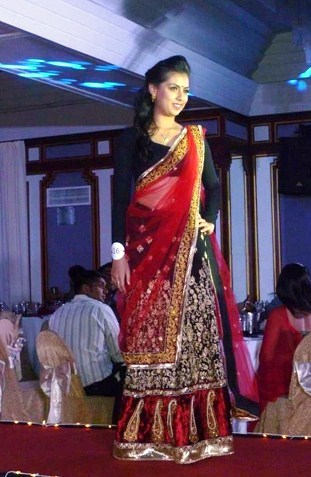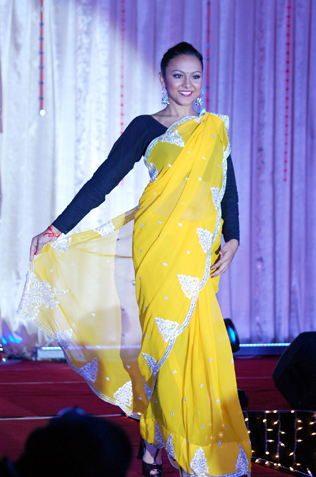 Taking the first runner-up position was student Poonamjit Kaur, 18, from Kampar, Perak while credit control specialist Loginee Kolaraja, 24, from Klang was adjudged second runner-up, Rishma Jagatisbaran third runner-up, Tyera @ Engkunadrah fourth runner-up,  Venessa Cruez fifth runner-up and the sixth runner-up went to Riyana Feroze Khan.
The winners were selected by a panel of judges based on their Beauty (20%), Catwalk (10%), Talent (10%), Interview/Q&A (20%), Exposure & Activities (20%), Character & Personality (10%) and Photo Session (10%).
The inaugural Miss Saree Malaysia is hailed a huge success with the strong support given and a regional pageant for Miss Saree South East-Asia title is planned for next year.
Malaysian Association Of Indian Film and Entertainment Industry (MAIFEI) president Geethanjali G. was the guest of honour as well as beauty queens and celebrities whose attendance added glamour and underlined the strong support for the event.
The celebrities present included Miss Scuba Malaysia 2013 Jade Park, Miss India Malaysia 2012 Sharmisttha Yoogan, Miss Earth Malaysia 2013 second runner-up Menaga Dolmayan and fashion designer Raymond Von Jolly.
Among the celebrity judges were Miss India Worldwide 2013 first runner-up Jasveer Kaur Sandhu, Miss India Malaysia 2012 second runner-up Nithya Raja Gopal, fashion designer Aeron Von Jolly and TV presenter and producer Raj Aria of ITV's breakfast show Daybreak.
The 19 finalists competed in the pageant to showcase the cultural pride of the Indian saree and to help keep the tradition and culture alive for future generations.
Guests at the ballroom enjoyed a beautiful evening with all the 19 beauties in their beautiful sarees walked the runway to loud applause.
"The pageant's objective is to bring up our sarees and create an impact at the national level," said Miss Saree Malaysia national director Manpreet Kaur.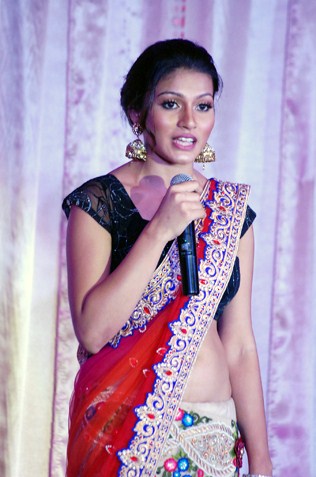 "It is also to bring back the sarees to our future generations so that we do not forget that it is our cultural outfit.
"I want to bring the saree through the 1Malaysia concept so that the Malay, Chinese, Indian and others can wear this saree together everywhere they go."
"I feel it is a wonderful opportunity to encourage more Malaysian women of all races to wear the sarees to bring the true meaning of multi-racial culture," added Manpreet.
In her speech, MAIFEI president Geethanjali G. applauded the untiring efforts put in by Manpreet Kaur for making Miss Saree Malaysia debut a success.
"She is one woman who not only has done it for herself but has also created this platform so that all the other women can also follow suit and to show the entire world that we are here to rock the world," Geethanjali said to loud applause.
"I thank Manpreet Kaur for creating a beautiful platform for all the capable women and to tell them that "you are capable, you can do it and you have the confidence to make it big" so let us do it together.
"This might be a small scale event at this point of time but it has all the potential to become a nationwide and even a worldwide event. I am so glad to hear that all of you are already working towards plan for Miss Saree South East-Asia pageant next year."
Miss Saree Malaysia 2013 was presented by First Bollywood Studio.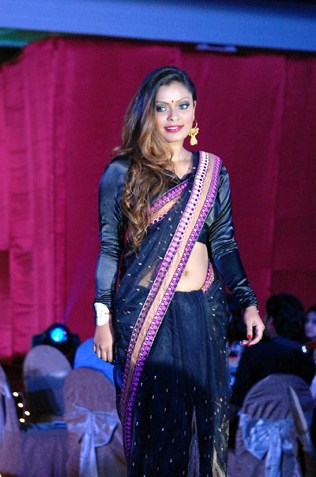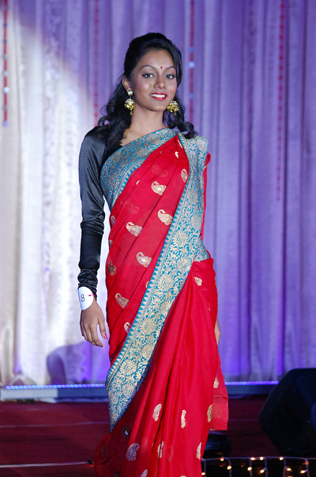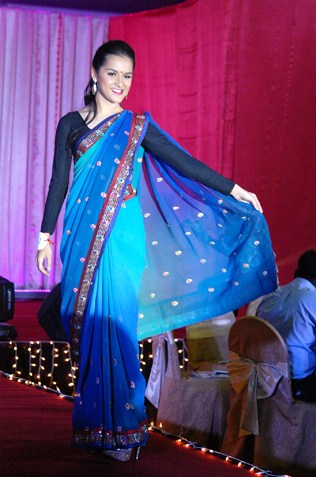 Miss Saree Malaysia 2013 official results :-
Winner: Devia Haresh Kumar
1st runner-up: Poonamjit Kaur
2nd runner-up: Loginee Kolaraja
3rd runner-up: Rishma Jagatisbaran
4th runner-up: Tyera @ Engkunadrah
5th runner-up: Venessa Cruez
6th runner-up: Riyana Feroze Khan

Subsidiary Titles:
1.  Miss Beautiful Eyes: Shanthy Maya
2.  Miss Photogenic: Rekha Haresh
3.  Miss Talent: Venessa Cruez
4.  Miss Bollywood: Shamini Jaiarajo
5.  Miss Loyalty: Dhivia Rajindran
6.  Miss Elegant: Dhivasakti Yogandran
7.  Miss Personality: Sivasangkari Segar
8.  Miss Beautiful Hair: Poonamjit Kaur
9.  Miss Beautiful Skin: Devia Haresh Kumar
10.Miss Catwalk: Loginee Kolaraja