Flash in the pink for International Breast Cancer month
About 60 cancer survivors and supporters of the Johor Bahru Breast Cancer Support Group (BCSG) took part in a flash mob line dance at City Square shopping complex recently in conjunction with the International Cancer month of October.
The flash mob choreographed by Dr JP Lim, a supporter of this Non-Governmental Organization (NGO), to the tune of Let's Twist Again. Line dance teacher Maggie Chong said that she was proud of the performance and it took them 2 weeks to put in practices for this performance.
Doris Wee, the President of this BCSG mentioned that instead of their previous years' roadshows for the International Cancer month, they decided to go ahead with a flash mob since it was fun and grabs the public's attention easily.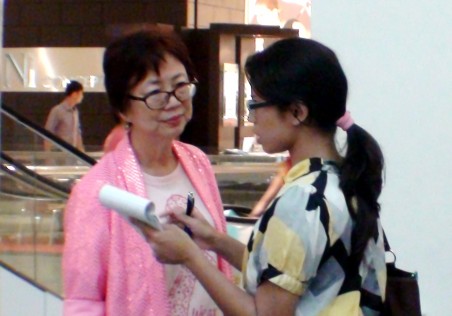 Ruzita Ali, 45, a breast cancer survivor since 2008 joined BCSG in 2009 and is happy to have the support of its members. She has undergone six cycles of chemotherapy and 20 sessions of radiotherapy and presently going for follow-up sessions at Hospital Sultan Ismail. Her husband, Zakaria is also strong supporter of this NGO.