Golfers chip in for Lawas fire victims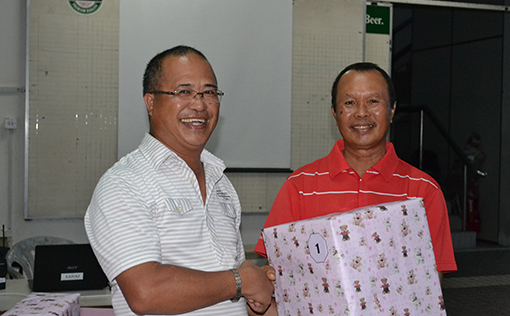 Despite the uncertainty of the weather, golfers from all over Malaysia come together to do their part by helping to contribute to the Awat-Awat fire victims in Lawas. A charity golf drive was organized by the Kelab Golf Miri which was held on the 10th Nov to raise funds for the victims.
A total of 47 families lost their homes when fire gutted their houses 
on 29th October 2013
, fifteen houses totally gutted and three houses were badly damaged with hundred and ninety seven victims left with nothing.
Various government agencies, NGO's and good samaritans from the neighboring Brunei Darulsalam contributed their part in raising funds to help the fire victims. Among those who took part in the charity golf drive were Miri Resident , En Anthonio Kathy Galis and YB Dato Isaac Lugon
All contributions from the charity golf drive amounting to RM5,550, will be channeled to the Awat Awat charity fund establish by the authorities.  Contributors and participants of the charity golf including those contributors who took part in the tee off were feted with a simple closing ceremony dinner.
The charity golf drive was won by Joseph Radu followed by runner up Sia Langan and Hj Alias the second runner up.
Members of the public who wish to contribute to this course can channel their contribution to the organizing chairman, Tuan Hj Alias of Kelab Golf Miri.