Pengerang joggerthon to jot authorities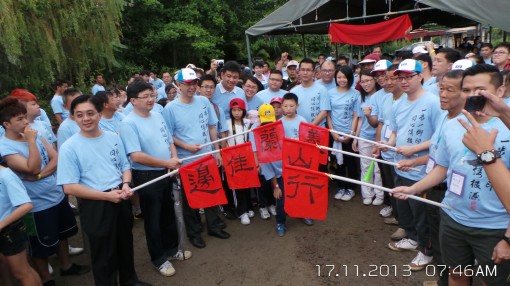 NGOs and local Pengerang residents organised a 5KM joggerthon last Sunday, 17 November at Pengerang, Johor in their bid to keep up pressure on the government to stop the RM60 billion Petronas Refinery and Petrochemical Integrated Development Project (RAPID) from being built.
The event was organised by the Gabungan NGO Pengerang (GNP), a grassroots group that has sprung up to oppose the 6,424 acre-oil complex. The joggerthon route was purposely planned to weave past the grave yards that are in danger of being demolished as part of the plan to build the complex. Muslim and Chinese cemetries would be affected with some already being relocated.
The local residents of Pengerang have been living in fear since the first announcement regarding the project and many groups in the country, mindful of the environmental degradation that would ensue, have kept up pressure on the authorities to stop their land from being grabbed from them.
Seven villages have apparently been compulsorily acquired by the government. Once completed, 28,000 residents would be affected.