MP treats residents of Taman Muzaffar Shah with durians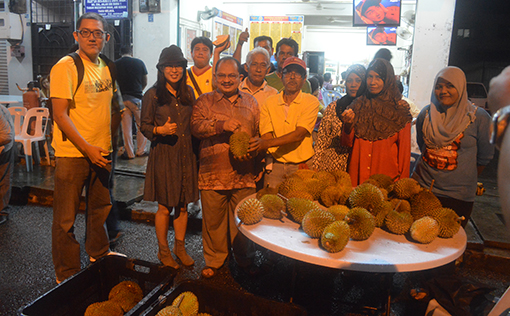 MP for Bukit Katil YB Shamsul Iskandar Mohd Akin had a meet the people session in Taman Muzaffar Shah in Air Keroh, Melaka recently. The session was held at the Xin Shen Mei Wei restaurant on 16 Nov 2013.
The MP arrived a little later after 8pm and treated the residents with durians which weighted about 300 kgs. According to YB  the durians were from his plantations and they were sweet when tasted.
The event started at 7.40pm with residents mingling and enjoying the durians  until 10pm. Many of the residents managed to take part in the session to meet the MP and also taste the durians despite the drizzle. The YB also took this opportunity to discuss with the residents of Taman Muzaffar Shah their concerns and problems. A whole lot of the delicious durians were eaten by the end of the session.