Miss Borneo Kebaya 2013 winner Kueh Mei Fung is Bidayuh Baba mix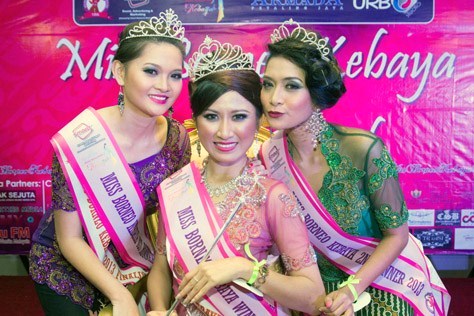 A Sarawakian lass of mixed Bidayuh and Baba Nyonya parentage was crowned the first winner of the inaugural Miss Borneo Kebaya 2013 pageant at Armada Hotel, Petaling Jaya on Nov 22, 2013.
Full-time model Kueh Mei Fung, 21, from Kuching, Sarawak said she never expected that she would become the first Miss Borneo Kebaya 2013 pageant queen.
Kueh has a Bidayuh mum and her dad is a Baba.
Dressed in a pink maroon kebaya Jawa, Kueh beat 17 finalists and took home the grand prize of RM1,000
"I did not expect it. It was a surprise but I feel so good to win the title," said Kueh who also took the Miss Popularity subsidiary title.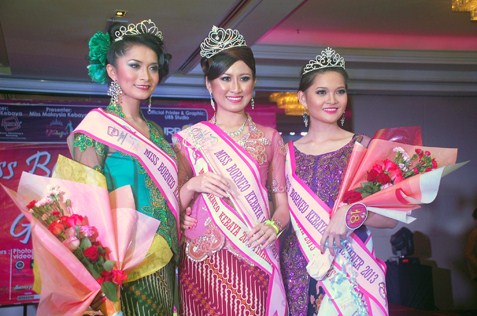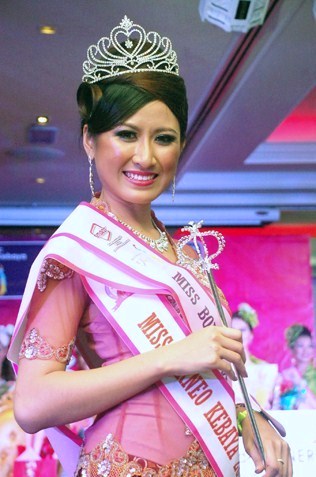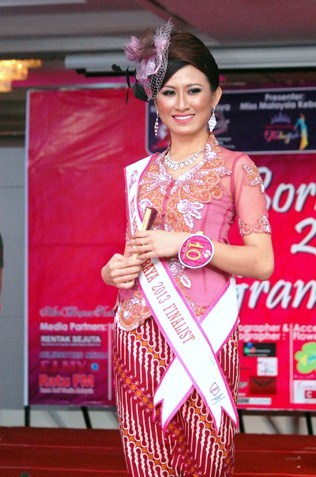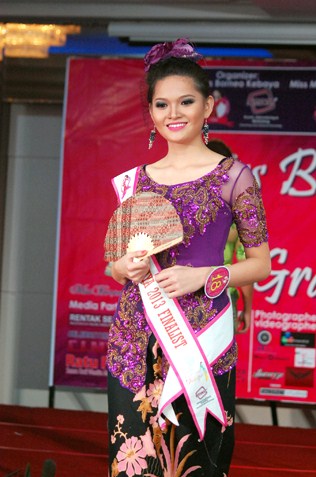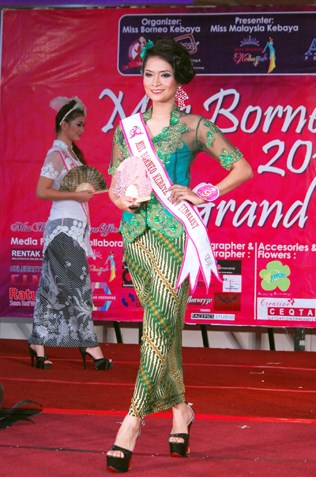 First runner-up was LHDN administrative assistant Cherish Supang Matius, 20, a Lun Bawang tribe from Miri while second runner-up was babysister Norita Bt Karim, 23, a Melayu Jawa also from Miri.
In the first part, the contestants paraded in their ethnic costumes in full regalia. The evening wear presented by local designers of Bumiputra Designers Association (BDA) followed next and then came the show stopper – a dazzling showcase of varied Kebaya designs and beauty bringing oomph and glamour to the stage.
A total of 16 subsidiary awards including Top 5 Best Ethnic Costumes were awarded.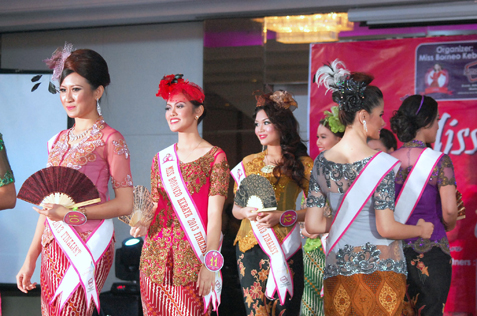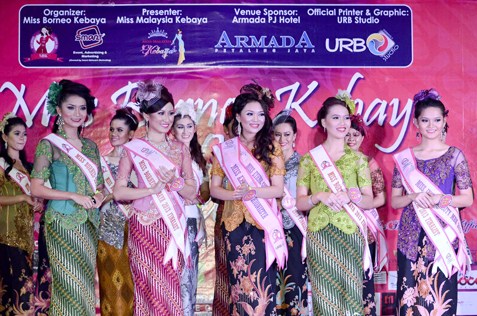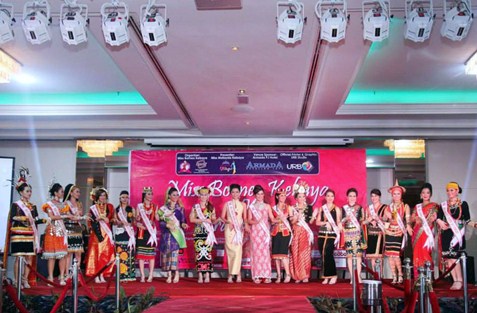 Miss Malaysia Kebaya (MMK) founder and president Jason Hee congratulated all the winners and said the top three winners automatic qualify for Miss Malaysia Kebaya 2013 pageant grand finale to be held on Dec 20.
"All the finalists are winners and not losers in our competitions. After having attended our rigorous grooming and training sessions, they have gained valuable friendship, great exposure and self confidence which have been invaluable in moulding them become who they are now by this time," he said.
Miss Borneo Kebaya 2013 director Joeyce Hii said, "All the finalists have put on a wonderful show and we are very proud of them."
Miss Borneo Kebaya is part of Miss Malaysia Kebaya, a Malaysian cultural- based beauty pageant, and open only to Sabahan, Sarawakian and Bruneian girls.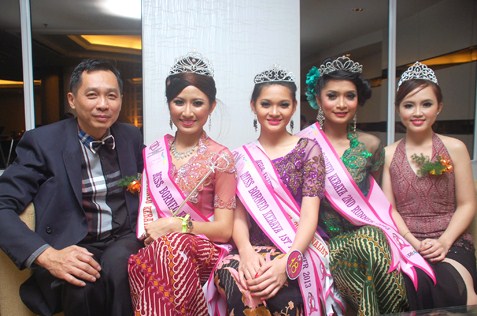 In an interview with Citizen Journalists Malaysia (CJMY) after her crowning, Kueh said, "When I heard my name announced as the winner, I felt so happy and excited and I thank God that I finally get my wishing star that I wished for."
"All the finalists were potential winners with high confident level and beauty in their own way but I tried my best to be better than them."
Kueh who has been modeling for three years now and taken part in various model search and beauty competitions said winning the first Miss Borneo Kebaya pageant title means all her hard work has finally paid off.
This is her first big win as she had previously won the Ratu Kebaya Kem PLKN Putra Sentosa 2012 in Sematan, Sarawak and was first runner-up in Miss Phy' Model Search 2010.
"What I believe is to 'just be myself and do better to gain better."
Kueh who is studying part-time in her first year of bachelor degree in Early Childhood Education with Honours (BECHE) at Open University Malaysia (OUM), Kuching said she finds no problem juggling between modelling and studying.
She listed her hobbies as reading, listening to music, cooking and sports.
What makes her want to enter the pageant?
"I join Miss Borneo Kebaya 2013 because I am very proud to be part of Nyonya and if I can be the winner, I can continue to keep alive my late grandmother's cultural Nyonya heritage and as the ambassador of Miss Borneo Kebaya I can promote our beautiful kebaya all over the world."
Does the pageant help to promote and enhance cultural and heritage awareness about the Borneo indigenous community?
"The various ethnic traditional costumes worn by contestants during the pageant and fashion show will dazzle the people who want to know more about our unique traditional costumes which they have never seen before.
"The ethnic costumes reflect the tribal or ethnic identities of the wearers and their culture."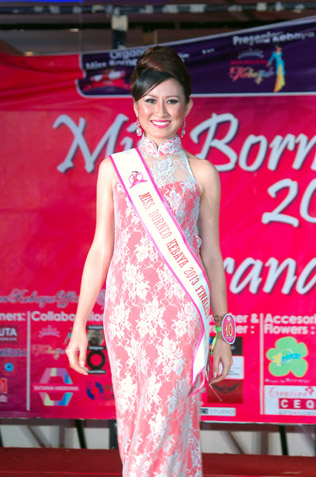 Asked how long she intend to continue her modelling job, Kueh said, "I can't promise how long I will stay on as a model but I will continue my modelling career until I start my own modelling agency one day, just like supermodel Amber Chia."
"Amber Chia is my idol and if she can carve out a successful modelling career, I can too. All I need to do is to work hard to achieve something that I dream of and want it to."
Kueh said she keeps herself fit and healthy by doing daily yoga exercise.
"Yoga helps me stay fit and slim, and keep me in shape. I also enjoy walking to maintain my body weight and reduce high chances of getting a heart attack."
"I am a food lover and enjoy eating great food but I do exercises to burn those extra calories and maintain my body weight," said Kueh.
Asked how is she preparing for the Miss Kebaya Malaysia grand final on Dec 20, Kueh said, "I need to improve on a few areas like my communication skill, catwalk skill and everything that I need to know."
"I hope to do well in the Miss Malaysia Kebaya grand final and be the first Borneo finalist to grab the title."
At the end of the interview, Kueh said, "My parents are very supportive and they give their blessing for me to participate in the pageant. They are my inspiration and play a part in me winning the pageant."
"I am so proud to be the first Miss Borneo Kebaya 2013 queen and I want to say Thank You to all the helpful people for making me work really hard, keeping me motivated and winning this title."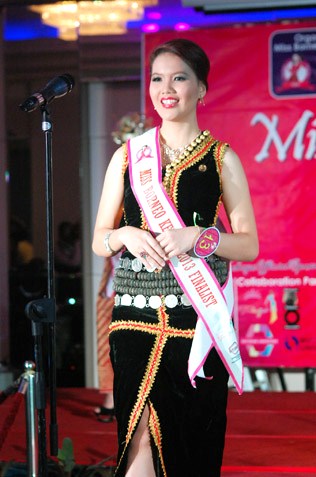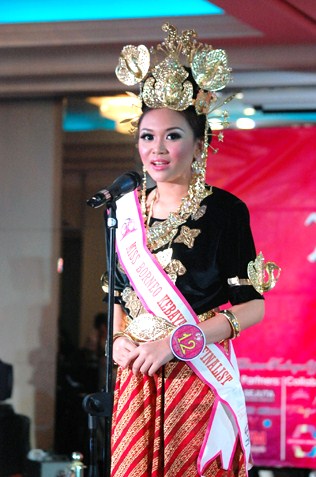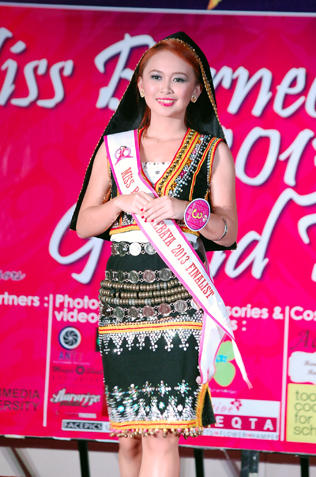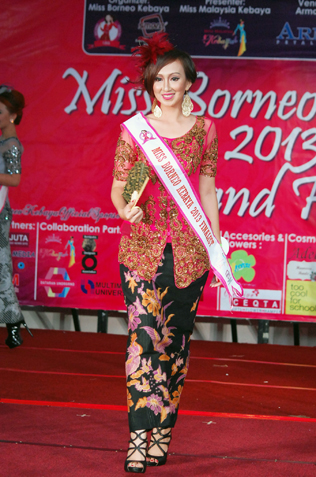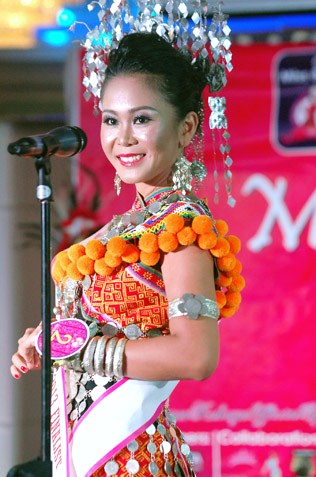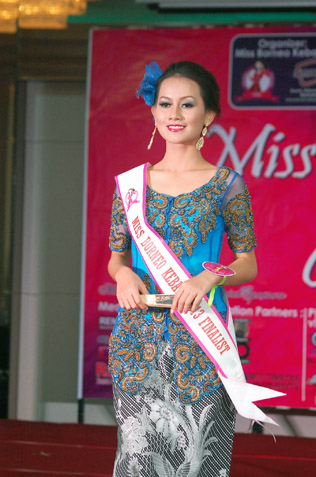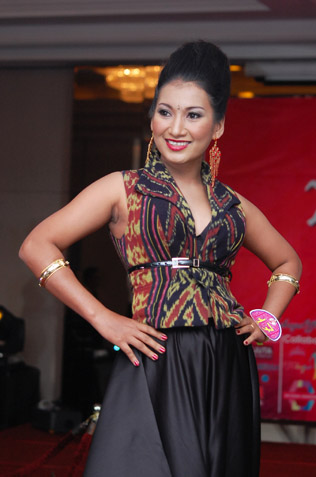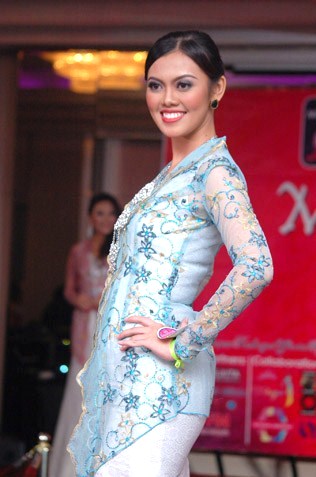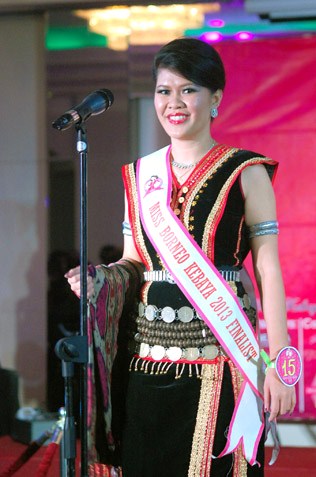 Miss Borneo Kebaya 2013 Official Results
Winner : KUEH MEI FUNG, 21, model, part-time student
1st runner-up : CHERISH SUPANG MATIUS, 20, administrative assistant
2nd runner-up : NORITA KARIM, 23, baby sister
3rd runner-up : SOPHIE JENNE CHUA, 19, part-time promoter
4th runner-up : MARRYANNE LEE, 20, part-time model

Subsidiary Title Awards :
Miss Photogenic – VYRAZONAH VALERIAN, 18, part-time model
Miss Friendship – SHARON KEZIA LEELA SANJIVEE, 29, teacher
Miss Favourite – MARILYN CYNDI JOHN, 28, student
Miss Personality – MICHELLE TORA, 24, accounts executive
Miss Brilliant Smile – MARILYN CYNDI JOHN, 28, student
Miss Inner Beauty – CHERISH SUPANG MATIUS, 20, administrative assistant
Miss Best Catwalk – VYRAZONAH VALERIAN, 18, part-time model
Miss Popularity – KUEH MEI FUNG, model, part-time student
Miss Talent – ERLIN CHRISTOPHER, 28, senior association executive
Miss Axxezz Fashionizza – MARRYANNE LEE, 20, part-time model
Miss Best In Kebaya – SUZIE WENDY, 28, freelance model
Top 5 Best Ethnic Costume
Winner : ELFIRA EDWIN, 21, business woman
1st runner-up : VYRAZONAH VALERIAN, 18, part-time model
2nd runner-up : SUZIE WENDY, 28, freelance model
3rd runner-up : ELSEY LESSIANNA, 22, student
4th runner-up : MARRYANNE LEE, 20, part-time model