First-ever NGO Community Charity Carnival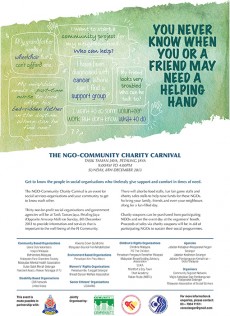 The first-ever NGO Community Charity Carnival is taking place at Tasik Taman Jaya in Petaling Jaya, Selangor on Sunday, 8 December 2013. Organised by Community Support Network, Selangor it is set to be a fun Sunday with various booths by NGOs and government agencies.
The he carnival will act as a 'live directory' featuring 30 booths by not-for-profit social organisations and government agencies who will provide information about well-being services for various groups including the disabled, children, senior citizens and women, and those in need of counselling.
Visitors can stop over at the various charity fund-raising stalls offering fun fair games, food and charity items for sale.
Members of the public are invited to support the carnival for a fun family day out. Starting at 9:00am and going on all the way till 4:00pm, visitors can support the carnival by purchasing charity coupons from the organisers' booth.
Funds raised via patronage of the various booth activities such as fun fair games as well as food and charity item sales, along with the sales of charity coupons purchased at the organisers' booth, will all be channeled back to programmes run by the participating NGOs.
For more information about the carnival, call 03-7954 7172 or email [email protected]
Facebook: https://www.facebook.com/communitysupportline
Facebook Event: https://www.facebook.com/events/172848212909751/