Frustration mounts as concert organiser requests angry K-pop fans more time for refund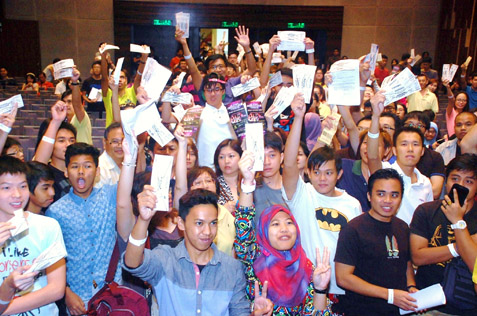 A large crowd of angry K-pop fans gathered for a briefing held over three sessions at Wisma Bentley Music auditorium in Mutiara Damansara, Petaling Jaya on Dec 1, 2013.
It has been seven months now and fans who had purchased tickets to the Asia Super Showcase 2013 are getting impatient over the long delay in getting their money back.
Concert organiser Marctensia Concerts Sdn Bhd requested for more time to refund tickets to the cancelled concert which was to be held last May 12, 2013 at Merdeka Stadium, Kuala Lumpur.
Marctensia Concerts Sdn Bhd representative Junie Quah informed the fans to sign a letter of acceptance allowing the company to refund the ticket charges within 18 months from the date of signing the acceptance.
She said the letter of acceptance had a legal effect.
"If we do not refund the money after the 18 months that you signed this letter of acceptance, you may take legal action on us but we actually want to let you know that this is the best solution we can think of because, to be honest, we want to pay you back the money."
Junie also informed them that they had to sign a separate confidentiality agreement not to disclose details of the briefing to any form of media or legal action would be taken against them.
None of the company's directors were present at the briefing.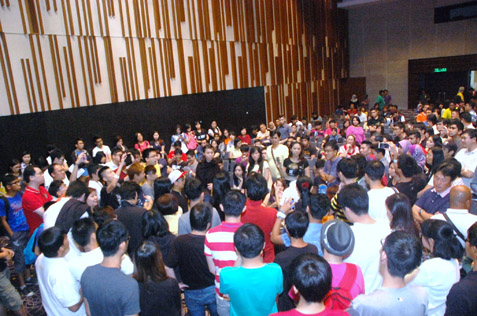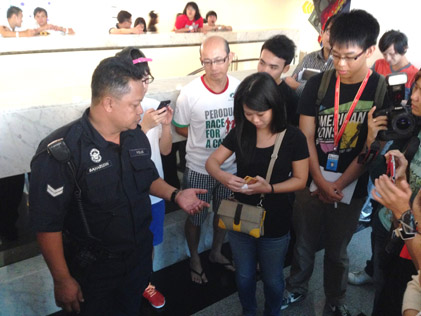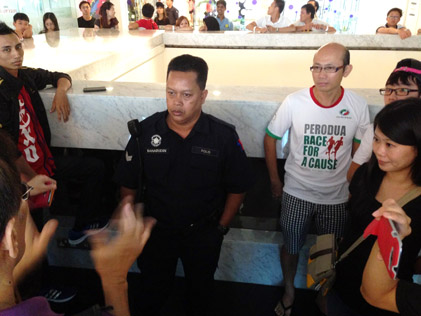 "We are not trying to run away with your money because as some of you might have already known it was a very last minute cancellation (two days before concert date of May 12). The stage had been set and we had done everything we could to get the show going," said Junie.
"It was supposed to be a postponement, not a cancellation. We have difficulty getting any more updates from the Korean talent agency to give us a new date for the show.
"We have actually invested all our money for this show and we are not getting any refund from the Korean agency either. To be honest, we really need more time to raise the money to refund all the ticket holders.
"In a way we feel that we have a responsibility to let everyone know what's going on and that's why we want this briefing," added Junie.
She said they were getting legal advice on what they can do to, either to get the show going or to get their money back.
"We hope that you can forgive us for what had happen and we really hope that you understand that we need more time to raise the money to pay everyone back.
"We sincerely want you to know our situation right now. It is not something that can be solved in a few months.
"We know you are angry, we know you want to make a police report on us and we know you want us to close down the company but think about it, if we close down the company right now and declare bankruptcy, nobody gets anything but what we want to do is we don't want to close it down," explained Junie.
"To be honest, if we want to run away, we would not be standing here today having this briefing," said Junie.
The briefing was flooded with questions thrown at her from the angry crowd.
Emotions ran high and at one stage, a member of the crowd took over the microphone to call everyone present to make a police report against the company.
Someone among the crowd called the police who promptly arrived in two patrol cars amid angry scenes with fans venting their frustration at the organiser and Junie.
Junie was seen talking to a police officer who took down her particulars before they left for the police station.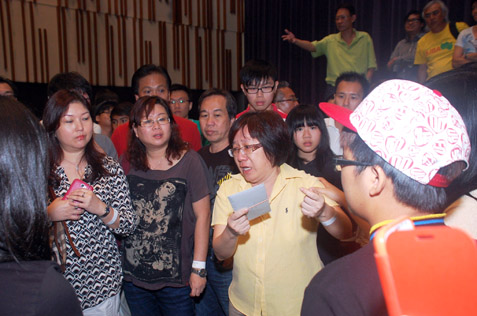 Yee Lee Chow from Taman OUG said she came all the way here for nothing.
"First we received an email informing us that the concert was postponed. Then they asked us to cross the tickets for refund. We gave our bank account number hoping the money will be credited back. We waited and waited and waited. Then another email of this briefing.
"The money is hard earned. I felt cheated. I never expected this. For seven months that I waited, I did not complain.  Now they tell me to wait another 18 months for the refund. This is frustrating.
"They had already collected more than a million ringgit from sale of tickets, now they dare to tell us they have no money. I feel very sad," said Yee who had forked out RM2,800 on four VIP tickets priced at RM700 each for her children.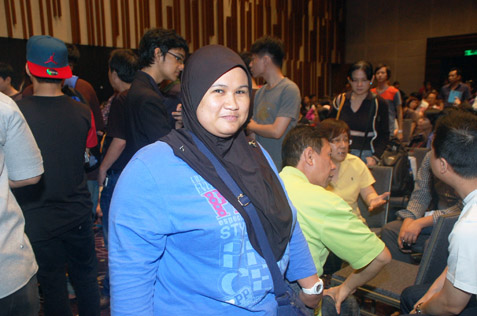 For Siti Mufizah, 30, executive, who had spent RM1,224 in three tickets of RM408 each, said she did not think she will get her money back.
"I am angry with them because asking me to wait for another 18 months is too long. Besides, there is no guarantee that I will get back my money after the period.
"Last year I had bought tickets for K-pop group 2NE1 concert which was cancelled and I got my refund within a month. Why can't they do the same for this?" she asked.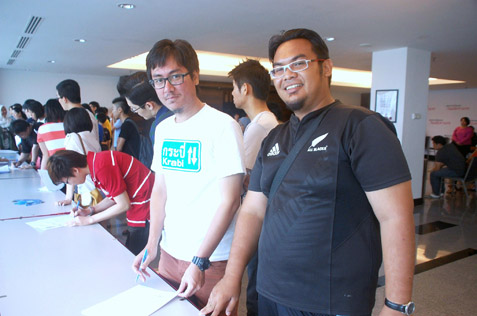 Ahmad Izzudin, 26, site engineer, who had bought two tickets costing RM318 each, said he felt cheated by the conduct of the concert organiser.
"They can't expect us to believe that they had spent all the money from sale of tickets on the concert, " said Ahmad who will be making a police report.