Community AIDS Service Penang unveils new logo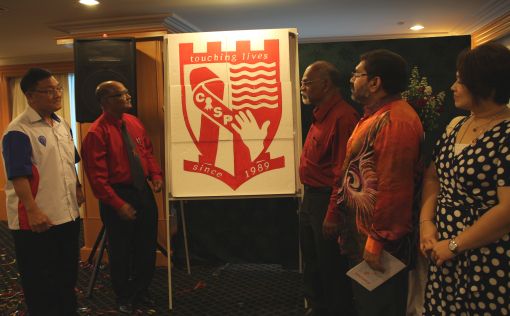 Community AIDS Service, Penang (CASP) unveiled its new logo during a ceremony at City Bayview Hotel on 1st Dec 2013, in conjunction with its silver jubilee celebrations.
The ceremony was attended by the Penang government's representative Batu Uban MP YB Dr Jayabalan, Secretary of Malaysian AIDS Council En Hisham Hussien,  Penang State Health Director Dr Md Iqbal and Dr Chow Ting Soo from Pakar Perubatan Klinik ID Hospital Pulau Pinang.
Dr Jayabalan and En Hisham started of with the speech followed by CASP chairman, Mr P.R. Selvarajan.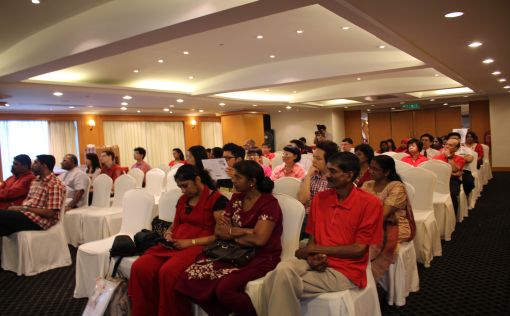 Mr Selvarajan informed that the aim of launching a new logo was to symbolize that CASP after 25 years, is moving to a greater height. The old logo is integrated into the new as a sign of continuity to serve with greater zeal and commitment. He then proceeded to explain in detail the meaning of the new logo to emphasize that it carries a message.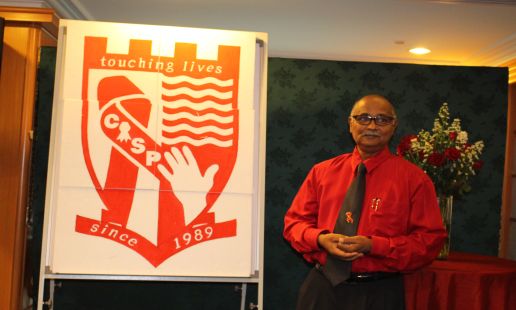 The logo is designed in the shape of a shield or fortress to represent CASP as an organization that protects people living with HIV/AIDS and provides a place for them that is free from stigma and discrimination. The colour red is used as it is the universal colour of HIV/AIDS while white represents purity and sincerity to help the most marginalized in society.
The wave or water is added to the logo to symbolize the drowning difficulty faced in life by the patients. A symbol of hand is added below it to symbolize the act of reaching out or offering helping hand and also a red ribbon is inserted as it is a universal symbol of HIV and AIDS as its brings awareness and support to those living with it.
CASP stands for Community AIDS Service Penang and it brings along the struggles and challenges it has been through to be where it is today. CASP as an organization has been touching lives of many people since 1989 and has offered help to people with HIV since its establishment as it hopes to march on with greater dedication and commitment.
For more information regarding Community AIDS Service, Penang (CASP) please visit http://www.casp.com.my