Sun keeps shining on Aileen as she wins Miss Malaysia Kebaya 2013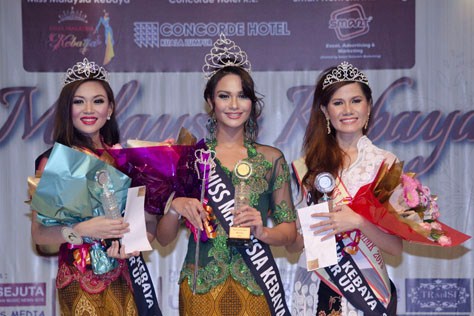 In little over two months after she won the state-level Miss Wilayah Kebaya 2013 pageant, Sunshine Aileen Devi Eric, 25, kept up the winning streak by grabbing another title at national level – the Miss Malaysia Kebaya 2013.
She beat 15 other finalists in the grand finals of the keenly contested Miss Malaysia Kebaya 2013 pageant, an annual event now in is second year, at Concorde Hotel ballroom, Kuala Lumpur on Dec 20, 2013.
"I didn't expect to win actually. The competition was tough. I suppose the judges saw something in me showcasing the kebaya outfit that suits me and I think that tipped the judges' decision in my favour," quipped the 25-year-old freelance model who loves singing.
She took home RM2,000, a trophy and sponsored gifts and vouchers.
The first runner-up was part-time model Maryanne Lee, 20, who won RM1,500 and the subsidiary title of Miss Body Beautiful.
In third place was UTAR master of communication student Massuhaella Binti Mohd Idris, 25, who won RM1,000 and the subsidiary title of Miss Popular.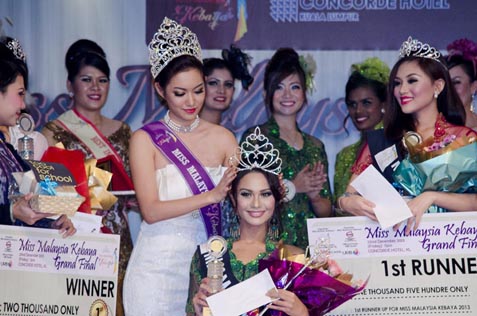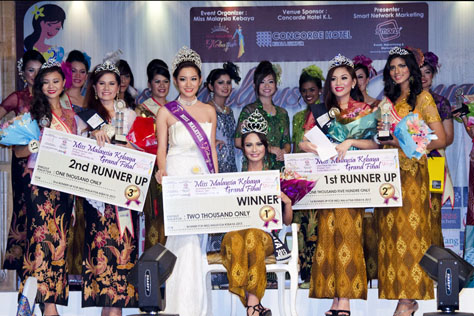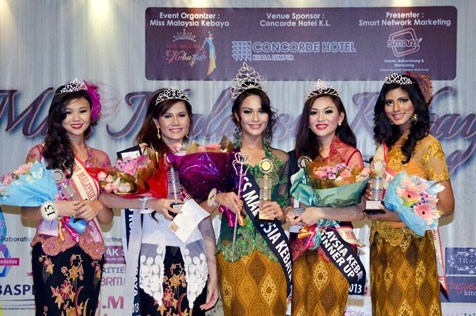 Also handed out were six subsidiary titles and a special category award for Best Traditional Attire Costume which was sponsored by Persatuan Kebudayaan dan Warisan Sabah (Kuala Lumpur, Selangor and Putrajaya) and Borneo Global.
In the finals, the 16 contestants paraded in kebaya outfits as well as traditional and cultural costumes of all races from Malaysia, including the Borneo states of Sabah and Sarawak.
The event was emceed by Miss Earth Malaysia 2012 Deviyah Daranee.
The panel of celebrity judges included  Mrs. Universe 2013 Carol Lee, Miss Chinese Cosmos 2004 Carrie Lee Sze Kei, Malaysia Ford's Model Supermodel of the World Year 2009 first runner-up Eleen Yong, renowned journalist Kee Hua Chee, Glitterama Ladies Charity Group founder and president Datin Maylene Yong and A Cut Above founder and chief creative director Datin Winnie Loo.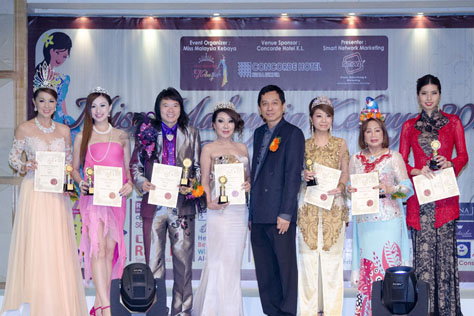 In an interview with Citizen Journalists Malaysia (CJMY), Sunshine said she has an array of kebaya in her wardrobe and would wear it on special occasions and when she is singing on stage.
"The kebaya is a very classic and a modern outfit at the same time. It is sexy and elegant and suits any occasion. It is so graceful and I absolutely love it!," said Sunshine who wore a kebaya at the grand finals that was designed by Bumiputra Designers Association (BDA).
She said more could be done to preserve and promote the beauty of kebaya as the country's cultural heritage.
"We need more ambassadors to promote the kebaya. As Miss Malaysia Kebaya queen, I will do my part to promote its elegance by wearing it to special occasions.
"The public figures in the country should also wear them to special events because that would greatly help in promoting the kebaya heritage.
"I intend to make kebaya a popular costume among the youth. That is my main target. With help from Jason Hee, (founder and president of Miss Malaysia Kebaya Organisation), I believe it would be possible to bring the kebaya back to its great popularity like in those days."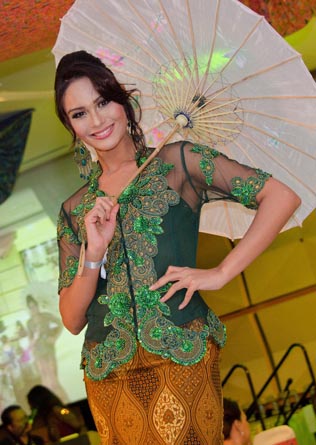 Sunshine, who was born in Ipoh but raised in Kuala Lumpur, said she is of mixed parentage.
"My father is a mixture of Indian and Punjabi whereas my mother is a mixture of British and Mongolian-Chinese. Yes, it's a mouthful," she said.
Her first name really is Sunshine. How this came to be?
"I get asked that question many times. Well, when my mum was pregnant with me, she continued to work. Unlike most pregnant women, she didn't have mood-swings. In fact, she was very cheerful. Her employer made a remark about her something like, "Marjorie, you are always so full of sunshine" and so when I was born, the name stuck on," recalled Sunshine.
Having completed her secondary and tertiary education at SMK Kepong FRIM and TAR College respectively, she worked as a freelance model.
"I am a full-time freelance model, focusing mostly on commercials.
"I have been modelling ever since I left school. I started of as an extra in commercials and dramas, mostly without any payment. I just wanted to get noticed.
"I slowly managed to secure some photo shoots and things started blooming from there. Commercials came up and production managers scouted me for dramas and telemovies. I never looked back since."
Sunshine said she also sings on special occasions.
"Singing is a big part of my life ever since I was a kid.
"I auditioned for the very first Malaysian Idol but I didn't make it far though as I was only 16 then.
"I was professionally involved in a band a few years back. Unfortunately we broke up and went our own separate ways."
She recently performed at 'Clash of Ensembles, an annual battle of bands organised by Maldivian Students Association of Asia Pacific University of Technology and Innovation (APU).
"The band was short of a vocalist and I was introduced to them. It was a heavy metal band and I loved it."
About her future, she said, "In the coming years, I aim to establish a florist centre. I love flowers and it would be a plan for the future."
CJMY is a media partner for Miss Malaysia Kebaya 2013.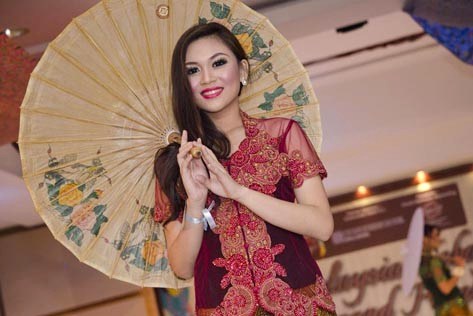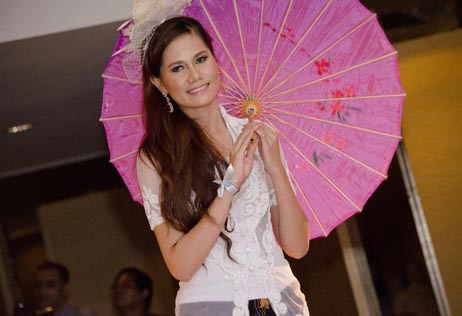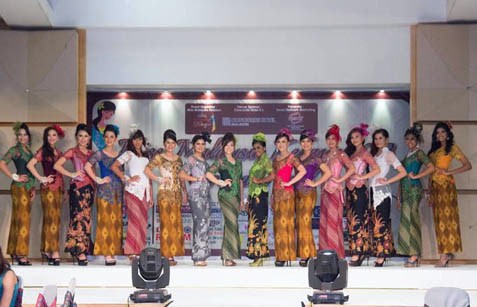 Miss Malaysia Kebaya 2013
Winner –  Sunshine Aileen Devi Eric, 25, model
1st runner-up – Maryanne Lee, 20, model
2nd runner-up – Massuhaella Binti Mohd Idris, 25, student
3rd runner-up – Ann Soe Chea Erng, 23, student
4th runner-up – Davina Naidu, 18, model
Subsidiary Title Winners :-
Miss Popularity – Massuhaella Binti Mohd Idris, 25, student
Miss Photogenic – Rupini Mahalingam, 21, student
Miss Beautiful Body – Maryanne Lee, 20, model
Miss Elegant – Elssey Lessianna Richard, 22, student
Miss Talent – Ann Soe Chea Erng, 23, student
Miss Best Catwalk – Nasha Afra Zaidi, 26, dancer and model
Best Traditional Attire Costume
Winner – Massuhaella Binti Mohd Idris (Puteri Santubung traditional attire)
1st runner-up – Cecilia Riymante (Dusun Tindal traditional attire)
2nd runner-up – Davina Naidu (Malaysia saree traditional attire)
3rd runner-up – Christina Dana Paulus Ripos (Bidayuh traditional attire)
4th runner-up – Marilyn Cindi John Mikat (Dusun Ranau traditional attire)