Children of Sri Ramakrishna Ashram treated with banana leaf dinner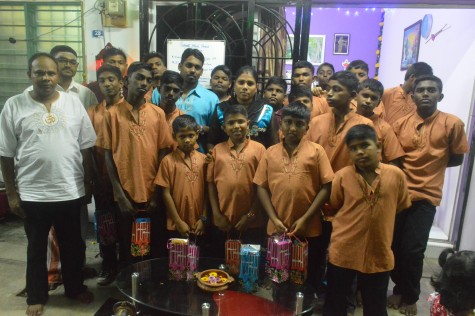 Some 39 children from Sri Ramakrishna Ashram were treated with dinner, games and hampers on 29 Dec 2013. The ashram which is located in Jalan Tengkera, Melaka is solely supported by donations.
One of the their benefactor Tiviya Thasheni Naidu, 30 from Sabah invited all the children from the ashram for a dinner party at her residence in Taman Seri Duyong, Melaka.
The party started with the children being entertained with party games followed by the serving of delicious banana leaf dinner for the guest. The party concluded at 10.15 pm with Tiviya presenting the children with hampers each. Ms Thiyva said she hopes to invite more children for dinner the coming year from the various homes in Melaka irrespective of race and religion for all the festivals.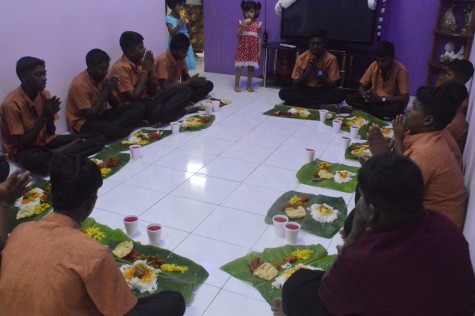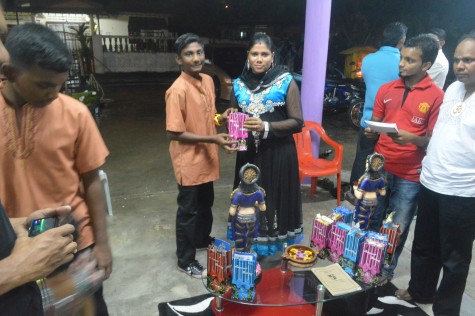 Tiviya who is passionate about helping the poor and unfortunate graduated in traditional medicine from Jambi ,Indonesia with a title of Dato in Rawatan Tradisional and she currently runs a klinik in Melaka.
She also helps another 39 person including a 55yrs old man who has been abandoned by his family. She fully supports him financially by paying for his room, rent and food.
Sri Ramakrishna Ashram started in 1980 with 3 children has expanded now as it currently takes care of 37 boys ages from 6 to 18. The ashram shelters children who come from broken homes, orphans and children of single mothers who are not able to care for them. The children stay permanently at the ashram except for those with single mothers are allowed to take leave on holidays to see their mothers.
The boys who do well are supported until they complete their college education . There are 2 boys supported by the ashram at the moment who are pursuing their education in colleges. Some of them are also sent to study industrial skills and pursue careers such as welders, mechanics and wireman.