Yuen Leong Sing Fatt Temple distributes foodstuff to senior citizens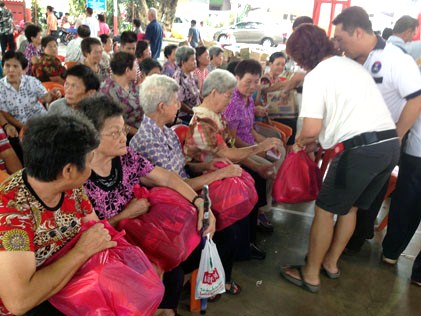 The Yuen Leong Sing Fatt Temple in Kampung Cempaka new village in PJU 1/34, Petaling Jaya distributed groceries packages to senior citizens for Chinese New Year on Jan 26, 2014.
Over 200 senior citizens aged 65 and above gathered at the covered basketball court opposite the Yuen Leong Singa Fatt Temple to receive the package of groceries which included rice, sugar, cooking oil, instant noodles and biscuits, among others.
The senior citizens were given free bone mineral density (BMD) test conducted by health products distributor and retailer Scientist Home.
They were also served simple fried beehoon and dessert.
Among those present at the event were temple president Lee Mun Hoong and temple adviser Dato' Dr Wong Sai Hou.
This was the seventh year in a row that the temple had organised the annual charity donation gifts to the senior citizens living in the area in conjunction with the Chinese New Year.
All the foodstuffs were contributions and donations by sponsors and well-wishers.
According to Yuen Leong Sing Fatt Temple master Loke Moon Hoong, the annual charity event was a celebration to bring the seniors in the community together to join in the festive cheer.