Aspiring doctor wins Miss Chipao Malaysia 2014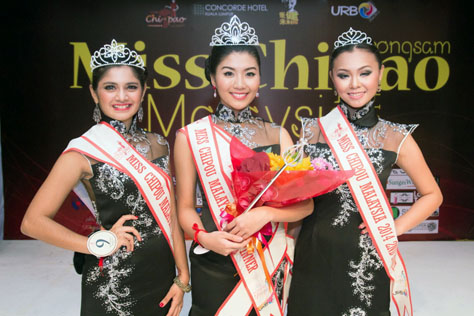 20 year old aspiring doctor, Sandra Chong from Kuala Lumpur won the Miss Chipao Malaysia 2014 pageant at the grand finals at Concorde Hotel, Kuala Lumpur on Feb 13, 2014.
The first year medical student who is studying at Taylor's University Lakeside Campus, Subang Jaya also won two subsidiary titles of Miss Elegant and Miss Catwalk.
"This is my first time participating in a beauty pageant and I won. I am so excited as I did not expect to win," Chong told Citizen Journalists Malaysia (CJMY) in an interview.
"I find the chipao (cheongsam) very elegant and classy and I feel very comfortable and feminine wearing it.
"I would definitely wear the cheongsam as often as possible. If given the chance, I would promote the traditional outfit in schools by getting students involved in cultural activities that will deepen their understanding and appreciation of the different cultures," she said.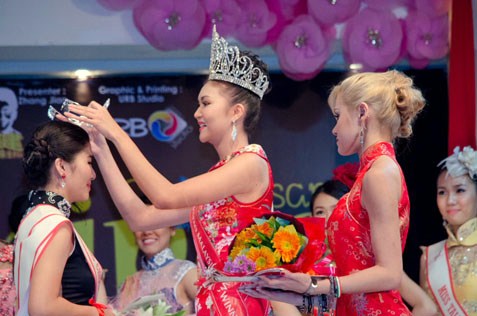 Chong said she was thankful to a family friend who knew about the Miss Chipao Malaysia pageant and encouraged her to enter for it.
She said she was a complete novice in beauty pageant. With the blessing and support of her family members and friends, she decided to give it a go and it turned out so well she won the national-level beauty pageant on her first attempt.
"Most of the girls have more experienced and exposure than me so I take it as an opportunity to learn and gain experience regardless of the outcome," Chong said, adding that she wanted to use the Miss Chipao Malaysia pageant as a platform to get involved with charitable activities and to learn more about the beauty pageant industry.
"My main goal in life is to reach out and touch the lives of as many people as I could and being involved in charity work is definitely one of the best ways to do so."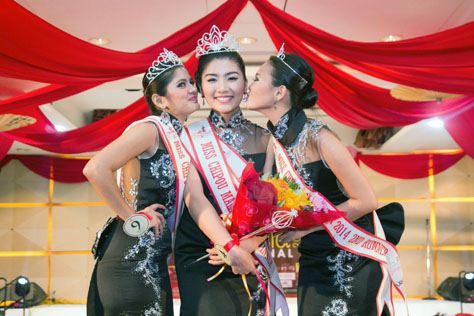 On her experience at the pageant, Chong said: "I made a lot of new friends in the past three weeks. We would not have crossed paths had I not join this pageant.
"I learned a lot of things about building self-confidence, speaking in public and portraying and maintaining a good image.
"I also learned to catwalk for the first time ever, and unexpectedly won the Miss Best Catwalk subsidiary title."
Chong said she was inspired to become a doctor because she wants to be hands-on in alleviating the pain and suffering of those with diseases in the hope of improving their quality of life.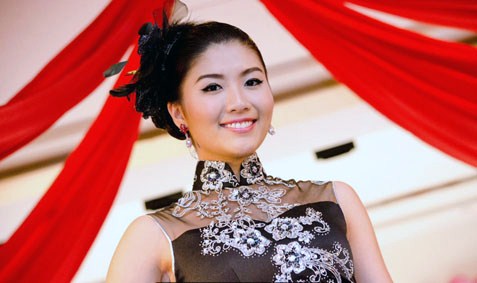 Asked how she could cope with her university studies and her Miss Chipao Malaysia duties, she said: "I will definitely keep going with my education as the main priority. By managing my time wisely, I am sure I would be able to fulfill my responsibilities as a beauty queen whilst maintaining my academic performance."
There were 19 contestants competing for the crown at the grand finals.
A 20-year old student, freelance model and actress Vanessa Cruez was first runner-up and also won the Miss Photogenic subsidiary title.
Second runner-up went to 24-year old student Ann Soe.
Third and fourth runners-up were 22-year old student and assistant scuba instructor Allyson Liew and 25-year old student Caitlen Ho respectively.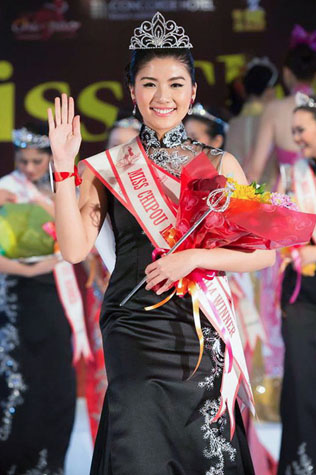 Miss Chipao Malaysia (MCM) founder, president and organiser Jason Hee said Miss Chipao Malaysia was held during the Chinese New Year festival season with the objective of promoting chipao (cheongsam) and Chinese culture.
He said the pageant provided a platform for unity where contestants, not only Chinese but Malays, Indians, Sabahans and Sarawakians wear the cheongsam portraying the country's multi-racial society.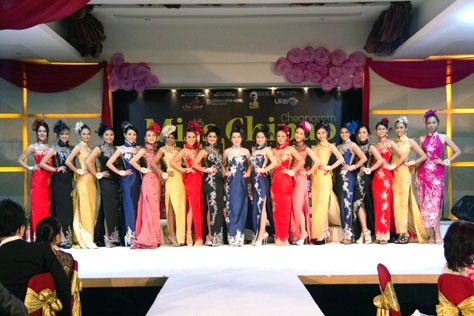 Miss Chipao Malaysia 2014 result
Winner – Sandra Chong, 20, student
1st Runner-up – Vanessa Cruez, 20, student, model & actress
2nd Runner-up – Ann Soe, 24, student
3rd Runner-up – Allyson Liew, 22, student & asst scuba instructor
4th Runner-up – Caitlen Ho, 25, student
Miss Photogenic  –  Vanessa Cruez, 20, student, model & actress
Miss Body Beautiful  –  Allyson Liew, 22, student & asst scuba instructor
Miss Friendship  –  Allyson Liew, 22, student & asst scuba instructor
Miss Popularity  –  Allyson Liew, 22, student & asst scuba instructor
Miss Elegant  –  Sandra Chong, 20, student
Miss Appearances  –  Julia Farhana, Marin, 21, student & freelancer
Miss Talent  –  Kee Poh Choo, 20, tax consultant
Miss Catwalk  –  Sandra Chong, 20, student