Haze: Improved API reading brings hope for a clearer sky in coming days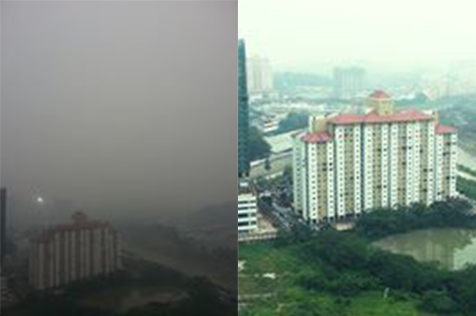 News from the Malaysian Meteorological Department has stated that the terrible hazy conditions is showing signs of improvements due to the build up of northeasterly winds which is expected to blow the peninsula haze towards Indonesia.
To the relief of many with the help of the heavy downpours in certain parts of Selangor and Kuala Lumpur yesterday, the sky has cleared up from the massive smog previously.
Most citizens feared for worse as the Air Pollutant Index (API) reading showed the air was unhealthy two days ago coupled with water rationing taking place across the state of Selangor over the month of March, it seemed like more troubles were ahead.
The haze is believed to be caused by excessive fogged air from Indonesia where the haze reading levels have skyrocketed to 700 in the Riau province. Due to this drawback in Indonesia, the smog has now reached Malaysia and soon, it might just hit Singapore. Although the thick haze seems to be still lingering in the atmosphere, the readings have shown gradual changes throughout the days.
As of 4pm today the API readings has shown a steady drop as most areas recording improved readings from unhealthy to moderate.
Below is a comparison from the API readings from the past 3 days at selected areas.
| | | | |
| --- | --- | --- | --- |
| States | 3rd March 2014 API Reading (6-9PM) | 4TH March 2014 API Reading (3PM) | 5th March 2014 API Reading (4PM) |
| Nilai | 93 | 113 | 73 |
| Banting | 101 | 123 | 94 |
| Port Klang | 141 | 104 | 59 |
| Petaling Jaya | 104 | 114 | 66 |
| Shah Alam | 105 | 108 | 58 |
| Putrajaya | 110 | 101 | 73 |
A reading of 0 to 50 is categorised as good, 51 to 100 is moderate, 101 to 200 is unhealthy, 201 to 300 is very unhealthy and 300 and above is hazardous.
It appears to be that the readings have been showing improvement from the past two days. However people should still be alert with the changing weather and keep precaution when deemed necessary. People are advised to use masks while out on the streets and when carrying out strenuous activities to avoid inhaling the fogged air around them. Keeping hygiene intact and hydrated throughout this period is advisable.
_________________________
All posted news on this website are written by ordinary citizens who were trained by CJMY. If you would like to contribute articles or videos of events that are happening in your community, please (CLICK HERE)
_________________________
For more updates, please like us on Facebook , and subscribe to our Newsletters