Ninja Turtles to "shell-ebrate" with kids at the Curve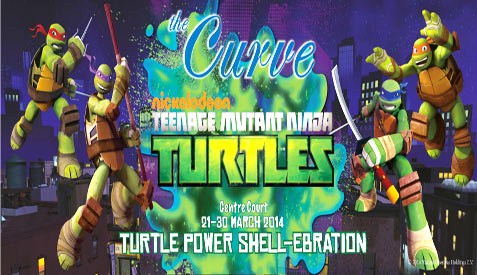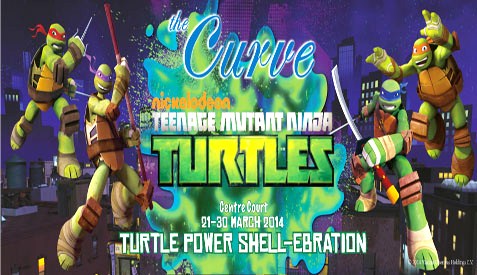 Those looking for entertaining activities for their children during this coming school holidays can head over to the Curve for a thrilling experience with the Ninja Turtles!
The shopping mall in Mutiara Damansara, Petaling Jaya will host a "Turtle Power Shell-ebration" at the Centre Court from March 21 – 30, 2014.
All the four Nickelodeon's Teenage Mutant Ninja Turtles (TMNT) namely Leonardo, "The Leader"; Donatello, "The Brains"; Raphael, "The Muscle"; and Michelangelo, "The Wild One" will make a special appearance on stage for the first time in Malaysia.
Children and adults alike will be thrilled to meet and interact with their favourite Ninja Turtles every day (except Monday) at 6.30pm from Tuesday to Thursday and three sessions from 2.30pm onwards on Friday, Saturday and Sunday.
The Curve centre manager Jazmi Kamarudin said this was another first for the Curve to be proud to have all four Teenage Mutant Ninja Turtles for the first time in Malaysia.
"Every year, we strive to celebrate the school holidays with fresh and enjoyable activities and we are sure this will be a memorable experience with the Ninja Turtles, especially for the kids."
The campaign will have fun-filled game booths to engage shoppers both young and old, as well as arts and crafts workshop for children to explore their creativity.
There will also be a wide range of Teenage Mutant Ninja Turtles merchandise for sale.
As a special treat during the campaign, shoppers who spend a minimum of RM150 will be able to redeem, , exclusive "Teenage Mutant Ninja Turtles" collectible items, courtesy of the Curve subject to terms and conditions.
_________________________
All news posted on this website are written by Malaysians from all walks of life who are trained by Citizen Journalist Malaysia. If you are passionate about writing, photography or  video storytelling and would like to contribute you articles, photographs or videos of events that is happening in your community, please (CLICK HERE)
_________________________
For more updates, please like us on Facebook , and subscribe to our Newsletters