Vigil for MH370: Celebrities and the people unite through music and prayer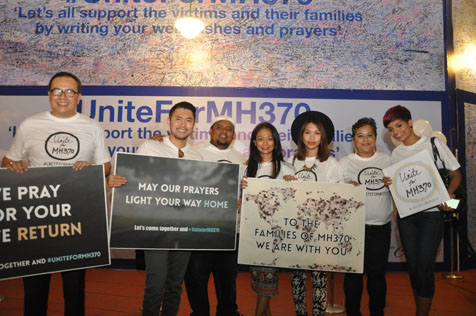 United by music and prayer, hundreds participated at the #UniteforMH370 event to gather and pray for the safe return of the missing Malaysia Airlines flight MH370 and their loved ones at Piazza, the Curve shopping mall in Mutiara Damansara, Petaling Jaya on March 18, 2014
Malaysia Airlines flight MH370 went missing on March 8 with 239 passengers and crew aboard a flight from Kuala Lumpur to Beijing.
Co-organised by Global Peace Foundation Malaysia and Laundry Productions which was helmed by local recording artiste Reshmonu, the vigil  brought together people from various races and religious beliefs to show their support and stand united as one family and  one people for a night of music, faith, compassion and love.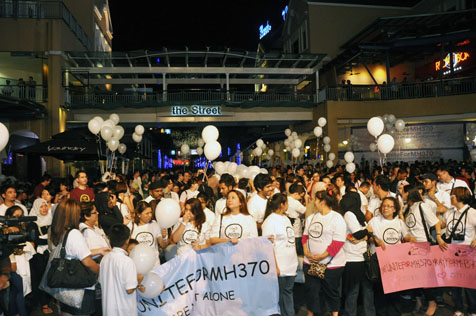 The event which begin at 7.30pm saw many people carrying signs bearing messages of support for the families and loved ones on-board flight MH370. Many wrote messages of hope on a large display board displayed at the venue.
A touching scene of people from all walks of life releasing helium-filled white balloons which floated to the sky above resembled a stream of prayers floating up to heaven.
"We want to let the world know that we share the sorrows and fears of those affected as we stand together as one family, one human family," said organising team chairman Dato' Latt Shariman Abdullah.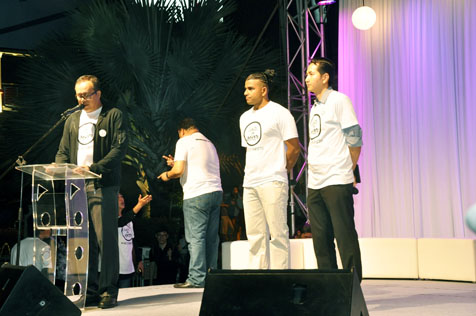 Reshmonu, on behalf of artistes in the entertainment industry, said: "We strongly felt the need to support and lend a hand to this cause of prayer and hope for those affected."
The highlight of the vigil was prayers offered by religious leaders from INSAF and the Malaysian Consultative Council of Buddhism, Christianity, Hinduism, Sikhism and Taoism (MCCBCHST).
Among the artistes on stage to support were Reshmonu, Atilia, Jaclyn Victor, Dennis Lau, Russel Curtis, Elvira Arul and Hunny Madu and Aubrey Suwito.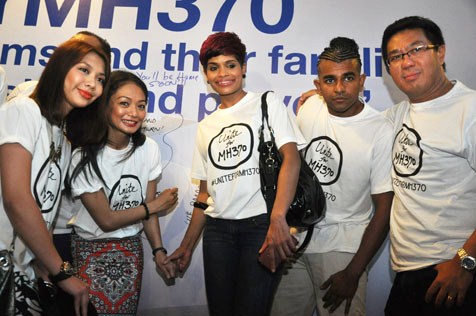 _________________________
All news posted on this website are written by Malaysians from all walks of life who are trained by Citizen Journalist Malaysia. If you are passionate about writing, photography or  video storytelling and would like to contribute you articles, photographs or videos of events that is happening in your community, please (CLICK HERE)
_________________________
For more updates, please like us on Facebook , and subscribe to our Newsletters