Bersih 2.0's vice-chair, three others to be charged under PAA 2012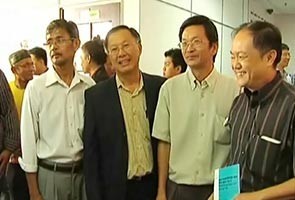 Four persons will be charged in court this Sunday under the Peaceful Assembly Act (PAA) 2012 for organizing a vigil in May 2013 in support of Adam Adli, who was then arrested for sedition.
Bersih 2.0's south region vice-chairman Thomas Fann along with Koh Jit Huat, Mohd Salleh Ahmad, and Steven Chong will be charged under Section 4(2)(b) for gathering in a restricted area and Section 9(1) for not giving the police 10 days' notice as organizers.
"We can only deduce that the intent of such persecutions by the government is to intimidate us and anyone who dare to take a stand against injustice, falsehood and corruption," said Thomas who is also the chairman of ENGAGE in an announcement via social media.
In a media statement released today, Bersih 2.0 said that the charge was pure harassment by the state and is against the intent and spirit of Article 10 of the Federal Constitution which provides for the freedom of speech, assembly and association.
The four were previously charged on 26 March 2014, but the judge ruled for a discharge not amounting to acquittal because the police failed to observe proper process by not issuing a summon or warrant of arrest.
The PAA 2012 was enacted in 2012 amidst criticism from the opposition and civil society for imposing unreasonable restrictions, such as disallowing street protests and requiring 30 days' advance notice. The act also confers wide powers to the Home Minister and police to impose restrictions and conditions.
Thomas calls for the public to show their support by attending the upcoming trial at Mahkamah Seksyen Jenayah 2, Johor Bahru on 20 April 2014 at 9.00am.
_________________________
All news posted on this website are written by Malaysians from all walks of life who are trained by Citizen Journalist Malaysia. If you are passionate about writing, photography or  video storytelling and would like to contribute you articles, photographs or videos of events that is happening in your community, please (CLICK HERE)
_________________________
For more updates, please like us on Facebook