Win a trip to Brazil with Domino's Pizza football online contest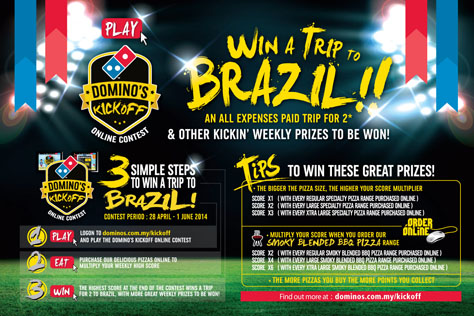 The football season is here!
In conjunction with the 2014 FIFA World Cup in Brazil which starts next June 12, Domino's Pizza Malaysia kicks-off its football online contest with the grand prize winner gets an all-expense paid trip for two to Brazil.
"Malaysians love football. For the World Cup, we are very pleased to present the football fans a chance to visit Brazil through our Domino's Kickoff Online Contest.
"It's a known fact that football and pizzas go hand-in-hand and we are introducing the new line-up for our Smoky Blended BBQ range in conjunction with the upcoming football season. The rich flavours in these pizzas will entice football fans as they cheer on their favourite teams throughout the season," said Hasfahlinda Hassan, senior marketing manager of Domino's Pizza Malaysia and Singapore.
The Smoky Blended BBQ range features three new pizzas, Chickensaurus, Smoky Beef N' Chick and Smoky Pepperoni & Mushroom and all-time fan favourite, Meatasaurus.
Th contest, which is on until June 1, is opened to residents in Malaysia, aged 18 years and above.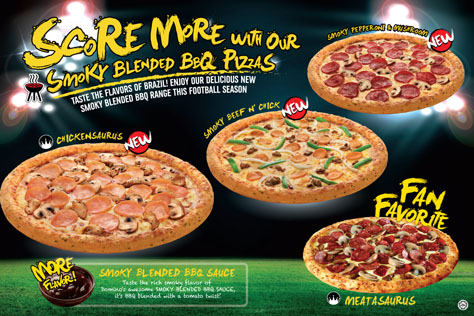 To take part, log on to www.dominos.com.my/kickoff and score points by clicking to navigate the ball through obstacles like flags and other football players.
There are weekly prizes to be won. Weekly points earned can be multiplied with every online purchase of Domino's pizzas as well as the new smoky BBQ pizzas thus increasing the chances of winning.
The highest score at the end of the contest period wins the Grand Prize.
The Grand Prize winner will receive a 5-day, 4-night stay with an all-expenses paid trip to Brazil for two worth more than RM34,000.
There are also prizes for first runner-up (5 winners) to attend an exclusive Pizza Party with 20 friends, worth RM2,000.
Second runner-up (5 winners) will receive a year supply of 12 free large pizzas and third runner-up will receive a year supply of 12 Free Regular pizzas.
In addition there are 50 consolation prizes of Domino's e-coupon voucher worth RM50 each up for grabs.
________________________________
All news posted on this website are written by Malaysians from all walks of life who are trained by Citizen Journalist Malaysia. If you are passionate about writing, photography or  video storytelling and would like to contribute your articles, photographs or videos of events that is happening in your community, please (CLICK HERE)
________________________________
For more updates, please like us on Facebook