No Thomas Cup but won hearts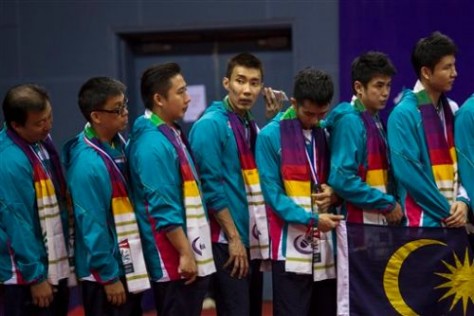 The Thomas Cup still remains far away from Malaysia's reach, honour still favours the heroic Malaysian team, in particular team captain Liew Daren.
"He was crying at the end," tweeted Youth and Sports Minister Khairy Jamaluddin, who was there watching the match against Japan in New Delhi.
"But we all told him he did great. To fight all the way like that. Like a captain," he wrote.
MCA Youth deputy chief Chris Lee Ching Yong has backed up the players to keep pushing forward Malaysia's reputation by bringing the cup home one day.
He said our defeat was unsatisfactory but the team had made us all proud with their never dying spirit and will, that showed the entire world what we're made of.
"Heads up Malaysian #ThomasCup team, the entire country is proud of you," tweeted Natural Resources and Environment Minister Datuk Seri G. Palanivel.
"Thank you for the memorable final today. Congratulations to Japan," he said.
Liew was benched due to his lacklustre performance in two earlier group matches in Malaysia's final Group C tie against South Korea on May 21.
On the other hand, he won praises from ordinary Malaysians for his outstanding performance against Japan's Takuma Ueda in the finals.
Tweeter user @NatashaAmalina wrote: "All the doubters of Liew Daren, eat your words."
@kkhsamuel said: "Most importantly thank you Liew Daren for trying your best, you did us proud and prove your haters wrong. Thank you!"
@PhoebeShafinaz wrote: "Liew Daren is impressive. Really. He was so far behind but he managed to catch up. I'm so so proud of him! He's my winner!"
@openeyeJ tweeted: "#Thomas Cup Malaysian team you won the silver but lost the Cup with dignity for the country."
@ChachaSiu wrote: "Inspiring. Millions of Malaysians rediscovering our love for our country."
@Xandria Ooi : "Wow Japan. First time ever. So well played. At least it was close, Malaysia. #thomascup."
@Razlan Shah : "Biggest upset, Japan beats China in #ThomasCup semi-final. We're getting new champion this year, could it be Malaysia?
@Linora Low : "Come on Liew Daren!! We believe in you! #ThomasCup #PialaThomas #MalaysiaBoleh."
@Hishammuddin Hussein : "#ThomasCup-Daren Liew- you can do it !! We are all behind you."
@Mohd Najib Tun Razak : "Kita tetap bersatu dlm kemenangan mahupun kekalahan. Saya bangga dengan pasukan #PialaThomas negara. Kita cuba lagi & tahniah kepada Jepun.