Fabulous Father's Day feast at Utara Coffee House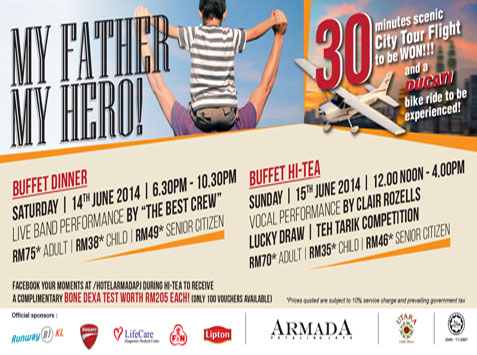 Father's Day is the perfect time to celebrate the special day with your Dad and what better way than to treat this fabulous man to a scrumptious meal and live musical entertainment.
In celebration of Father's Day this Sunday June 15, 2014, Utara Coffee House at Hotel Armada Petaling Jaya is paying tribute to this special man on the eve of Saturday's night and the actual day's Sunday.
Aptly themed 'My Father, My Hero', guests will be treated to a variety of international and local buffet spread while soaking in the lively atmosphere of live performances, a lucky draw and exciting games that promise attractive prizes.
The array of dishes will definitely whet Daddy's appetite and include western favourites such as salmon carpaccio, 'minestrone con focaccia', 'lamb osso buco Milanese style' (lamb shank), baked chicken with pesto sauce, paella valencia and Asian favourites such as buttered crabs, fried prawns with coconut flakes, roast duck with plum sauce, "ikan pari panggang dengan air asam', chicken yakitori and 'kari kepala ikan'.
Adding to the excitement during the Hi-Tea is a Grand Prize of the day, – a 30-minute Scenic City Flight Tour for three persons by Runway 81 KL awaits one lucky father and Ducati goodies to be won.

Father's Day Eve Buffet Dinner
Date  : Saturday, June 14, 2014
Time  : 6.30pm – 10.30pm
Price  : RM75++ adult | RM49++ senior citizen | RM38++ child
Live Band Performance : The Best Crew

Father's Day Buffet Hi-Tea
Date  : Sunday, June 15, 2014
Time  : 12pm to 4pm
Price  : RM70++ adult | RM46++ senior citizen | RM35++ child
Vocal Performance : Clair Rozells to perform golden classics
Activities : Teh Tarik Competition and Lucky Draw
Reservations and enquiries can be made at Utara Coffee House Tel: 03 7954 6888 ext. 4557
Hotel Armada Petaling Jaya.
Lot 6, Lorong Utara C, Section 52
46200 Petaling Jaya
Tel: +603 7954 6888
Website: www.armada.com.my
________________________________
All news posted on this website are written by Malaysians from all walks of life who are trained by Citizen Journalist Malaysia. If you are passionate about writing, photography or  video storytelling and would like to contribute your articles, photographs or videos of events that is happening in your community, please (CLICK HERE)
________________________________
For more updates, please like us on Facebook