Let's samba dance in Malaysia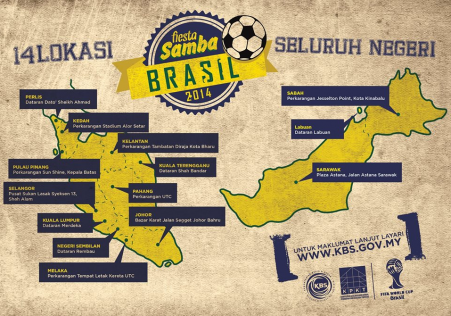 The World Cup 2014 is near, nope, it's now! And if you don't have a TV at home or just looking for a great company to watch the match, do not worry.
The Ministry of Youth and Sports and the Ministry of Urban Wellbeing, Housing and Local Government join hands to organise "Fiesta Samba Brasil", screening of live World Cup matches on giant screens across the country.
The show will kick off with the opening match between host nation Brazil against Croatia at 4 am on Friday morning. 14 locations nationwide will be part of this event including Dataran Merdeka, Kuala Lumpur.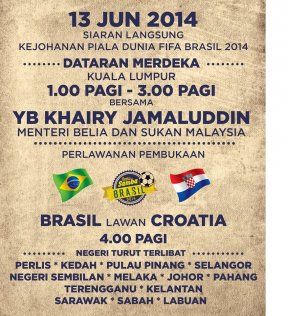 Other locations are as follows:
Perlis – Dataran Dato' Sheikh Ahmad
Kedah – Perkarangan Stadium Alor Setar
Pulau Pinang – Perkarangan Sun Shine, Kepala Batas
Selangor – Pusat Sukan Lasak Syeksen 13, Shah Alam
Negeri Sembilan – Dataran Rembau
Melaka – Perkarangan Tempat Letak Kereta UTC
Johor – Bazar Karat Jalan Segget Johor Bahru
Pahang – Perkarangan UTC
Terengganu – Dataran Shah Bandar
Kelantan – Perkarangan Tambatan Diraja Kota Baharu
Sabah – Perkarangan Jesselton Point, Kota Kinabalu
Sarawak – Plaza Astana, Jalan Astana Sarawak
W.P Labuan – Dataran Labuan
Besides screening of live football matches, you can also take part in Subbuteo competitions, quizzes, exhibitions and visit the sales sites.
The World Cup fever is on, let's celebrate!
For more info, please log on to www.kbs.gov.my
________________________________
All news posted on this website are written by Malaysians from all walks of life who are trained by Citizen Journalist Malaysia. If you are passionate about writing, photography or  video storytelling and would like to contribute your articles, photographs or videos of events that is happening in your community, please (CLICK HERE)
________________________________
For more updates, please like us on Facebook