Cycling workshop for kids at Citta Mall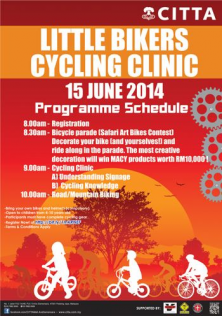 Citta Mall is determined to reignite Malaysia's long lost enjoyment of cycling by educating the young on the joys of cycling.
As part of a cycle safety initiative, Citta Mall will be working closely with one of its tenants, Volt Bicycle Concept Store, to conduct a three-hour Cycle Safety Workshop for children aged 4 – 10 years old on 15 June 2014 at Citta Mall's outdoor car park beginning at 8:00AM. The workshop is completely free for everyone, though places are limited to the first 50 applicants. To sign up, participants simply need to visit Citta Mall's Facebook page and register there. Participants will also have to bring their own bicycles and cycling gear (e.g. helmets) to the workshop, and are encouraged to decorate their bikes to a safari theme.
"Malaysia lacks a cycling culture, and part of it stems from the lack of education the public receives on safe cycling practices," comments Wong Sue May, Centre Manager for Citta Mall. "Notwithstanding, it is a mode of transportation that produces zero carbon emissions, promotes a healthier lifestyle, and of course, is a source of immeasurable fun. As such, we want to teach kids the basics of cycling, crash avoidance, and communicating with drivers. Our children are our future, and we would like to see them steering it in the right direction."
Ex-national cyclist Edwin Ng will be supervising the workshop where he will first brief participants on road signs and safety, before putting them through an obstacle course at the car park. Participants who have completed the obstacle course will receive a certificate of completion.
________________________________
All news posted on this website are written by Malaysians from all walks of life who are trained by Citizen Journalist Malaysia. If you are passionate about writing, photography or  video storytelling and would like to contribute your articles, photographs or videos of events that is happening in your community, please (CLICK HERE)
________________________________
For more updates, please like us on Facebook